Palestine solidarity Walk held at Karachi University by students and teachers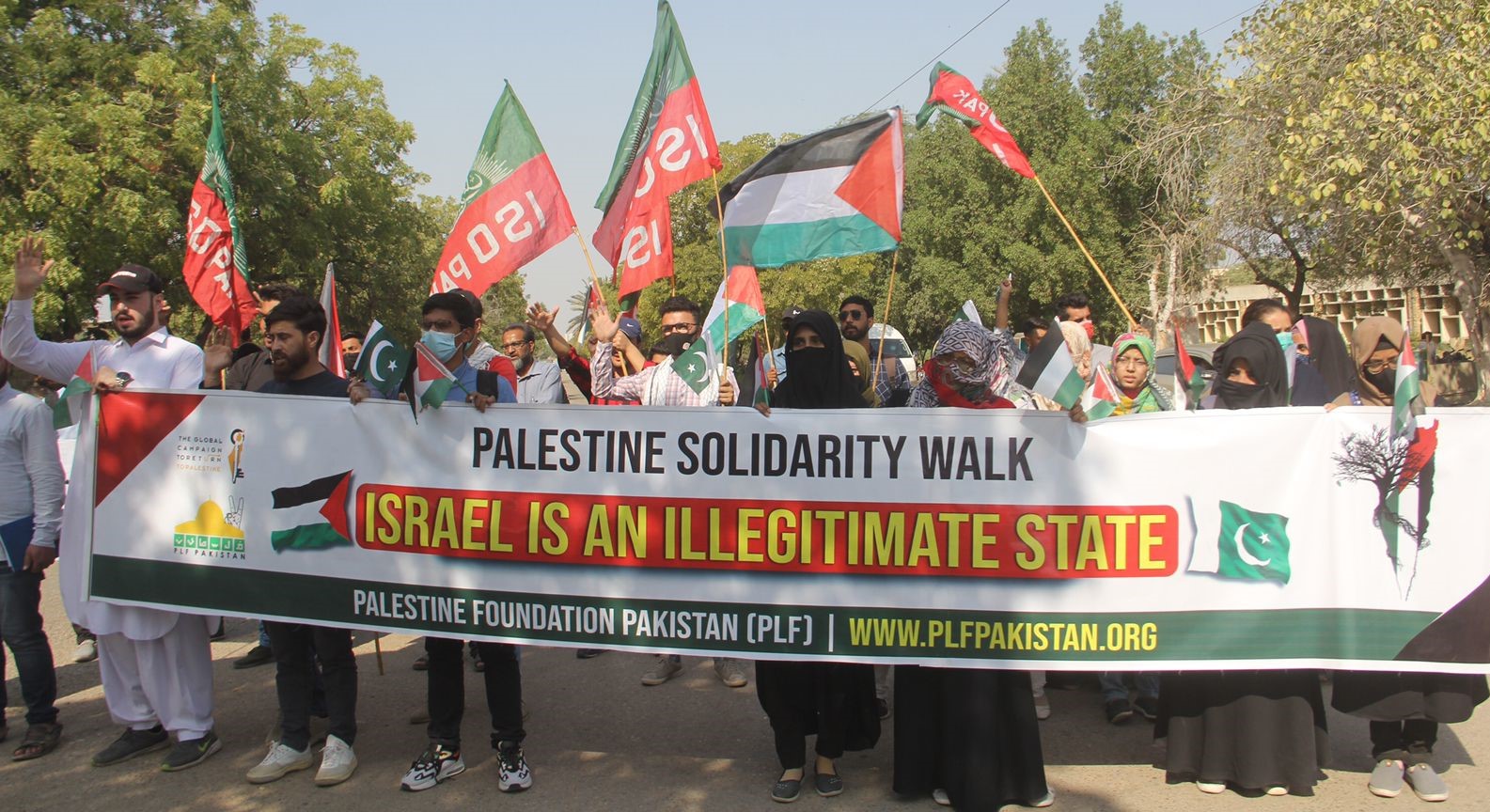 KARACHI: Palestine Foundation Pakistan and ISO jointly organized a Palestine Solidarity Walk from the admin block of Karachi University on Wednesday. Hundreds of students participated in the Palestine Solidarity Walk and expressed solidarity with the Palestinian people, condemning in the strongest terms the usurping Zionist state of Israel and its supporting governments, the United States and Britain.
Among the participants, Dr. Asim, Advisor for Student Affairs, University of Karachi and Dr. Moeez Khan, Security Advisor also participated in the Walk. Apart from the students, teachers and leaders of political and religious parties also participated in the Walk.
Participants of Palestine Solidarity Walk were addressed by Dr. Asim, Dr. Moeez, Former Member Sindh Assembly Major (Retd) Qamar Abbas, Leading Social Leader Bashir Saduzai, ISO Leader Saeed Shigri and Secretary General of Palestine Foundation Pakistan Dr. Sabir Abu Maryam.

The speakers said that Palestine is the homeland of the Palestinians and Israel is an illegitimate state. They said that the terrorist governments of the world, including the United States and Britain, are behind Israel's terrorist activities.
They strongly condemned the anti-Palestinian policies of the West and called the role of the United Nations disappointing. The leaders said that the people of Pakistan are with the Palestinian cause and fully support the Palestinian party Hamas. Hamas should be recognized as the representative party of the Palestinians in Pakistan and declared at the official level. Participants chanted anti-US and anti-Israel slogans.