Palestine's UN envoy wears 'End Apartheid' mask at Security Council meeting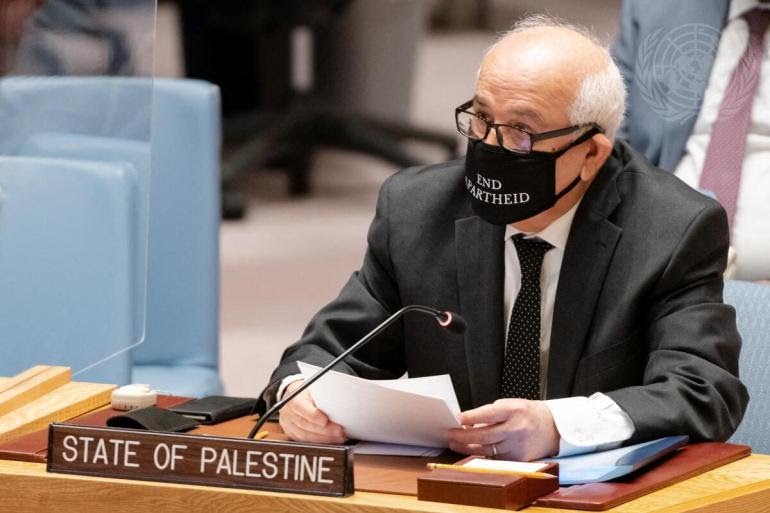 New York – Palestine's United Nations envoy, Riyad Mansour, wore on Wednesday a mask saying "End Apartheid" at the monthly meeting of the Security Council, urging the body to stop 'Israel' from discriminating against Palestinians.
During his address at UN headquarters in New York, the Palestinian envoy used the word "apartheid" at least 15 times, calling on the council to protect "our long-suffering people" and saying that "this council may not be ready to use the word, but apartheid is – and has been for a while now – our reality."
"Israel may be outraged by the word [but] everyone else should be outraged by the policy. Condemnations alone will never suffice to deter Israel. It is time to translate your words into actions. Actions to end apartheid," Mansour added.
He noted that last month, Israeli occupation ambassador to the UN, Gilad Erdan, brought a stone into the Security Council chamber so members could visualise the violence that Israelis confront from Palestinians.
"I am so sorry, but the doors of this chamber could not fit Israeli F-16s, tanks, warships, military jeeps, drones, bombs and missiles," Mansour said.
In response, Erdan accused Mansour of regurgitating claims from the Palestinian Authority, which he said "promotes hate, incitement, violence and terror". He also claimed the UN Human Rights Council's Commission of Inquiry, Amnesty International and other rights groups have launched "a jihad war against the only vibrant democracy in the Middle East".
Mansour's remarks and using of the word, apartheid, came after Amnesty International labelled lately Israel's treatment of Palestinians as apartheid.
Amnesty said in a new report that Israel' is carrying out "the crime of apartheid against Palestinians" and must be held accountable for treating them as "an inferior racial group".
The 278-page report by the leading rights group details how Israeli occupation authorities enforce a system of oppression and domination against the Palestinians.
The damning investigation sets out how massive seizures of Palestinian land and property, unlawful killings, forcible transfer, drastic movement restrictions, and the denial of nationality and citizenship to Palestinians are all components of a system "which amounts to apartheid under international law."
Amnesty said that this system is maintained by violations which the rights group found to "constitute apartheid as a crime against humanity, as defined in the Rome Statute and Apartheid Convention."
Amnesty International also called on the International Criminal Court (ICC) to consider the "crime of apartheid in its current investigation in the OPT" and called on all states to "exercise universal jurisdiction to bring perpetrators of apartheid crimes to justice."
A year ago, B'Tselem drew criticism from Israeli politicians when it asserted that Israeli policies had been designed to enforce "Jewish supremacy from the Jordan River to the Mediterranean Sea".
The New York-based Human Rights Watch in April last year became the first significant international rights group to publicly level the allegation of apartheid.