Palestinian Land Day observed in Multan, PLF also recalls killing of Rachel Corrie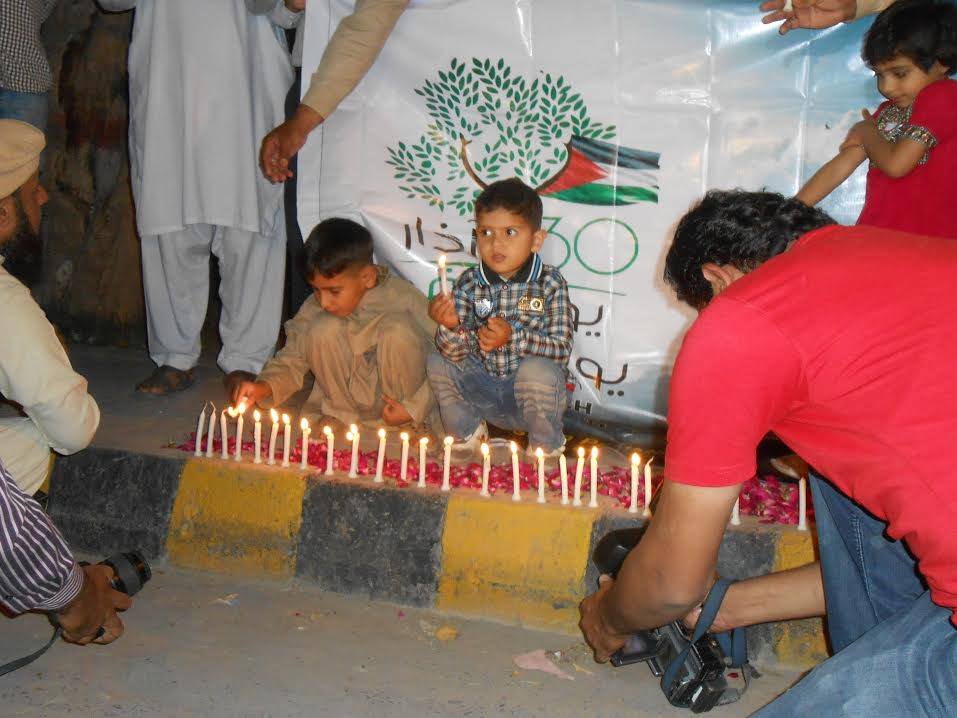 Pakistani nation's unity on Palestine issue was witnessed in Multan where supporters of the Palestine Foundation of Pakistan (PLF) observed Palestine Land Day to express solidarity with the Palestinians burying their political differences.
Leaders of Majlis-e-Wahdat-e-Muslimeen, Jamaat-e-Islami, Pakistan Awami Tehrik, Minhaj ul Quran, Jamiat Talba-e-Arabia, Mustafavi Students Movement and PLF Pakistan and social workers gathered outside Multan Press Club. Prominent among them were: Kunwar Mohammad Siddique of JI Multan, Major (Rtd) M Iqbal Chughtai and Haji Khalil of Aaheer of Tehrik-e-Minhaj ul Quran, Mohammad Abbas Siddiqui of the MWM, social worker S Mohammad Ali Rizvi, Hafiz Zeeshan Basheer and Al Haj M Ashraf Qureshi of Jamiat Talba-e-Arabia and PLF's Syed Mohammad Saqlain.  
 
Their unmatched unity at the candle vigil reflected the unwavering support of Pakistani nation to the just and legitimate Palestine Cause. They raised slogans in support of Palestinians and also chanted death to Israel and down with the U.S.
 
Speaking on the occasion, they expressed solidarity with Palestinians and condemned the Zionist Israeli attacks and grabbing of their sacred land. They demanded the United Nations, Organisation of Islamic Conference (OIC) and Arab League to taken practical steps for establishment of an independent Palestinian state with al-Quds as it capital.
{gallery}plf_multan1{/gallery}