Palestinians call to release Palestinian prisoner whose health deteriorated in Israeli prisons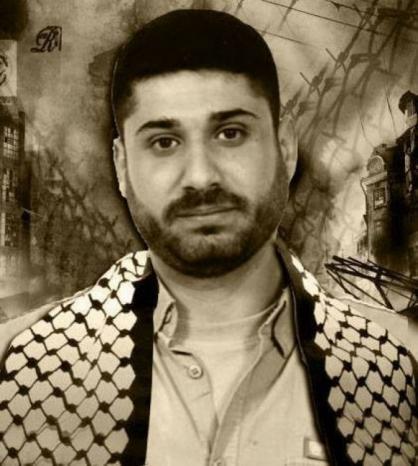 Occupied Palestine – Palestinians have launched an online campaign yesterday calling to save and release Palestinian prisoner Iyad Haribat who is held in Israeli prisons and his health has been deteriorating.
39-year-old Haribat was arrested in 2002 and he is serving a life sentence in Israeli prisons.
Haribat was transferred between Israeli prisons and subjected to solitary confinement for six months.
Haribat has spent 19 years in Israeli prisons so far for unknown reasons and he was subjected to two assassination attempts.
The first was in 2014, after he was injured by the Israeli occupation forces while suppressing the prisoners in Ramon prison, and he was transferred to the prison clinic.
In the clinic, he was given an injection in the head causing him to lose his memory and the ability to move his limbs.
The second time was in 2017, after he was transferred to Soroka hospital.
The Israeli occupation forces sprayed him that time with a toxic gas that led him to have burns all over his body, and he lost 40 kilograms of his weight and became fully paralyzed.
Iyad had stayed in a psychiatric hospital for four months, and Israel's treatment for him worsened his condition, his family has said.
Iyad Haribat is known to be fluent in three languages and holds two university degrees in political science and agricultural engineering and he helped his fellow inmates to learn writing and reading.
For the past few days of July, 2021, Iyad's health has been deteriorating to the lowest level as he was given strange injections that led to paralysis and amnesia.
One month ago, he had urinary retention. He did not receive proper health treatment in Israeli jails, and now, he has gangrene and the negligence of his health led him to go into a coma.
He still undergoes daily surgeries to control the bacterial spread in his body, but he now has blood poisoning and bacterial lung infection.
In a meeting with Haribat's mother, she said that she went to visit her son accompanied by his brother.
Haribat's mother said that Iyad thought his brother was a member of the Israeli intelligence who came to interrogate him, adding that Iyad asked her to swear to him that she is his mother.
"I want my son to come home alive, not dead," Haribat's mother said.
#saveeyad #انقذوا_اياد_الحريبات
"I don't want my son to be back to me in the grave, I want him alive" his mom.
They ask for basic, basic, things to be able to transfer him to civilian hospital instead of military one and to be able to visit and take care of him. pic.twitter.com/ozgWhta0kH

— Eye on Palestine (@EyeonPalestine) July 15, 2021
Haribat's mother also said that on one of her visits to her son, she did not recognize Iyad, she screamed from the severity of his appearance.
She said that his fellow inmates advised her not to cry in front of her son, Iyad, because he suffers from convulsive seizures and difficult health conditions.
Iyad's family are not allowed to visit their son who is chained in the ICU.
Therefore, Iyad's family have called on to save and immediately release their son from Israeli prisons.