PLF & HRCP urged US & Britain to stop patronage Of Israel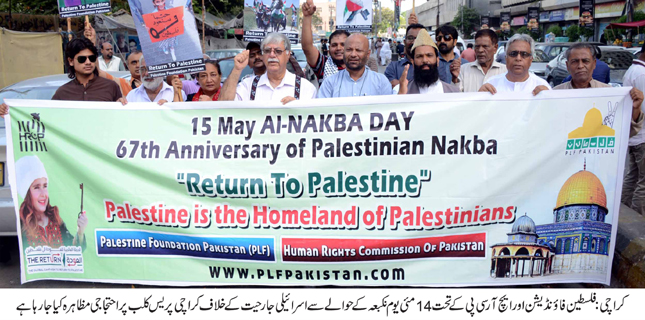 Palestine Foundation Pakistan (PLF) and Human Rights Commission of Pakistan (HRCP) on Thursday staged demonstration outside Karachi Press Club against human rights violation and illegitimate foundation day of Zionist Israel to mark the International NAKBA Day.
The leader Of secretary General of Palestine Foundation Sabir Abu Maryam,Mohammad Hussain Mehanti, Mehfooz Yar Khan of Muttahida Qaumi Movement , Qazi Ahmed Noorani Of JUP, HRCP Vice Chairman Asad Iqbal Butt were addressed the demonstration.
The speakers in their address support the right of return of Palestinians to their homeland and demanded of the world community and united nation to support the safely return of oppressed people of Palestine from their occupied land.
They said that Israel is an illegitimate state which from the day first deprived the oppressed people of Palestine from their basic rights in their own homeland. They appealed the world community and united nation to accept the Palestine as sovereign Palestinian state. They demanded of the United States and Britian to stop the patronage of Zionist Israel adding that Israel killed the hundreds of thousands Palestinians and more than 12 million Palestinians are displaced because of Zionist terrorism.
The leaders condemned the brutal attack on peaceful Ismaili Community in Karachi on yesterday and termed that the Israeli agents were involved in this henious crime to destabilize the only Muslim nuclear State Pakistan.