PLF & HRCP will hold anti Israel Protest on May 14 to mark 67 anniversary of Palestinian Nakba Day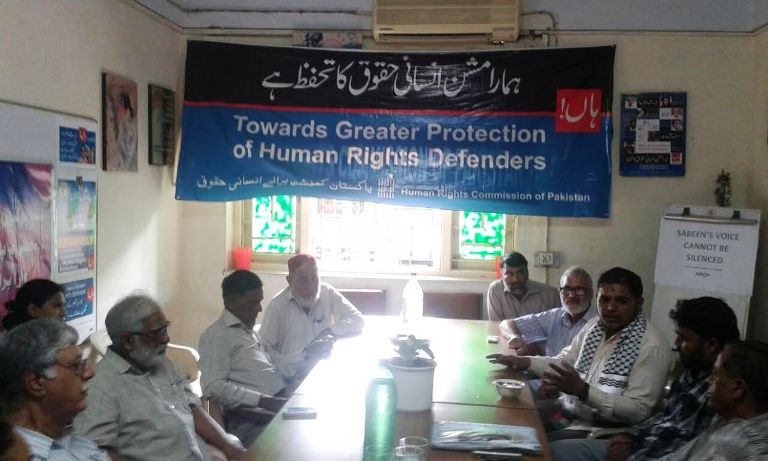 A Joint meeting of Palestine Foundation Pakistan (PLF) and Human Rights Commision of Pakistan (HRCP) held at offce of HRCP at Karachi to discuss current situation of Palestine and also decided to observe Nakba Day on May 15 under slogan "Return To Palestine".
They announced anti Israel protest demonstration on May 14 to observe Nakba Day to express solidarity with oppressed people of Palestine.
Sabir Abu Maryam Secretary General of Palestine Foundation of Pakistan with Ali Ahmer Media Secretary of PLF attended the meeting. 
Mr Karamat Ali of PILER, Human Rights Activist Sharafat Ali, Munir Memon, Asad Butt and others were present in the meeting from HRCP.
The Palestinians right to return to their home
The Palestinians, were uprooted from their own homeland in 1948 and are now scattered all over the world. Tremendous injustice has been done to them and it is their legitimate right to return to their homeland.
To memorialize Palestinians basic right a meeting of civil society was held at HRCP Karachi office. Representatives of HRCP, PILER, Palestine Foundation Pakistan (PLF), PIA Skyways, SFSP, PIPFPD, AHRC, MLFP, PFF, expressed solidarity with Palestinians and contemplate that ultimate justice cannot be realized unless they are allowed to return to their homeland. In this regard it was decided that a rally will be arranged on 14th May, 2015, 04:00 p.m. at Karachi Press Club.
All peace loving and rights defenders are invited to participate in the rally with friends and express solidarity with uprooted Palestinians.
Program
Venue: Karachi Press Club
Day & Date: Thursday, 14th May, 2015
Time: 04:00 p.m.