PLF & Sindh Boy Scouts Association hold Peace Walk in support of Palestinians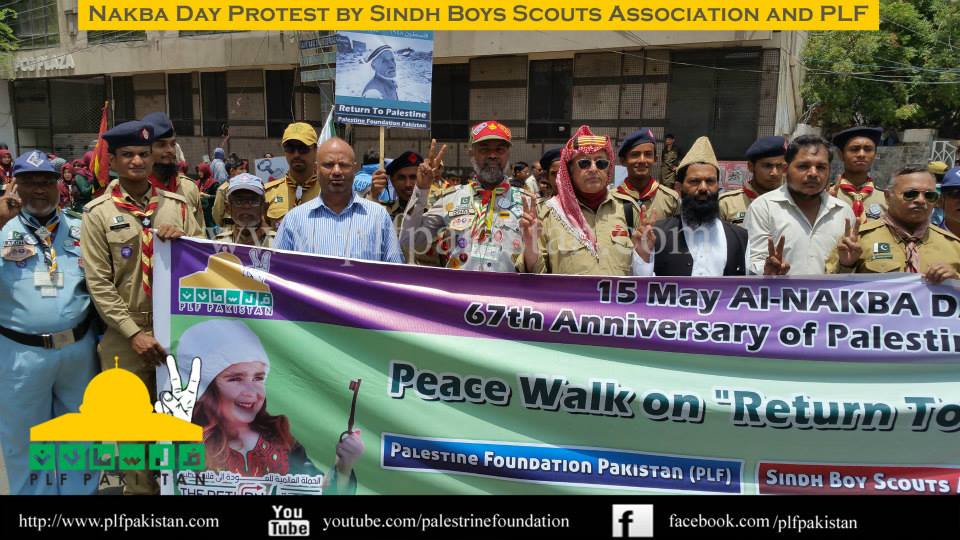 Palestine Foundation & Sindh Boy Scouts Association has organized a "Peace walk" In Karachi to express solidarity with the oppressed people of Palestine.
The Walk was started from the Sindh Boy Scouts Open district headquarter to Karachi press club, led by Palestine Foundation leaders Sabir Abu Maryam, Qazi Ahmed Noorani, Muzaffar
Hashmi, Sindh Boy Scouts Association Secretary Mr Akhtar Mir, beside the scouts groups representatives.
The Peace Walk was largely attended by the different scouts group Of Karachi in solidarity with the people of Palestine. The groups attended the "Peace Walk" are Karachi open District Scout , KMC District Scouts , Wehdat Scouts, Sohni Dharti Scouts, Aims Scouts, Nasran Scouts, Al-Hashim Scouts, Pak Hyderi Scouts, Al-Mustafa scouts and large number of scouts group participated in the peace walk.
In Peace Walk, The girl's scouts group of Nasaran Scouts Musical band gets the attentions Of Marchers through their excellent performance by performing the national anthem and other national songs. The participants in the walk who belongs from all walks of life including children carrying the placards and banners inscribed the anti-Israel slogans, "Down with Israel", "We want free Palestine", "Stop Genocide of Palestinians", and others demanding the United Nation to assure the peaceful return of Palestinians to their homes.
The leaders and representatives in their address to the "Peace-Walk" condemned the Zionist Israel aggression on oppressed people of Palestine. They demanded of the United Nation and World Community to stop the Zionist settlement in Palestine and start the process of peaceful return of Palestinians to their homeland.
They appealed the Government of Pakistan to announce to observe the "Nakkba Day" the day on 15th May on National Level to highlight the issue of return of Palestine at International Level.
Earlier, a seminar was held in the Sindh Boy Scouts auditorium under the aegis of Palestine Foundation Pakistan and Sindh Boy Scouts Association In support of right of return of Palestinians. The secretary General of Palestine Foundation Mr Sabir Abu Maryam, Secretary Sindh Boy Scouts Association Mr Akhtar Mir, JUP Sindh leader Qazi Ahmed Noorani Siddiqui, PILER Chairman Mr Karamat Ali, Mr Mehfooz Yar Khan, Former MNA Muzaffar Ahmed Hashmi and others spoke to the seminar.