PLF & Sindh Boy Scouts Association hold Peace Walk in support of Palestinians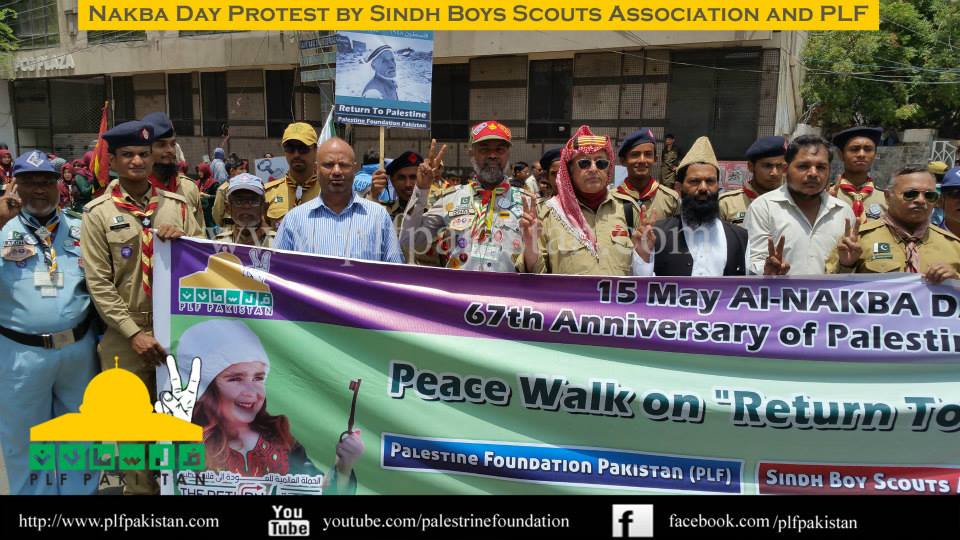 Palestine Foundation & Sindh Boy Scouts Association has organized a "Peace walk" In Karachi to express solidarity with the oppressed people of Palestine.
The Walk was started from the Sindh Boy Scouts Open district headquarter to Karachi press club, led by Palestine Foundation leaders Sabir Abu Maryam, Qazi Ahmed Noorani, Muzaffar
Hashmi, Sindh Boy Scouts Association Secretary Mr Akhtar Mir, beside the scouts groups representatives.
The Peace Walk was largely attended by the different scouts group Of Karachi in solidarity with the people of Palestine. The groups attended the "Peace Walk" are Karachi open District Scout , KMC District Scouts , Wehdat Scouts, Sohni Dharti Scouts, Aims Scouts, Nasran Scouts, Al-Hashim Scouts, Pak Hyderi Scouts, Al-Mustafa scouts and large number of scouts group participated in the peace walk.
In Peace Walk, The girl's scouts group of Nasaran Scouts Musical band gets the attentions Of Marchers through their excellent performance by performing the national anthem and other national songs. The participants in the walk who belongs from all walks of life including children carrying the placards and banners inscribed the anti-Israel slogans, "Down with Israel", "We want free Palestine", "Stop Genocide of Palestinians", and others demanding the United Nation to assure the peaceful return of Palestinians to their homes.
The leaders and representatives in their address to the "Peace-Walk" condemned the Zionist Israel aggression on oppressed people of Palestine. They demanded of the United Nation and World Community to stop the Zionist settlement in Palestine and start the process of peaceful return of Palestinians to their homeland.
They appealed the Government of Pakistan to announce to observe the "Nakkba Day" the day on 15th May on National Level to highlight the issue of return of Palestine at International Level.
Earlier, a seminar was held in the Sindh Boy Scouts auditorium under the aegis of Palestine Foundation Pakistan and Sindh Boy Scouts Association In support of right of return of Palestinians. The secretary General of Palestine Foundation Mr Sabir Abu Maryam, Secretary Sindh Boy Scouts Association Mr Akhtar Mir, JUP Sindh leader Qazi Ahmed Noorani Siddiqui, PILER Chairman Mr Karamat Ali, Mr Mehfooz Yar Khan, Former MNA Muzaffar Ahmed Hashmi and others spoke to the seminar.
The efforts to recognize Israel in Pakistan will never succeed, Senator Siraj ul Haq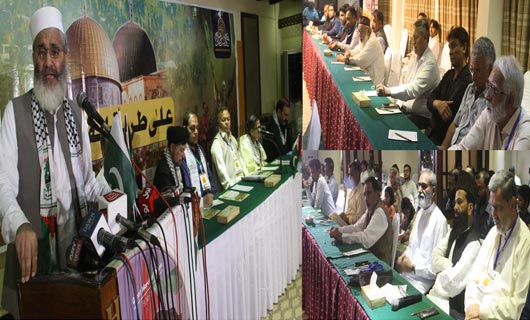 Karachi (PNIC) Palestine Foundation Pakistan organized a conference in Karachi's local hotel, leadership from political and religious parties attended. Speaking at the conference, Jamaat-e-Islami Pakistan's Ameer Senator Siraj ul Haq said that It is part of our faith to support Palestinian. Many nations of the world support oppressed community of the Palestinian people for the sake of humanity. He said that Palestine is the only nation that fights with stones rather than tanks of Israeli oppressor. Today, Palestinians wish to be martyred instead of getting educated at school. He said that Pakistan supports for oppressed Palestinian people are natural. Right now American navels are in the Arabian Sea and continuously threatened Iran for attack, which creates turmoil in region. He said that Israel is benefiting from the tension of Iran and Saudi Arabia. Israel wants that he should establish his domination on the world after fighting the Muslim Ummah. He said that efforts to recognize Israel in Pakistan will never succeed, if Pakistan recognizes Israel, Israel will not give us importance, because India is more important allay for them, India, Israel and USA are troika. Addressing the conference, Pakistan Muslim League-N former governor Sindh Muhammad Zubair said that the matter of Palestine is near to our heart, there are relations between Arab countries with Israel. He said that in order to prevent Iran, the Muslim Ummah is restoring relations with Israel. He said that if we raise the issue of Palestinians, we can also raise the problem of Kashmir globally. He said that for us, Palestine is important because of the occupation of the Holy Quds and the Pakistani Foreign Office should be able to make Palestine issue globally. Additionally, Dr Farooq Sattar said that the Quds Day should be celebrated at the official level in Pakistan. Farooq Sattar said that the crimes of Israel on Palestinians are very sad, the American President are supporter of Zionists' occupation. He said that the government of Pakistan continued to support the Palestinians with a clear and solid stand. The leader of the Tehreek-e-Insaf (PTI) Asrar Abbasi, said that the government would raise voice at every level for the sake of Palestinians. He said that PTI govt was advised on recognizing Israel but Prime Minister Imran Khan categorically rejected this advice. Addressing the conference, MWM SINDH Secretary General, Mr. Allama Baqir Zaidi "Today Israel is stubborn, Israel has made & supported ISIS," He added Israel wanted to capture Syria. All these plans were overturned. He said that the existence of Israel is going to end. Imam Khomeini said that the only solution to Palestinians' problem is the resistance. Senior Leader PTI, Israr Abbasi, said that the Islamic world must refrain themselves from Israel Relationship. All political and religious parties in the conference unanimously accepted the declaration to celebrate Al Quds Day officially. The conference was also attended by Palestinian students present in Pakistan Karmat Ali, Ahmed Khan Malik, Imtiaz Faran, Syed Shabbar Raza, Major Qamar Abbas, Aram Butt, Alhaj Mohammad Rafi, among prominent political figures including Naeem Qureshi, Mohammad Aqil, Prof. Haroon Rasheed, Advocate Malik Tahir, Abdul Waheed Younis, Rehan Abidi and others were present.
Palestine Foundation Pakistan (PLF) kicks off Nakba & Quds Day Campaign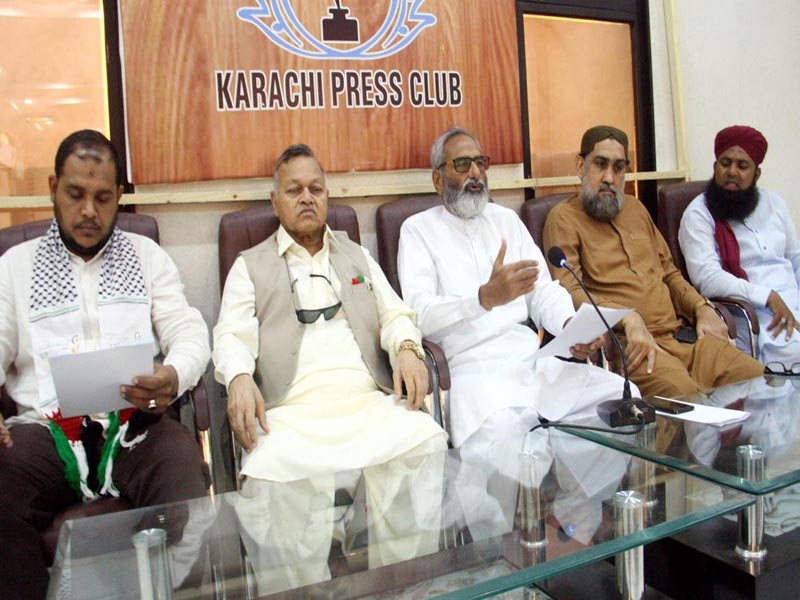 Karachi (PNIC) Palestine Foundation Pakistan (PLF) started Campaign to mark 71 Nakba Day and International Quds Day during the month of May and Ramadan Al Karem.
During a press conference held at Karachi Press Club on Sunday 12 May, PLF leaders including former member of provincial assembly Mahfooz Yar Khan, Muslim Parvez of Jamat Islami, Pir Azher Ali Shah Hamdani of PMLN, Siddique Qadri it APST and Sabir Abu Maryam Secretary General Palestine Foundation Pakistan jointly announces month long campaign to raising voices against occupiers and their supporters (UK, USA) those supporter for creation of illegitimate Zionist's fake regime at sacred land of Palestine. (Nakba Day)
Regarding 71 Nakba Day, a student Organization in Pakistan Imamia Students Organization will observes protest demonstrations against US and Zionist's fake regime Israel across the country.
They announced countrywide Palestine solidarity conferences under slogan of campaign "علی طریق القدس" "Towards al-Quds".
On 19 May al-Quds conference will be held in Karachi city where Ex-Governor of Sindh province Mr.Muhammad Zubair, Chief of Jamat Islami Senator Siraj ul Haq, MQM Pakistan Chief Mr.Farooq Sattar, Chief of MWM Pakistan Allama Raja Nasir along with all political and religious leadership will participate.
On 23 May, another Palestine Conference will be held by Parliamentary Forum on Palestine and Kashmir and Palestine Foundation Pakistan jointly at Parliamentary affairs auditorium and chaired by Chairman Foreign Affairs committee in the senate Mr.Mushahid Hussain Syed. In this conference Palestinian Ambassador in Pakistan will be the chief guest and federal minister of human rights Ms.Shireen Mazari, Senator Farhatullah Babar, Senator Afrasyab Khattak, Chairman Kashmir Committee Syed Fakhar Imam and other will participate.
Moreover, Lahore, Multan, Sukkur, Quetta and Hyderabad conferences will be held by PLF.
Two days pictorial exhibition will be start from 24 of Ramzan in Karachi till 25 Ramzan the last Friday of Ramzan. (International Quds Day)
Plant Palestine Campaign in Pakistan: All Parties of Pakistan announces fully support to Palestinian's cause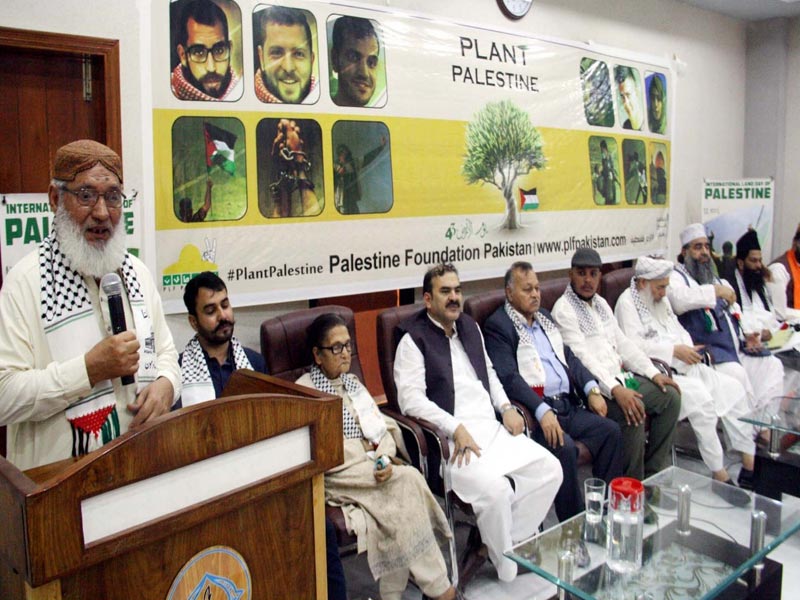 KARACHI (PNIC) 43rd International land day of Palestine marked in various cities of Pakistan during the ongoing campaign of Palestine Foundation Pakistan (PLF) " Plant Palestine".
An All Parties conference held at Karachi Press Club on 31st march Sunday to paying tribute to the martyrs of Great Return March in connection of 43rd International Land Day of Palestine. All Political and religious parties (Government and Opposition) has participated and announces fully support to the holy cause of Palestine.
They denounces Trump's decision about Jerusalem and Golan Heights and categorically said that US doesn't have mandate to allow any of the territory of Palestine ans Syria to Zionist's fake regime of Israel.
They asked to Arab League and OIC to take strong stand to protect holy land of Palestine and Jerusalem as well as Syria's Golan Heights.
They have appropriated Malaysian PM's support to Palestinian cause and statement during the recent visit to Pakistan, Speakers said that Pakistan never go for the normalization with Zionist's fake regime of Israel. Israel is our number one enemy and we cannot allow anyone to suggest normalization with Israel.
on 43 Land day of Palestine, speakers says that Palestinian land related to all Palestinians and its our prior duty to protect and save holy land of Palestine.
In account of Great Return March, They payed highly tribute to all of martyrs of 1976 and also from 2018 to till now. They said Palestinians have rights to return their homeland and no power in the world can stop them to return to homeland.
Speakers of All Parties Conference has strongly condemn recent attacks on Gaza and demanded to lift the siege from Gaza.
Former advisor of Government of Pakistan Dr.Alia Imam, Asadullah Bhutto, Muslim Parvez of Jamat-e-Islami, ex-Members of provincial assembly from MQM Pakistan Mahfooz Yar Khan, Major (r) Qamar Abbas, Kamran Farooq, Israr Abbasi of PTI, Azher Hamdani, Qazi Zahid Hussain of PMLN, Abdul Jalil Marwat of PMLQ, Allama Qari Usman, Molana Abdul Karim of JUIF, Allama Qazi Ahmed Noorani, Abdul Waheed younis of JUP, Allama Mubashir Hassan of MWM, Allama Abdul Khaliq Fareedi of Jamiat Ahley Hadis, Famous Scholar Faisal Azizi, Maaz Nizami, Rehan Abidi of ISO, Hafiz Imran Madni of ATI, Imtiaz Palari of JIY, Sabir Abu Maryam Secretary General of Palestine Foundation Pakistan (PLF) and others were addressed the conference.