PLF appeals to observe "Gaza Solidarity and Fath-e-Mubeen" Day in Lahore on Friday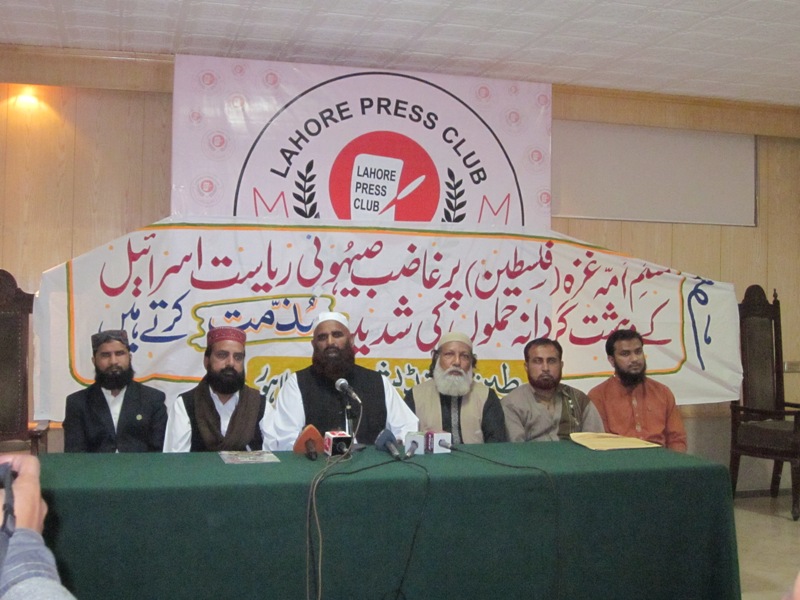 Palestine Foundation of Pakistan Lahore chapter has appealed to all to observe Friday as a day of Fath-e-Mubeen and Solidarity with Gaza to express all out support to Palestinians.
 The appeal was made a joint press conference at Lahore Press Club on Thursday. Those spoke there included: PLF's patrons namely JUP's Hafiz Nasir Noorani, Jamaat-e-Ahl-e-Sunnat's Pirzada Aijaz Suhrawardy, Sahibzada Afzaal Noorani of Fidaiyan-e-Khatm-e-Nubuwat, Mufti Liaquat of Anjuman Naujawanan-e-Islam, Faiz Hashmi of PLF, Afsar Raza Khan of Imamia Organisation, Nasir Ali of ISO, Usman Mohiyuddin of ATI and others.  
  They condemned Zionist regime of Israel, United States and those European countries who back Israel. "We demand the United Nations, Arab League, Organization of Islamic Conference and European Union to play their effective role to stop the massacre of innocent people of Gaza," the PLF leaders said. They said that Zionist regime of Israel has put Gaza under siege since April 2007. He lamented that neither the so-called champions of human rights in Europe and U.S. nor Muslims governments played their role against the Zionist atrocities so far. 
 They said that armed resistance to the Israeli occupation is the only way left for Palestinians and Lebanese people.  They announced Pakistan's all out support to armed resistance groups such as Hamas and Hezbollah against the Israeli aggression on Palestine and Lebanon.  They said that more than 160 people have been massacred in latest series of attacks by Israeli airforce. They condemned the brutal targeted assassination of senior Hamas military commander Ahmed Jabbari in the Israeli attack.  They maintained that durable peace in the Middle East was not possible without the elimination of Zionist Israel.  They said that the United States was also equally responsible for the massacre of innocent people of Gaza because Zionist regime enjoy full support of the U.S.