PLF condemns US patronage crimes in Palestine and world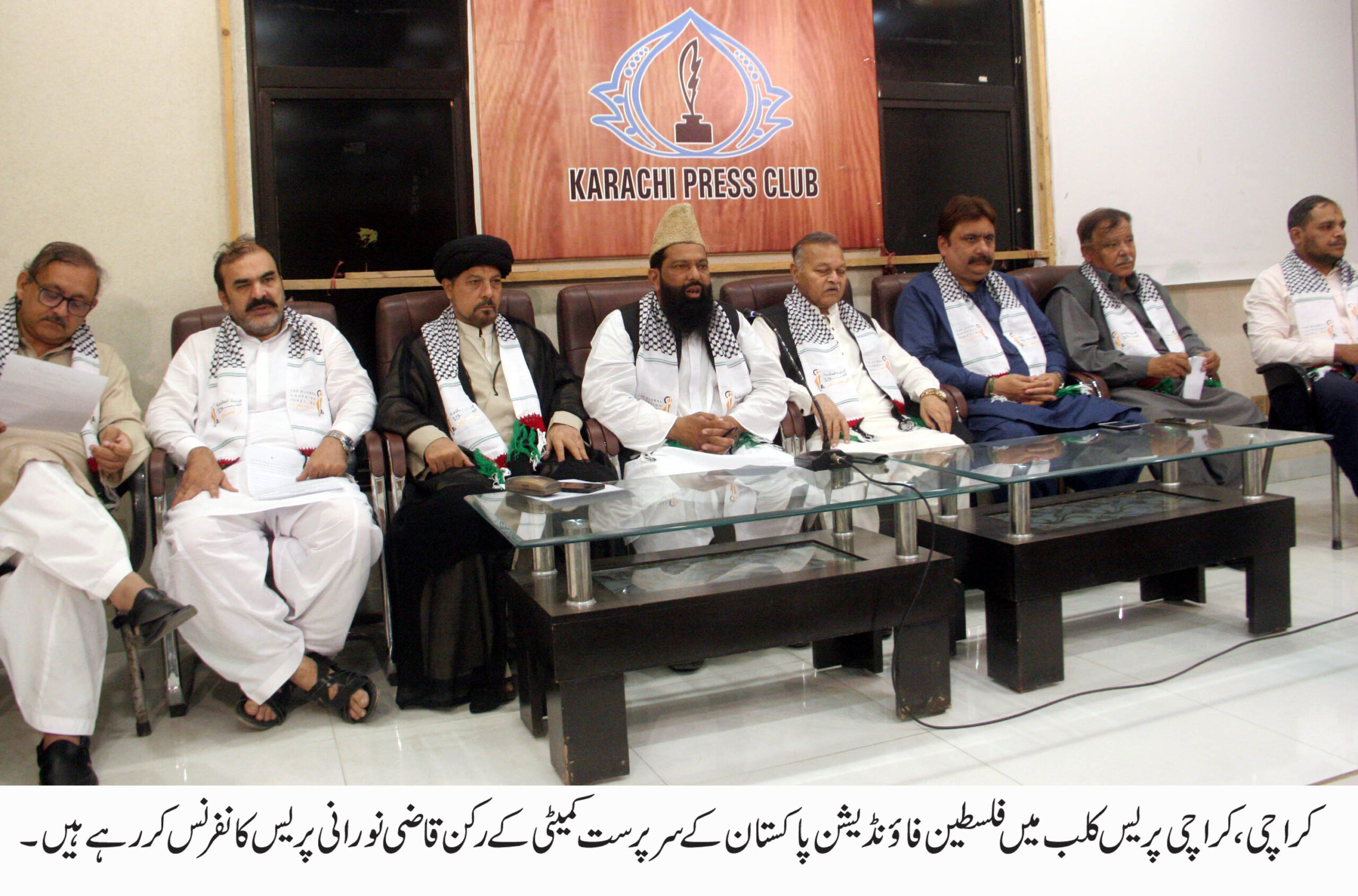 KARACHI: The patron committee of Palestine Foundation Pakistan (PLF) ha strongly condemn the ongoing US-Patronage Israeli atrocities against oppressed people pf Palestine. The Central Patron committee of Palestine Foundation Pakistan has said that the issue of Palestine is the most important issue of the Islamic world and Israel is like a dagger in the heart of the Islamic world. They expressed these views while addressing a joint press conference at Karachi Press Club on Tuesday.
The speakers said that the root of all the problems of the Islamic world including the issue of Palestine is United Stated of America. They said that on the last Friday of Ramadan, International Al-Quds Day would be observed across the country and on this occasion, protests would be staged against the US and its illegitimate children Israel. They appealed to the people of Pakistan to join the Al-Quds Day gatherings on Friday to protest against the global colonial powers.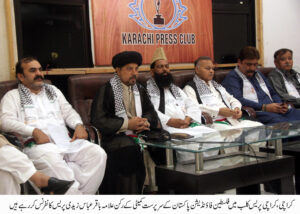 PLF leaders said that conferences, seminars and protest programs have been finalized across the country on the occasion of Al-Quds Day. Al-Quds conferences are being held while a nationwide publicity campaign against the US-sponsored Zionist atrocities has been launched and in the first phase, banners will be hung across the country and brochures will be distributed. On this occasion, the speakers further said that there will be protests against the Zionist occupation of Palestine and Al-Quds and the struggle will continue till the restoration of Al-Quds. The speakers termed Indian state terrorism in Kashmir as a US-sponsored affair and declared full solidarity with the Kashmiri people.
Among the participant, Former members of Sindh Assembly Mahfooz Yar Khan, Major (retd) Qamar Abbas, President of Majlis-e-Wahdat Muslimeen Sindh Allama Baqir Zaidi, Pakistan Tehreek-e-Insaf leader Israr Abbasi, Jamiat Ulema-e-Pakistan leader Allama Qazi Ahmad Noorani, Pakistan People Party Leader Syed Arshad Naqvi, PML-N leader Pirzada Azhar Ali Hamdani, Awami National Party leader Yunus Buneri, prominent social leader Bashir Saduzai, PTI woman leader Iram Butt, Qazi Zahid Hussain and Secretary General of Palestine Foundation Pakistan Dr. Sabir Abu Maryam addressed the gathering.