PLF demands govt to declare last Friday of Ramzan as International Quds Day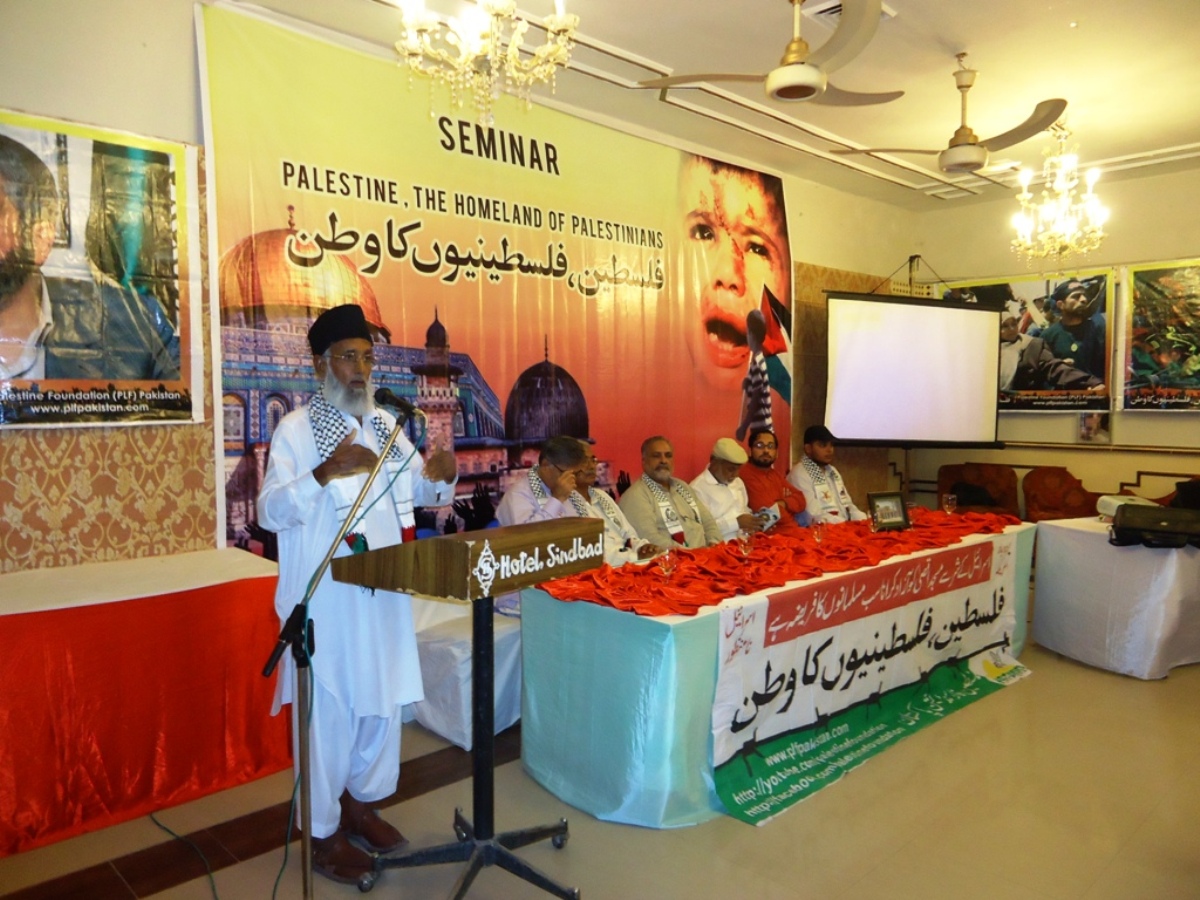 Multan: Speakers at a seminar on "Palestine is a country of Palestinians" have said that the Jews who were brought to Palestine should return to their countries of origin and Palestinians who were expelled from Palestine should be brought to Palestine.
 They also demanded of Pakistan Government to declare the last Friday of Ramzan as International Quds Day.
These demands were made at the seminar held at a local hotel in Multan. Rao Zafar, Jamaat-e-Islami Punjab chapter's general secretary, Salim Bukhari, founding member of Pakistan Tehrik-e-Insaf, Major (Rtd.) Mohammad Iqbal Chughtai of Tehrik-e-Minhaj ul Quran, Yafis Naveed Hashmi, secretary education of Majlis-e-Wahdat-e-Muslimeen, Hafiz M Akhtar Butt of JUI, Shaukat Ashfaq, Editor daily Pakistan and Sabir Karbalai, spokesman for Palestine Foundation spoke.
They Palestinians were expelled from their homeland and they were subjected to persecution for the crime that they are Palestinians. They said that majority of Muslim people are with Palestinians but majority of the governments of Muslim countries toe the line of the U.S. and Zionist Israeli regime.
The speakers at the seminar welcomed the Islamic awakening in Middle East and said that this wave would end with the liberation of Palestine. They said that terrorism in Pakistan is planned in the U.S. and Israel. They said that terrorism in Pakistan was aimed at compelling people of Pakistan not to support Palestinians.
The speakers further said that Palestine is an international issue and it belongs to whole of humanity. They said that all people have to join hands for a united struggle for the sake of Palestine. They vowed that the last Friday of Ramzan would be observed as International Quds Day. They vowed that all our moral and political support for Palestine and Palestinians would be continued.
The representatives of Imamia Students Organisation, Islami Jamiat Talba, Insaf Students Federation, Muslim Students Federation, Mustafavi Students Movement, Peoples Students Federation, minority representatives namely Johny Manuhar, Mahendar Pal Singh, and Palestine Foundation Multan chapter's Mohammad Saqlain and others were also present.