PLF felicitates Palestinians on release of prisoner Aiman al Sharwaneh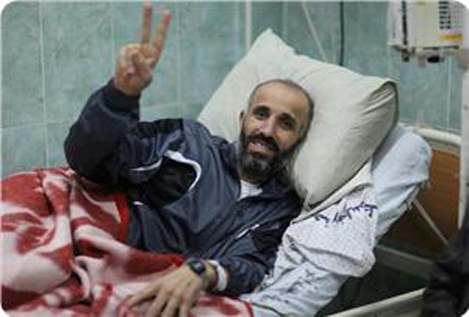 Palestine Foundation of Pakistan (PLF) has congratulated Hamas, Islamic Jihad and Palestinian nation over the release of Palestinian prisoner Aiman al Sharwaneh after his hunger strike that lasted for 260 days.
The PLF central office bearers Muzaffar Hashmi, Allama Qazi Ahmed Noorani, Sabir Karbalai and Mehfooz Yar Khan Advocate have said in a joint statement that hunger strike in the Zionist prisons is also part of legitimate Palestinian resistance.
They said that the Zionist Israeli regime had to bow down to the brave son of Palestine Aiman al Sharwaneh. They demanded of the international community to exert pressure on the Zionist regime to release all the Palestinian prisoners without any delay.
They said that armed resistance is the only option left for the Palestinians to liberate their sacred land from the illegitimate Zionist Israeli occupation. They said that armed resistance have paved way for the liberation of Palestine and all the problems of Palestinians including detention, racist Jewish settlement, right of return of the Palestinians to their land would be sorted out through armed resistance and the talks to be held by the armed resistance groups.
They vowed that Israel would never be recognized as a legitimate State and those who recognized Israel as a State would have to repent and change their mind.