PLF holds protest against Israel backed Indian aggression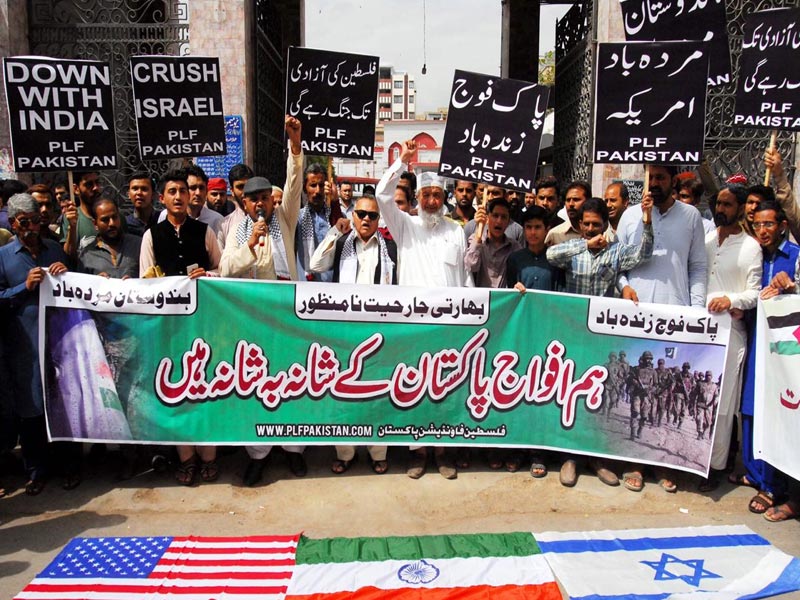 Karachi: (PNIC) Palestinians Foundation Pakistan (PLF) appealed for countrywide protest against the Indian aggression in Pakistan. Countrywide protest demonstration held in support of Pakistan Armed Forces to defending country from the Israel backed Indian terror attacks.
Central protest demonstration by PLF occurred in front of New Memon Mosque on Friday after prayers. Hundreds of citizens participated in protest and they raised banners and pla cards in the hands on which slogans against Indian aggression, Down with America, death to Israel, Down with India, we will continue support for freedom of occupied Kashmir, Palestine is the homeland of Palestinians.
They also chanted slogans against Israel-Indian nexus against Pakistan and supervision of United States of America to destabilize Pakistan. They burned American, Zionist's and Indian flags to show their anger.
Among the protestors Ameer of Jamat-e-Islami Sindh and former member of parliament Muhammad Hussain Mehnati, MQM Pakistan's former member of Sindh Assembly Mahfooz Yar Khan advocate, Matloob Awan chief of All Pakistan Sunni Tahreek, Sabir Abu Maryam Secretary General of Palestine Foundation Pakistan (PLF) and others were present.
Leaders fo different politio-religious parties has striongly condemn the Israel backed Indian aggression against Pakistan and said that Pakistan Armed Forces veery well replied to Indian aggression so that whole nation standing with Paksitan's Armed Forces and ready to reach at borders to sacrifices for soil.
Speakers demanded that India should be strictly punished for continued aggression against Pakistan and occupied Kashmir. Speakers on this occasion appeal to the whole nation that taking steps to keep the moral high and up for Pakistan's Armed Forces and keep unity in their ranks.