PLF leaders met Imam of Al-Aqsa Mosque Jerusalem at Karachi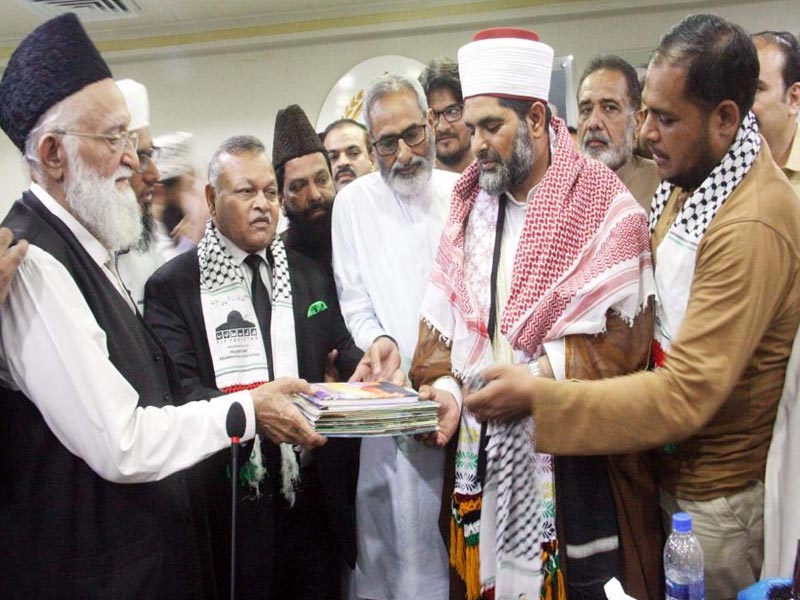 KARACHI: At the invitation of Al-Mustafa Welfare Head Haji Hanif Tayyib, the delegation of the Palestinian Foundation Pakistan met with Imam Sheikh Omar Fahmi of Al-Aqsa mosque, Jerusalem.
During the meeting with Imam of Masjid Al-Aqsa Jerusalem Shaykh Omar said that Pakistan has an Islamic and ideological relationship with Palestine. The people of Palestine are trying to overcome the Zionist state of Israel and the people of Pakistan are struggling on the issue of Kashmir.He paid tribute to the continued support of the Palestinian cause by the people of Pakistan and said that in every prayer in the first Qibla Jerusalem, the Palestinian people pray for the Kashmiri people and the sympathy and support of the oppressed people of Kashmir.
Guardian council's members of the Palestine Foundation Pakistan provided the information to Imam Masjid Al-Aqsa with detailed about the Palestinian Foundation's tremendous struggle and activities in Pakistan.
Sheikh Omar Fahmi said that Palestine Foundation Pakistan is a symbol for all other Arab and non-Arab states as it's worthy work and support towards cause of Palestine.
A large number of scholars and experts were also present on the occasion.In the service of Imam al-Aqsa, Palestine Foundation Pakistan also broadcast and presented gifts.
The delegation comprises members of the Advisory Committee of the Palestine Foundation Pakistan, former Member of the Muttahida Qaumi Movement Pakistan, Mahfooz Yar Khan, Muslim Pervaiz of Jamaat-e-Islami Karachi, Allama Qazi Ahmed Norani, President of Jamiat Ulema-e-Pakistan Sindh, Israr Abbasi, leader of Pakistan Tehreek-e-Insaf Sindh, Matloob Awan Qadri, the head of the All Pakistan Sunni Movement, Sabir Abu Maryam Secretary General Palestine Foundation Pakistan and Mukhtar Ahmed, Zaheer-ud-din and others were members of the working committee, present.
Imam Masjid Al-Aqsa Palestinian Sheikh Omar Fahmy thanked former federal minister Haji Hanif Tayyab and former UK-based ATI leader Abdul Razzaq Sajid at the invitation of Pakistan Welfare Minister.