PLF resumes "Palestine is the homeland of Palestinians" campaign to observe 68th Nakba -Day anniversary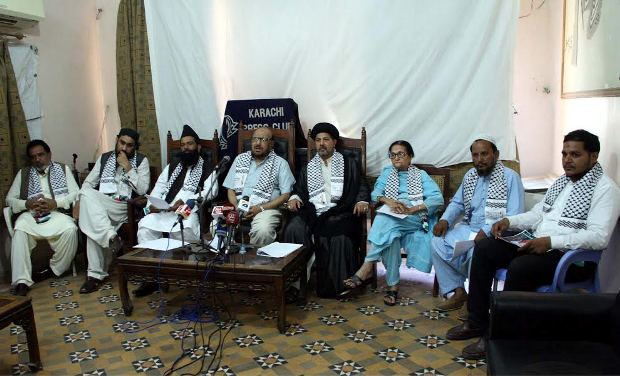 (PNIC) – Palestine Foundation of Pakistan (PLF) has announced a week long campaign to mark the 68th Nakba Day anniversary to express solidarity with oppressed people of Palestine.
In a joint press conference Palestine Foundation central guardian council members including former Member of National Assembly Myuzaffar Ahmed Hahsmi (Jamat-e-Islami), Allama Qazi Ahmed Noorani Siddqui (Jamiat Ulema Pakistan), Moulana Baqir Zaidi( Majlis Wehdat Muslameen Pakistan), Pirzada Azher Ali Shah Hamdani and Zahida Bhand (Pakistan Muslim League – Nawaz), Matloob Awan Qadri(All Pakistan Sunni Tahreek), Laeeq Ahmed Khan (Tanzeem-ul-Ikhwan), Karamat Ali (PILER), Dr Alia Imam (Former Advisor for Govt of Pakistan) and Sabir Abo Maryam Secretary General of Palestine Foundation Pakistan stated that Palestine Foundation and its supporter political and religio-political have decided to observe the 68th Nakba Day (Day of catastrophe) anniversary in Pakistan to expose the crimes committed by Zionist Israel against oppressed Palestinian's.
They announced that the rally Of Pakistani children in solidarity with Palestinian children will hold on May 11 at Karachi, Grand poetry event entitled "Palestine is the homeland of Palestinians" at Arts Council of Pakistan Karachi on 12th May will preside by Prof Sehar Ansari and CM Advisor Senator Abdul Qayyum Soomro will be as a guest of the eve.
On 13th of May , JUP and Palestine Foundation will hold a protest demo in front of Memon Mosque after Friday prayer against the Israeli occupation on Palestine and in solidarity with Palestine.
Palestine Foundation Pakistan and Anjumat Talba Islam will hold anti-Israel protest demonstration in front of Data Darbar a famous sufi saint after Friday prayer on 13th May.
On the Nakba Day 15th May , All Parties Press Conference (APC) will be held in Quetta Press Club entitled "Palestine is the homeland of Palestinians" and peace walk will be held at Islamabad from National Press Club Islamabad on 15th May.
PLF leaders also urged Government of Pakistan to play its diplomatic role to support oppressed Palestinians instead-off favoring Zionist regime like Govt representative in UN Maleeha Lodhi stated in the UNSC in favor of Zionist regime of Israel.
" Palestine is the homeland of Palestinians and return to Palestine is their fundamental right", they vowed.
They also condemned the role of US, UK and European union from the very first day they divided Palestinian land and created an illegitimate Zionist regime Israel.