Protest held across the Pakistan against Zionist regime attack on Gaza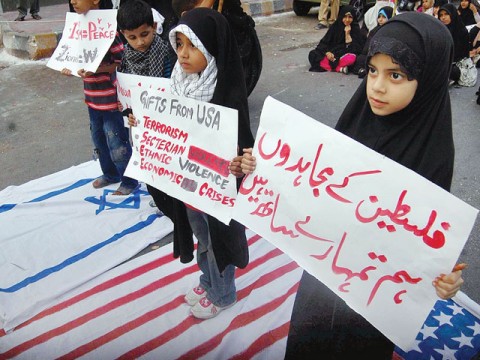 Countrywide protest was observed across the country against the Israeli aggression on Gaza on the call of Palestine Foundation Pakistan.
The Friday prayers leaders in their sermons condemns the Zionist aggression on Gaza and assassinationof Senior Hammas Military official Ahmed al-Jabari and expressed solidarity with the oppressed people of Palestine.
The clerics in their sermons termed America and Israel are the enemies of Humanity and posses the grave threat for the peace of Middle East.
They demanded of the Muslim and Arab leaders to raise their voice against the Israeli cruelty and to eliminate the illegitimate Zionist regime from the world.
The clerics assured the Islamic resistance Movement of Hammas and Islamic Jihad about the support of Pakistani nation against the American and Zionist conspiracies and declared that days of Zionist regime are numbered.