Quds Pathway of Martyrs weak will be observe in Quetta-Balochistan: PLF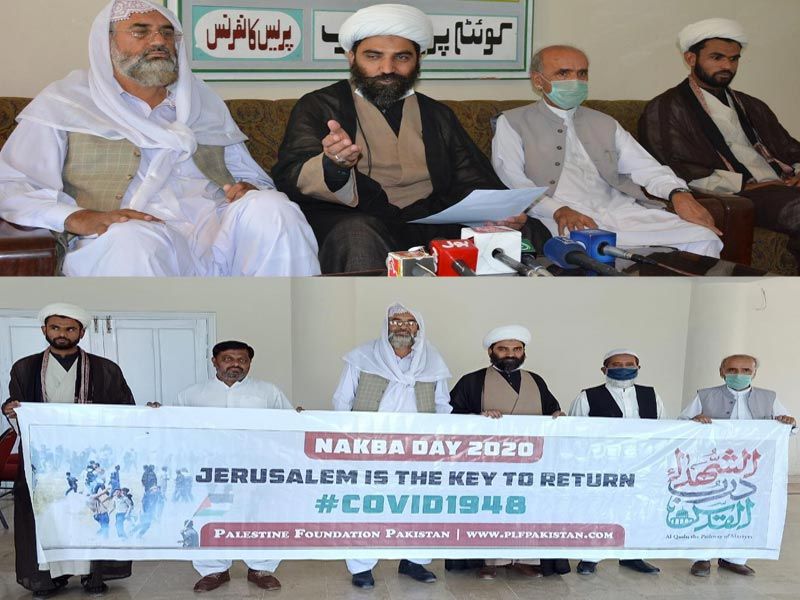 Quetta(PNIC) Israel is the most dangerous coronavirus in the world since 1948. In the current situation, both the corona virus and the Israeli corona virus are a threat to humanity. Palestine Foundation Pakistan Balochistan Chpater's leaders addressed a joint press conference on Tuesday at Quetta Press Club.
Addressing a joint press conference held under Palestine Foundation Pakistan Balochistan Chapter, leaders of various political and religious parties including Maulana Abdul Haq Hashmi (Amir of Jamaat-e-Islami Balochistan), Senator Mir Mahim Khan Baloch (Senior Nationalist Leader), Maqsood Ali Domki (Central Spokesperson Majlis-e-Wahdat Muslimeen Pakistan), Dr. Syed Ata-ur-Rehman, Maulana Munawar Solangi and Sohail Shirazi, including Syed Habibullah Shah Chishti (Vice Chairman Sunni Supreme Council Balochistan), Maulana Rana Muhammad Ashfaq (Provincial Amir of Jamaat-ud-Dawa Balochistan) stated that the Campaign for the Liberation of Al-Quds will be held from May 15 to May 22 under the theme of Quds Pathway of Martyrs in Quetta Balochistan.
Leaders said that Every year, millions of people around the world celebrate World Al-Quds Day against the Zionist illegal occupation of Palestine and for the liberation of Palestine.
On the occasion of Al-Quds Day, the people should join the Al-Quds Day by waving the flags of Pakistan and Palestine from the roofs and windows of their houses to express their solidarity with oppressed people of Palestine. They said
#Covid1948 campaign will be launched on social media across the country on the occasion of Nakba Day, the day of the establishment of the usurper Israel. On last Friday of Ramadan, will be observe as International Quds Day. They added
On this occasion, we salute the sons of Balochistan those were martyred during the commemoration of Quds Day in 2010 at Quetta blast. The pure blood of these martyrs will bring color and, God willing, Jerusalem and Palestine will be free. They said.