Quetta hosts Liberation of Al-Quds Conference on Quds Day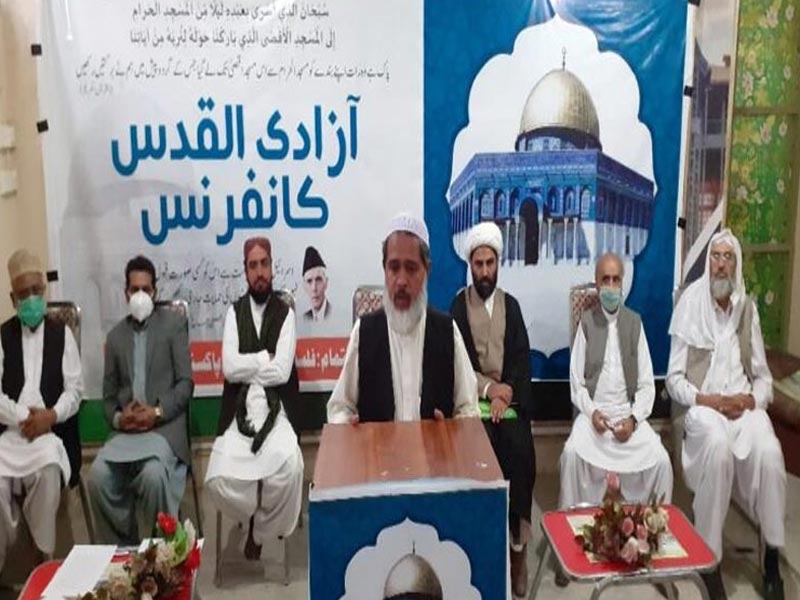 Quetta (PNIC): Palestine Foundation Pakistan Balochistan Chapter organized the Al-Quds Conference on Wednesday in Quetta to marking the last Friday as Quds Day. Mir Abdul Qaddos Sasoli of Jamiat Ulema Pakistan, Mumtaz Alam Din Religious Scholar Dr. Ata-ur-Rehman, Spokesperson of Majlis Wehdat Muslameen Pakistan Allama Maqsood Ali Domki, Former Senator Nationalist Leader Mir Mahim Baloch, Pir Syed Habibullah Shah Chishti of Sunni Supreme Council, PTI Provincial Leader Nawabzada Sharif Jogezai, Christian leader Pastor Nadeem Robert, Iqtdar Ahmed of Islamic Organization, Allama Wilayat Hussain of Majlis-e-Wahdat-e-Muslimeen, Agha sohail Shirazi of Palestine Foundation, Ehsan Ali of Imamia Students, Maulana Abdul Hameed Mansoori of Jamaat-e-Islami and other scholars and political leaders addressed the gathering.
The speakers said during the conference that the first right to the land of Palestine belongs to the Palestinians and Palestine is the homeland of Palestinians. In May 1948, 0.8 million Palestinians were expelled from their land and an illegitimate state of Israel was established by the conspiracy of UK and USA, which was an illegal act. One hundred thousand Palestinian youth have sacrificed their lives for the liberation of the Quds. Even today, the United States and Israel are trying to seize another 30 percent of the West Bank. We condemn global conspiracies against Palestine. The United Nations verbally support the legitimate struggle of the Palestinians, but more practical steps are needed.
Addressing the conference, speakers said that the biggest obstacle to the liberation of the Occupied Muslim Territories, including Palestine and Kashmir, is the disunity of the Islamic world and the reliance on anti-Islamic forces. Despite this, he could not reduce the love of Islam and the Prophet of Islam from the hearts of the Muslims. The anti-Islamic forces are preventing the Muslims from advancing in a democratic way.
The attitude of the West is a conspiracy to destroy interfaith harmony and world peace and to throw the world into the fire of war. An embarrassing plan called the Deal of the Century has been launched to oust the Palestinian people and bargain for the first tribe. We reject it. They added.
Speakers said that Pakistan has always stood by the oppressed Palestinian people. The love and devotion of the Palestinian people is present in our hearts and the determination and passion for the liberation of the quds is in the heart of every Muslim. They paid highly tribute to all martyrs of 2010 Quds Day blast in Quetta and said that their sacrifices will never goes in vein. The all are martyrs of Quds. It is an honour for Balochistan and Pakistan that our children have sacrifices their lives and blood for the cause and freedom of Palestine and Quds.