Rabbis of Anti-Zionist Group Join Protest Marking Land Day on Lebanon-Israel Border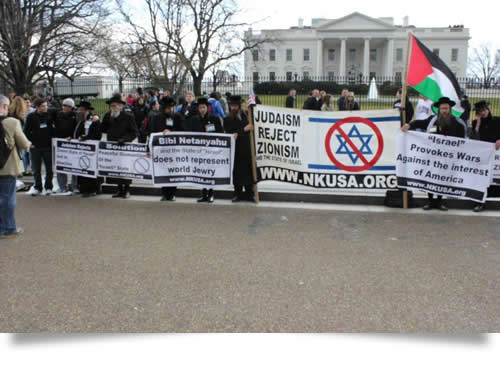 Foreign activists joined hundreds of Palestinians and Lebanese in southern Lebanon, on Friday (March 30) to mark Land Day amid heavy security. Land Day commemorates the killing by security forces of six Arabs in 1976 during protests against government plans to confiscate land in northern Israel.
In Arnoun, about 5 km from the border with Israel, activists held banners and chanted slogans against Israel at the historic Beaufort Castle.
The Land Day rally supporters included four rabbis from the anti-Zionist group Neturei Karta.
"We want the world to know that the Jewish religion does not accept the occupation and the oppression of the Palestinian people. It is against the Torah, the Jewish teaching. It is against the views of Jews around the world who are true to the Torah," one of the rabbis Yisroel Dovid Weiss said.
Palestinian organizers have called for a peaceful rally and a "Global March to Jerusalem" to mark the day.
However, violence flared at checkpoints in the occupied West Bank to the north and south of Jerusalem. Witnesses also reported disturbances at gates leading into the Old City, with police limiting access to the Muslims' revered al-Aqsa Mosque.
Jerusalem is a focal point of conflict, as Palestinians want the city's eastern sector, captured by I srael in a 1967 war, as capital of a future state.
Israel has annexed East Jerusalem as part of its capital and insists the city remain united.
Lebanese and Israeli security are present on both sides of the border to avoid a repeat of violence that flared last May when six Palestinians were killed during the protest when they charged towards the barbed wire separating the two countries.