Resistance is only solution of Kashmir issue. Sabir Abu Maryam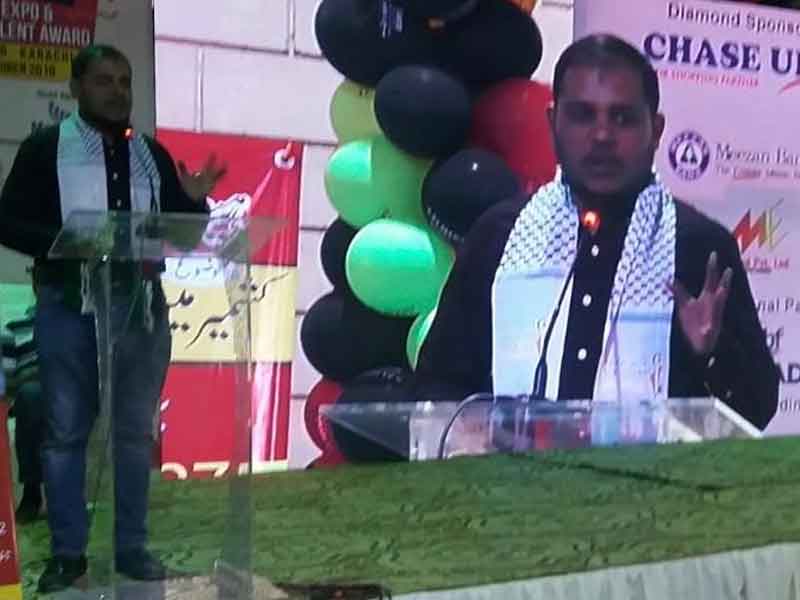 KARACHI: The Palestinian Foundation, Pakistan's Secretary General, Sabir Abu Maryam, has said that the solution to the Kashmir issue lies not in dialogue and UN resolution but in the way of resistance against all oppressors forces. He expressed these views while addressing a seminar on human rights organizations from the Human Rights Network in Karachi. The seminar was held on Sunday 27th October during the two-days Fanta Gala Family Festival at the Expo Center in Karachi.
The seminar was chaired by Mohammad Hussain Mohanti, Amir of Jamaat-e-Islami Sindh, while a large number of people, including prominent leaders and social figures affiliated with human rights organizations, were present on the occasion.
The Palestinian Foundation, Pakistan's central secretary-general, said that the so-called international powers do not consider human rights abuses in every place, including Palestine, Kashmir, Burma, Yemen, Iraq, Afghanistan, where they do not have the interests of colonial governments. He said that the British colonialists had left two deep wounds on the heart of the Islamic world, one of which was Asia the establishment of the Zionist illegal and fake state of Israel on Palestine and the other leaving Kashmir for Indian state terrorism.
He said that the problems of Palestine and Kashmir are the main problems of the Muslim world.
He strongly condemned the ongoing Indian curfew and atrocities in Kashmir for eighty five consecutive days and also strongly criticized the governments that no government tried to seriously resolve the Kashmir issue.
Sabir Abu Maryam said that in occupied Kashmir, India has warmed the market for terrorism and the United Nations has become a tool of imperialist forces, but only one solution to the problem is clear and that is the way of resistance. He strongly supported the resistance movements of the people of Palestine, Lebanon, Iraq, Syria, Yemen and Kashmir and said that it is the prior responsibility of the people to support the resistance movement in all region to liberate Palestine and Kashmir.
He added that world conditions are changing rapidly and oppressive forces are on the verge of decline. He said that freedom fighters, whether in Palestine or in Kashmir, as well as their supporters everywhere in the world, will surely witness the independence of Palestine and Kashmir, and that time is not far away.