Ruling and opposition parties' leaders express unanimous stance against Israel on Nakba anniversary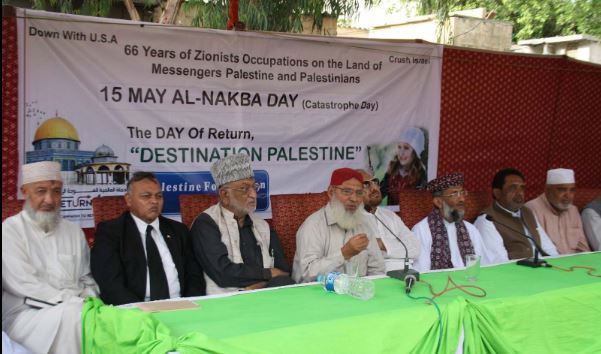 Pakistani politicians belonging to the ruling and opposition parties have expressed unanimous opposition to the illegitimate Zionist state of Israel on the anniversary of Nakba (Catastrophe Day) on Thursday.
They expressed a united stance against the Zionist Israel at an All Parties Conference held under the aegis of Palestine Foundation (PLF) of Pakistan at Karachi Press Club.
Pakistan Muslim League-Nawaz's Nihal Hashmi and Azhar Hamdani, Majlis-e-Wahdat-e-Muslimeen's Allama Amin Shaheedi and Allama Sadiq Raza Taqvi, Firdous Shamim Naqvi of Pakistan Tehrik-e-Insaf, Sahibzada Abul Khair Zubair of MYC and JUP, Asadullah Bhutto and Dr Meraj ul Huda of Jamaat-e-Islami, Aqeel Khan Swati of Awami National Party Matloob Awan of Sunni Tehrik, Iqbal Qadri of Pakistan Awami Tehrik, Shehzad Mazhar of Human Rights Network, Bishop Sadiq Daniel, Dr Riffat Awan of an NGO Peace and Sabir Karbalai of the PLF spoke at the APC.
They vowed that they would continue their united struggle for the sake of liberation of Palestine and al-Quds (Jerusalem). They said that the anniversary of Nakba reminded people around the world that justice was not done to the Palestinians and justice delayed was tantamount to justice denied. They Zionist terrorists established an illegitimate racist state grabbing the sacred land of Palestinians.
They were of the united views that students of colleges and universities should be taught about the Palestine issue. They said that just solution to the Palestine issue is establishment of an independent and sovereign state of Palestine where Palestinian Muslims, Christians and Jews should live in their homeland and all those brought to Palestine from around the world through Aliyah and Aliyah Bet and after that to change the demography of Palestine, should be asked to return their original countries.
They said that Palestine is not an issue between Arabs and Jews but it is an issue between Palestinians and non-Palestinians. They said that Palestinians are those who were living there even before the world war I. Those Palestinians included Muslims, Christians and Jews hence there must be no misunderstanding that Palestinian Jews have right like the Palestinian Muslims and Christians to live as they were living before the illegal mass migration of the Jews from around the world at the behest of Zionist Movement.
They resolved that Zionist regime was the worst sort of war criminal and racist regime and she must be tried under war crimes. They said that Nuremberg Trial should be a model to punish the Zionist terrorists who established an illegitimate state on the land of Palestinians by the use of force and terrorism. They said that Muslims around the world and even people around the world should join hands to ensure that Palestinian refugees should be allowed to return to their homeland Palestine.
They said that return of Palestine should be clarified in letter and spirit. They should return to live in the houses and areas from where they were forced to leave in 1940s and 1960s in particular.
They criticized the United Nations and decision-making countries of the UN and EU, OIC and Arab League expressing dismay and dissatisfaction over their inaction against the Zionist regime. They urged the international community to declare Israel a terrorist state and revoke its UN membership forthwith.
{gallery}plf_nakba_day{/gallery}