Seminar on "Palestine is the country of Palestinians" held in Islamabad on Nakba Day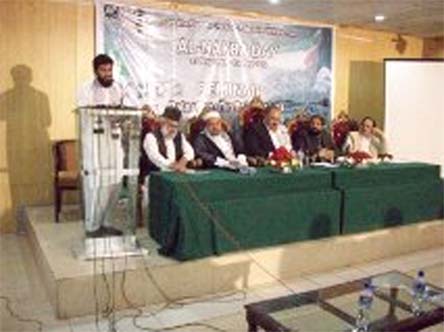 The speakers at a seminar on "Palestine, a country of Palestinians" vowed on Wednesday (Nakba Day) that they would leave no stone unturned for the liberation of Palestine from the yoke of Zionist regime of Israel.
Palestinian ambassador to Pakistan Hazem Abu Shanab, PMLN's Chairman Raja Zafar ul Haq, Jamaat-e-Islami Azad Kashmir's leader Abdul Rasheed Turabi, former MNA J Salik, leaders of Majlis-e-Wahdat-e-Muslimeen, Jamiat Ulema-e-Pakistan and other politicians spoke at the seminar. Arsalan Ayaz conducted the seminar. Usman Shah, Dr Irfan, Inam ur Rehman, Subhan Gilani and other representatives of the civil society also participated in the seminar.  The seminar was held under the aegis of Palestine Foundation (PLF).
"Palestinians have been resisting the Zionist regime of Israel for last 64 years and they have not been tired so far," said Palestinian ambassador Hazem Abu Shanab.
Raja Zafar ul Haq said that Pakistanis have been backing their Palestinian brothers for last 64 years. He said that Pakistanis would continue to raise voice in favour of Palestine at all forums of the world.  He said that Pakistanis are sworn supporters of the just Palestine cause and they are willing to sacrifice their lives for their oppressed Palestinian brothers.
"Unfortunately, Muslim governments have failed to help liberate Palestine despite passage of 64 years since Nakba (catastrophe) was imposed on Palestine on May 15, 1948, said Abdul Rasheed Turabi of Jamaat-e-Islami.
He lashed out at the international community, human rights organisations and in particular the United States, Britain and some European states for their criminal silence on the oppression of Palestinians by Zionist regime.
He further lambasted the U.S., Britain and other European states for hijacking the United Nations and its sister-organisations in favour of Israel. "Not only Muslims, but Christians too have made sacrifices for the sake of Palestine cause. They have sacrifices their lives resisting the Zionist-sponsored oppression," said J Salik, former minister and ex-member of Pakistan's parliament.
In a resolution adopted at the seminar, it was demanded of the government to hold an international conference on Palestine to highlight the issue at the global level. The resolution also demanded of the United Nations and its sister-organisations to play their due role for an immediate return of Palestinians to their country Palestine.