Seven Israeli settlers killed in Jerusalem's shooting operation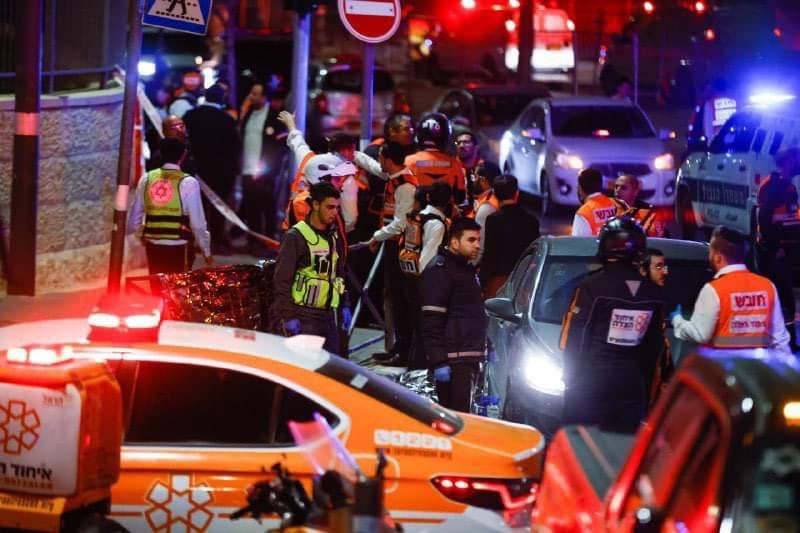 At least seven Israeli settlers were killed and 3 others were wounded in a shooting operation in an illegal Israeli settlement in occupied Jerusalem on Friday evening, a day after Israel's bloody massacre in Jenin refugee camp.

The operation executor was identified as 21-year-old Palestinian resident of Jerusalem's al-Tur neighborhood Khairi Alqam, who was also fatally shot by Israeli forces.


Israeli police said he arrived by car at around 8:15 pm local time in the illegal settlement of Neve Yaakov. He then opened fire at Israeli settlers in the area before fleeing the scene on foot and encountering Israeli forces. He died in an exchange of fire with the forces.

Israeli settlers moved to Neve Yaakov following the occupation of Jerusalem by Israeli forces in 1967. Israeli settlements in the West Bank and East Jerusalem are considered illegal under international law.



Following the operation, Israeli occupation forces raided the area where the family executor lives and arrested his parents and 42 others, including 15 Palestinians who were paying condolences to the family.



Friday's operation comes a day after Israeli forces committed a bloody massacre in the Jenin refugee camp where it killed 9 Palestinians in a few hours.

More than 231 Palestinians were killed by 'Israel' in 2022, with the vast majority (173) killed in the West Bank. This year seems to usher in a similar trend as Israeli forces and settlers have already killed 32 Palestinians.