Shireen Abu Akleh's family meets Pope Francis in Vatican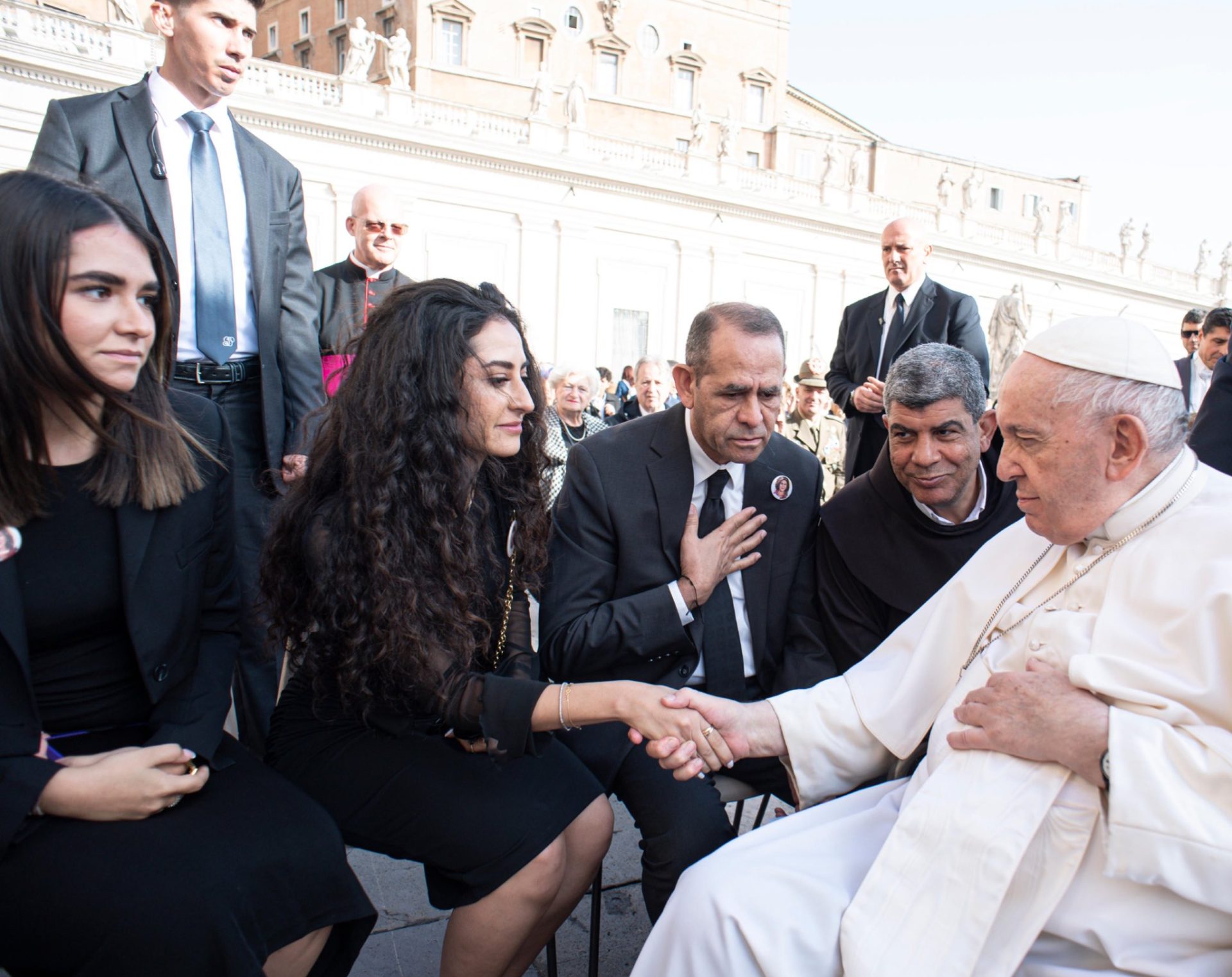 The family of slain Palestinian-American journalist Shireen Abu Akleh was received on Wednesday by Pope Francis in the Vatican, nearly six months after the veteran journalist was shot dead by Israeli forces while covering a military raid in the occupied West Bank.
On Wednesday, Shireen's brother Tony, his wife, and two daughters were among a group of guests attending a general audience in Vatican City, a weekly appointment in which the pontiff greets pilgrims.
"Tony held out a picture of Shireen that [the pope] blessed and moved past the family… of course [it's] significant and symbolic for a Catholic family," Al Jazeera's Stefanie Dekker, reporting from Rome, described the brief meeting, adding that the family "had expected to have a bit more time with the pope".
A memorial mass was held at 5 pm local time (15:00 GMT) at the Basilica of Saint Mary in Cosmedin in Rome in honor of Shireen Abu Akleh.
Abu Akleh's niece Lina, who has become the face of her family's global campaign for justice, told Al Jazeera's Dekker that while they appreciated the words of condolences and support, what they wanted was accountability.
"If we can't get justice for Shireen, who was someone so well known and an American passport holder, then what chance is there for other Palestinians?", the reporter quoted her as saying.
Lina Abu Akleh announced the meeting with the head of the Catholic Church in a tweet on Tuesday, "My family and I are on our way to the Vatican at the invitation of Pope Francis … for a meeting about my aunt Shireen Abu Akleh and our family's push for justice."
"People of conscience around the world continue to echo our calls for accountability and #JusticeForShireen," she said.
For Tony Abu Akleh, this was an "important and emotional" meeting, which gives further "strength" to the struggle "for truth and justice" undertaken by the family. "This is the least we can and must do to honor her memory," he said, speaking a few minutes after meeting the pontiff.
This intense and moving moment is a source of further support in the battle "that we carry out in the name and on behalf of all the Palestinian people," he added. "We thanked the pope and Card Parolin for raising the issue at the UN."
"The quest for justice is fundamental, especially from a perspective of peace, because there is no peace without justice," insisted Tony Abu Akleh. "To achieve this, we must put an end to the [Israeli] aggression, and the killings of civilians and journalists."
"For our family, for us who are Christians, the closeness of the pontiff and the cardinal is very important." But solidarity "must be accompanied by justice and those responsible must answer for their actions" before a court "so that it does not happen again."
"My sister was killed by an Israeli sniper" who knew that he was firing at a civilian target, but until now "the army and its soldiers have benefitted from a widespread climate of impunity."
"Shireen was a voice for peace, against the occupation, and worked to give voice" to the suffering of a people. "Also, for this reason, Israel wanted to silence her, shooting at her intentionally."
Despite wearing a protective helmet and blue bulletproof vest clearly marked as "PRESS," the 51-year-old veteran journalist was shot and killed by Israeli forces in the head while she was covering an Israeli military raid into the Jenin refugee camp on May 11, sparking international outrage and calls for accountability for attacks on journalists. The slain journalist covered events and Israeli aggressions in the occupied Palestinian territory for 25 years.
Abu Akleh's family recently met with US Secretary of State Antony Blinken and called to investigate the killing. Lawyers representing the family of Abu Akleh also asked the International Criminal Court (ICC) to open a new investigation into her killing.