Spain politician: Ukrainians welcome, Muslims aren't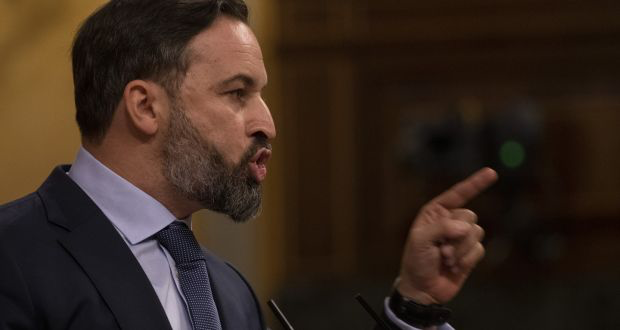 Madrid – The Leader of Spain's far-right Vox Party has opposed hosting Muslim refugees in Europe while welcomed the absorption of Ukrainians fleeing their country after Russia's invasion.
In an address to the parliament on Wednesday, Santiago Abascal said the European countries must welcome the Ukrainian refugees "because they are indeed war refugees."
However, Abascal described Muslims who are fleeing their crisis-hit countries as "invaders."
"Anyone can tell the difference between them (Ukrainian refugees) and the invasion of young military-aged men of Muslim origin who have assaulted European borders in an attempt to destabilize and colonize it."
The far-right Vox Party has repeatedly been slammed over its Islamophobic stance.
The unfolding Ukrainian crisis put the racist European policy against non-Europeans under spotlight.
Bulgaria, which has been against hosting refugees from the Middle East, also opened its doors to the Ukrainians.
"These are not the refugees we are used to… these people are Europeans," Bulgarian Prime Minister Kiril Petkov said.
Petkov added, "These people are intelligent, they are educated people."
The UN refugee chief also admitted that some non-European refugees have faced discrimination while attempting to flee to safety at Ukraine's borders.
At a press conference on Tuesday, Filippo Grandi confirmed that "there has been a different treatment" by Ukrainian security forces and border officials.
This came after a number of Black, South Asian, and Mediterranean refugees shared accounts of being blocked at borders while trying to make crossings.
Since the tragedy of war in Ukraine, more than half a million people in the country have fled for safe sanctuary, as countries welcome refugees into safety, and rightly so.
However, the reporting of this tragedy has seen double standards and Eurocentric bias.
This bias holds one group of human lives more valuable than others, who are suffering conflicts in countries such as Syria, Iraq, Afghanistan and Palestine.
"This isn't a place, with all due respect, like Iraq or Afghanistan, that has seen conflict raging for decades," Charlie D'Agata, a CBS correspondent in Kyiv stated live on air.
"You know, this is a relatively civilised, relatively European — I have to choose those words carefully, too — city where you wouldn't expect that or hope that it's going to happen."
The bias and racist elements when describing refugees did not stop at his comments.
In fact, reporters from other media outlets said things as equally offensive.
An Al Jazeera anchor airing his views on it said, "These are not obviously refugees trying to get away from areas in the Middle East."
And even an ITV News reporter stated that, "Now the unthinkable has happened to them, and this is not a developing, Third World nation, this is Europe."