Struggle for independence of Kashmir and Palestine will continue. Sirajul Haq, Sabir Abu Maryam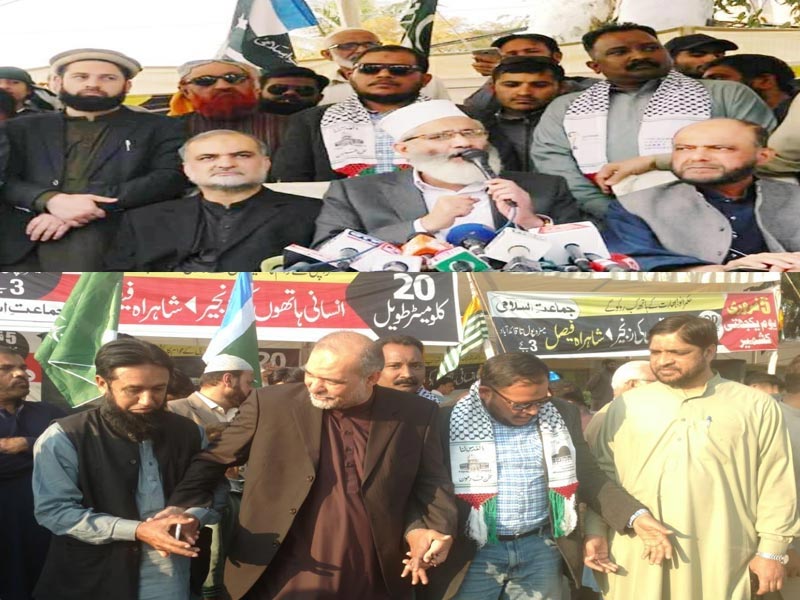 Karachi(PNIC) Chief of Jamat Islami Pakistan and Senator Sirajul Haq and Central Secretary General of the Palestine Foundation Pakistan have said that the so-called peace plan of US President Donald Trump "Deal of century" will not successful. They categorically condemned and rejected the Century Deal and said that Will keep continues the struggle for independence of Kashmir and Palestine.
He expressed these views while talking to media representatives while participating in a humanitarian chain event organized by Jamaat-e-Islami on the occasion of Solidarity Kashmir Day in Karachi. Hafiz Naeem-ur-Rehman, Osama Raza and Rashid Qureshi along with other leaders and officials were present on the occasion.
In the name of solidarity Kashmir, a hand chain was made in Karachi, which was made in the form of a twenty-five kilometer long chain and expressed solidarity with the people of Kashmir. The delegation of Palestine Foundation Pakistan participated in the program of Solidarity Kashmir under the leadership of Central Secretary General Saber Abu Maryam. Mukhtar Ahmed, Imran Shahzad and Hassan Abbasi included.
Talking to media representatives, the leaders said that Palestine and Kashmir are important issues for the Muslim Ummah. The government should declare Jihad to liberate Kashmir.
They said that we are standing with the people of Palestine and Kashmir.
It is important to note that thousands of men and women, including children and youth, participated in the making of human hand chains and made a chain of hands from Metropol Chowk to Quaidabad and expressed their solidarity with the oppressed Kashmiri people.