Tens of thousands of Jordanians participate in Jerusalem march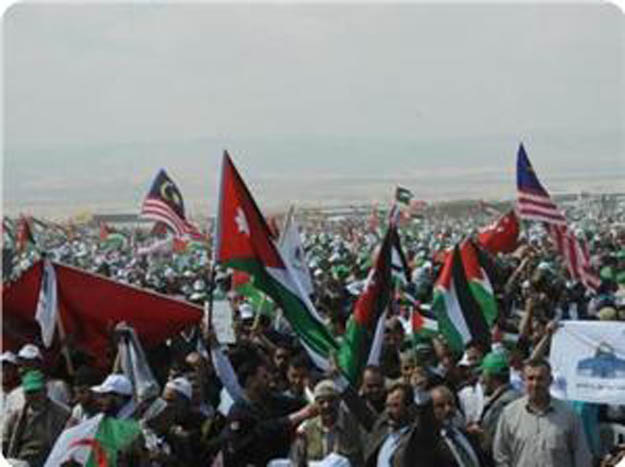 KAFRAIN,  Tens of thousands of Jordanians and foreign and Arab solidarity activists participated in the Global March to Jerusalem at the Kafrain area in the northern Jordan valley near the Jordanian Palestinian border. Leader of the Muslim Brotherhood Dr. Hammam who lead the Friday prayers said in his sermon: "The liberation of the Aqsa Mosque is getting closer as the people started to free themselves from the tyrants [..] A year on the start of the Arab spring and after the people got rid of the tyrants, the Muslim ummah looks forward to liberating Jerusalem and holy places."
"Aqsa today is in our hearts and this rally in which participants from all over the world took part demand an end to occupation and restoration of Palestinian rights who sacrificed thousands of martyrs and thousands of captives."
Thousands of Jordanians travelled to the place of the demonstration in an area from which Palestine can be seen at a distance to rally for Jerusalem and to mark the Palestinian Land Day. PIC correspondent in Amman said that hundreds of buses from all Jordanian districts transported participants to Kafrain.
Dr. Yahya Halloum, coordinator of the Global March said that delegates from 80 countries participated in the march.
He also said that today's Global March to Jerusalem laid the foundation for popular activities in support of Jerusalem and the Palestinian people in their struggle for liberation.
Former Jordanian PM, Dr. Ahmad Obaidat, said in his speech that Jerusalem is still a steadfast Arab city that gives inspiration to free people and that stability in the region cannot be achieved without its liberation.
The head of the Indian delegation, San Aghnash, for his part said that the delegation came from the land of Gandhi to express the support of the Indian people for the Palestinian cause, support which he said goes back in history to the time of Gandhi who said: France is for the French, Britain is for the British and Palestine is for the Palestinians.
Other heads of delegations, such as the Moroccan delegation, the Indonesian delegation, the and Malaysian delegation delivered messages of support.