"There is no Israel. There is only Palestine," Saudi fan tells Israeli reporter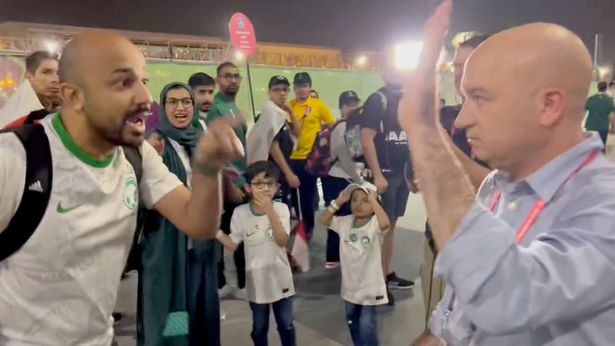 An Israeli reporter was told that he is "not welcome" in Qatar during live television coverage by a football fan wearing the kit of Saudi Arabia.
Moav Vardi, the head of the foreign news desk at Israeli public broadcaster Kan 11, was confronted by a fan wearing a Saudi Arabia top following the nation's two-goal defeat by Poland on Saturday.
In front of the TV camera, the fan told the Israeli reporter, "It is Palestine, there is no Israel. Go please. You are not welcome here. This is Qatar, this is our country – you are not welcome here. There is only Palestine. There is no Israel."
As the FIFA World Cup 2022 kicked off on November 25, Arab football fans are shunning Israeli journalists trying to interview them in solidarity with Palestinians.
Fans from different Arab countries, including those who normalized ties with Israel', have refused to talk to Israeli reporters after finding out who they work for. Others have waved the Palestinian flag behind the Israeli journalists as a show of boycott.
Israeli reporters were also given a rude awakening by the fans who kept saying "It's called Palestine – there is no Israel," "Viva Palestine," and "Free Palestine."
Raz Shechnik, another Israeli journalist covering the tournament, posted a detailed thread on his Twitter account to detail what he had experienced during the competition.
"We [Israeli journalists] feel hated. We feel hostility and we feel unwelcome," he said.
Pro-Palestine football fans have also expressed solidarity with Palestine at the world's most celebrated sporting event. They have been displaying Palestinian flags, wearing Palestinian armbands and singing and dancing for Palestine.