Thousands march in funeral of seven Palestinians martyred in Tulkarem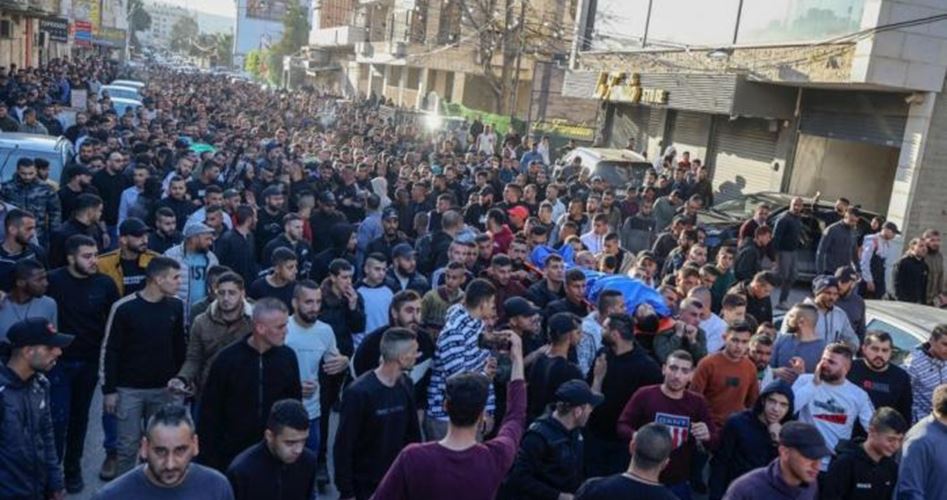 TULKAREM,(Palestine Foundation Information Center)Thousands of Palestinian citizens marched on Wednesday in the funeral procession of seven Palestinian martyrs, who were killed the other day during a violent Israeli military raid in Tulkarem refugee camp.
The funeral was held for the martyrs Mahmoud Hadayda, Hazem Khader, Jihad Ghanem, Sa'eid Abu Tahoun, Musaab al-Ghoul, Walid Nasim and Abed Jarban. Three of the martyrs were killed when the Israeli occupation forces attacked a house in the camp with a suicide drone.
The procession moved from outside Martyr Thabet Thabet Hospital in Tulkarem City and marched through the city and its refugee camp, amid angry chants, before performing the funeral prayer at a local mosque and then laying them to rest at a local cemetery.
The death toll in Tulkarem governorate since the start of the Israeli aggression against Gaza on October 7 has climbed to 30 martyrs.
The West Bank is experiencing in 2023 its most violent year since the second Intifada with hundreds killed in Israeli army attacks on Palestinian areas or during resistance operations.