To house Ukrainian Jews, WZO to build 1,000 illegal structures on Israeli-occupied Palestinian lands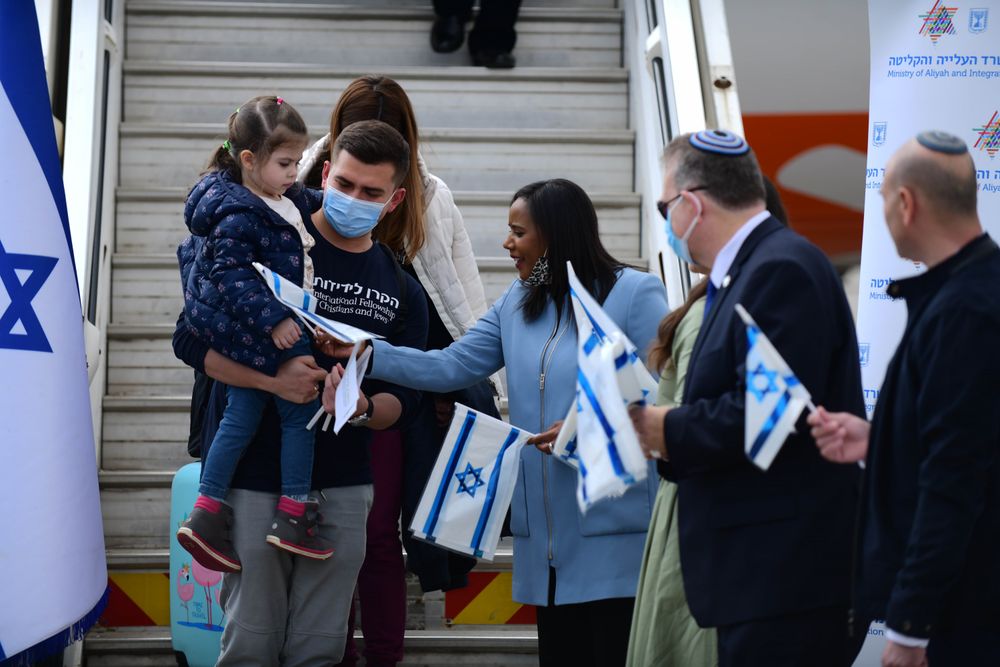 Occupied Palestine – The World Zionist Organization's Settlement Division has announced plans to place about 1,000 illegal portable structures on Israeli-occupied Palestinian lands to absorb Jewish immigrants from Ukraine.
Before the beginning of the unfolding crisis in Kiev, Yishai Merling, chairman of the WZO's Settlement Division, initiated a detailed plan a few weeks ago for establishing illegal temporary homes in large and permanent caravans for Jewish families from Ukraine who plan to make aliyah, the Jerusalem Post reported.
Merling recently showed the so-called emergency plan to Yaakov Hagoel, chairman of the World Zionist Organization and acting chairman of the Jewish Agency.
The Settlement Division, which plays a main role in establishing new illegal Israeli settlements in the Occupied Palestinian territories, plans to put the residential and public buildings intended for temporary absorption of families and individuals arriving from Ukraine next to or in permanent settlements.
The plan includes residential buildings of 55 square meters to 90 sq.m.
The illegal buildings will be located on the northern border, in the occupied Golan Heights, the Al-Naqab, Wadi Araba, the Valley of Springs and the Jordan Valley.
There are nearly 700,000 Israeli settlers living in 256 illegal settlements and outposts scattered across the occupied West Bank, including East Jerusalem.
Israeli settlements are illegal under international law.
A government decision is required to implement the plan.
When the government decision passes, the members of the Settlement Division are prepared for its immediate execution," Merling said.
Nearly 2,500 Ukrainian Jews have asked to emigrate to 'Israel' "immediately" following Russia's invasion of Ukraine, the Jewish Agency said on Thursday.
When Russia launched a full-scale operation in Ukraine, the Jewish Agency set up a special hotline to help those interested in leaving the country for 'Israel' as well as 'Israelis' who have relatives in Ukraine.
The hotline is being operated out of Jerusalem in conjunction with the International Fellowship of Christians and Jews (IFCJ), an organization that raises funding from evangelical Christians.
So far more than 5,000 Ukrainian Jews have called the hotline, with about half of the callers expressing interest in moving to 'Israel' immediately, Israeli newspaper Haaretz reported on Sunday.
Last year, a total of 3,100 Ukrainians immigrated to 'Israel'.
An estimated 200,000 Ukrainians are eligible to immigrate to 'Israel' and receive automatic citizenship under the so-called "Law of Return," according to Haaretz.
In recent decades, Ukraine and Russia have been the largest suppliers of immigrants to 'Israel'.
A total of 11,824 new Israeli colonizers arrived in occupied Palestine between January and June 2021 – up 30 percent from the same period in 2020, but 20 percent lower than the same period in 2019, according to figures published by Israel's Ministry of Aliyah and Integration.
Americans who made aliyah ( North American immigration to 'Israel') were far more likely than immigrants from any other country to move to occupied West Bank settlements in 2020, constituting more than 8 percent of United States citizens who immigrated to occupied Palestine in 2020 and comparing with less than 3 percent of those making aliyah from France and less than 2 percent of the immigrants from Russia and Ukraine who moved to occupied West Bank settlements.