Two days long Grand pictorial exhibition on Quds Day by PLF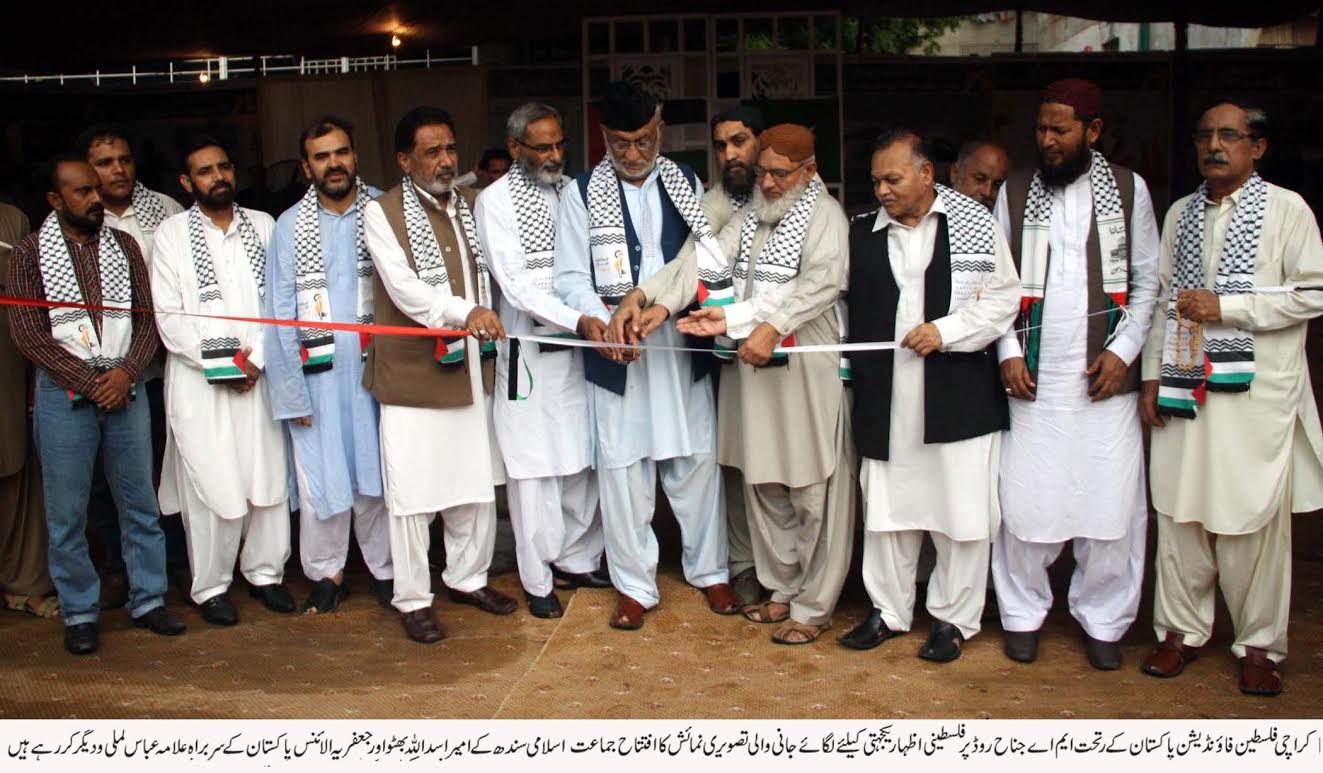 Karachi (PNIC):Two days long grand pictorial exhibition on Quds day to express solidarity with oppressed people of Palestine and marking an International Quds day under the ongoing campaign of Palestine Foundation Pakistan as "O'Quds! We are coming" held at M.A.Jinnah Road Karachi on 30 June to July 1st.
Pictorial exhibition on Quds inaugurated by the various diginities and political religious parties leaders including Sabir Abo Maryam Secretary General of Palestine Foundation Pakistan (PLF), Senator Allama Abbas Kumaili of Jaffaraia Alliance Pakistan (JAP), Bishop Sadiq Daniel of Church of Pakistan, Asadullah Bhutto central Naib Ameer of Jamat-e-Islami Pakistan (JIP), Pirzada Azher Ali Shah Hamdani of Pakistan Muslim League Nawaz (PMLN), Moulana Baqir Zaidi of Majlis Wehdat Muslameen Pakistan (MWM), Allama Aqeel Anjum Qadri of Jamiat Ulema Pakistan (JUP), Israr Abbasi of Pakistan Tahreek Insaf (PTI), Dr Mahfooz Yar Khan Advocate Member of Provincial Assembly and leader of Muttahida Qoumi Movement Pakistan (MQM), Matloob Awan Qadri of All Pakistan Sunni Tahreek (APST), Dr Alia Imam of former advisor of Government of Pakistan, Qaiser Iqbal Qadri , Rao Kamran of Pakistan Awami Tahreek (PAT), Muslim Parvaiz of Jamat-e-Islami Karachi, Tariq Shadab of Amity International and many others.
During the two days long grand pictorial exhibition on Quds day several political and religious leaders and thousands of citizens including children, women and youngsters visited the exhibition and express their full support to oppressed people of Palestine and also for the liberation of Quds and Palestine.