UK Queen's Speech includes 'BDS bill' to stop public bodies targeting 'Israel'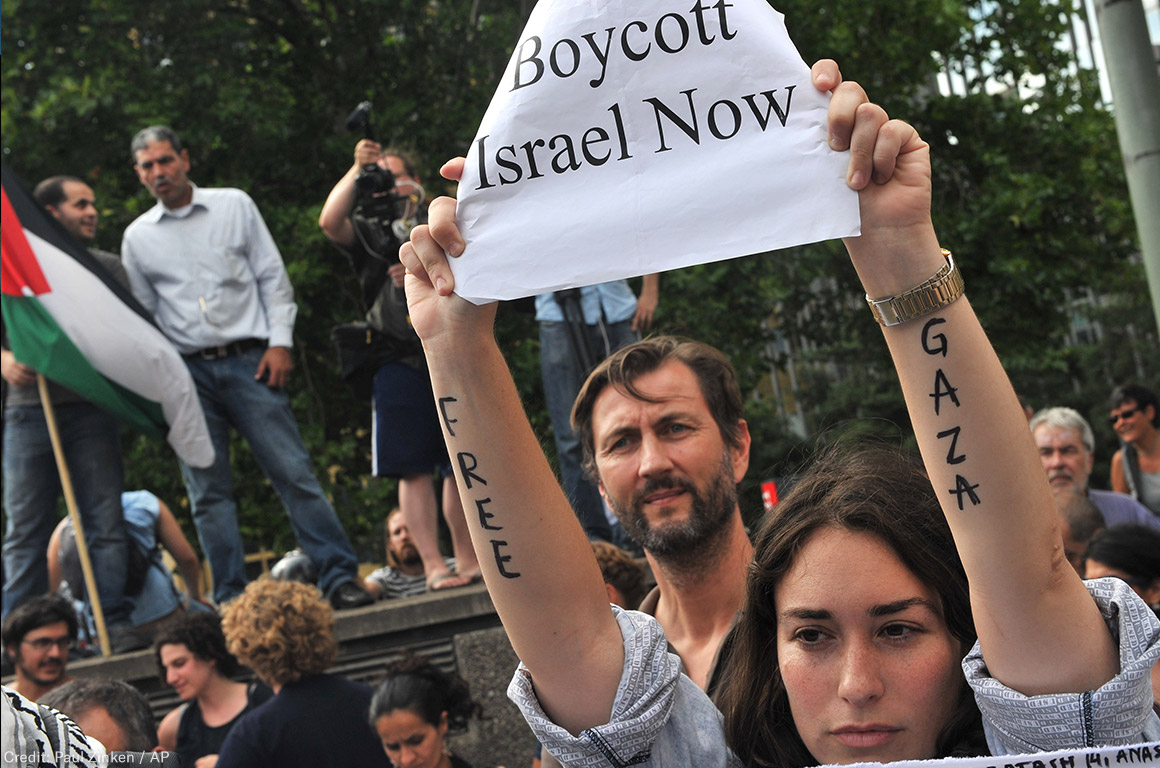 London – The UK government announced on Tuesday plans to prevent public bodies from participating in boycott and divestment campaigns, a move strongly condemned by pro-Palestine activists in Britain.
The UK's announcement was made during the Queen's Speech opening of Parliament, when Prince Charles said the government will introduce "legislation [that] will prevent public bodies engaging in boycotts that undermine community cohesion".
The move is apparently aiming at restricting support for the Boycott, Divestment and Sanctions (BDS) movement which aims to pressure 'Israel' to comply with international law and end its illegal occupation of Palestine through the promotion of boycotts and sanctions.
"The Boycotts, Divestment and Sanctions Bill will stop public bodies [from] imposing their own boycotts on foreign countries," the BBC reported.
Thus, the legislation would essentially ban public bodies from supporting the peaceful BDS movement.
During the Leadership Dialogue Institute (LDI) 2021 online conference, which aims to foster ties between Australia, UK and 'Israel', Robert Jenrick, a member of Prime Minister Boris Johnson's Conservative Party and former secretary of state for housing, said a bill, which will be presented in the coming months to the Parliament, will ban the BDS movement in Britain.
Jenrick stated that "In the following months, we will be working to outlaw BDS in the UK."
"I think we're beating BDS here. Today, there is no political party in the UK to support BDS, and this is becoming an increasingly fringe activity," Jenrick said.
He added, "What we want to do is pass legislation here, and I'm pretty confident it will be in the legislative program the spring of next year."
"There's a question of how broad that law can be, obviously I want it to be as broad as possible, so there's next to no avenue that BDS could continue," Jenrick said.
The Conservative Party's manifesto during the 2019 general election in the UK included a commitment to "ban public bodies from imposing their own direct or indirect boycotts, disinvestment or sanctions campaigns against foreign countries."
In 2020, the Supreme Court overturned a government order banning local authorities from divesting their pension funds from 'Israel'.
The judges' decision followed a legal challenge by the Palestine Solidarity Campaign against guidance issued by then Communities Secretary Sajid Javid in 2017.
Following the court's ruling, the government said it was committed to ensuring public bodies took a "consistent approach to investments and (stopped) local boycotts".
Labour Party leader Sir Keir Starmer has also said his party does not support BDS.
However, at the party's policy-making conference in Brighton in September 2020, Labour members passed a motion which branded 'Israel' an apartheid state and called for British sanctions.
Jenrick's successor in the role, which now includes Levelling Up duties, Michael Gove, has long been an outspoken opponent of BDS.
Speaking to MPs in the Commons in March, Gove claimed that one way of tackling the "evil of antisemitism" was to "stand up to the BDS campaign."
Arguing the case for an anti-BDS Bill, the government has now argued "boycotts may legitimise and drive antisemitism" by focusing so much on Israel.
The Bill aims to empower the government to ban public bodies who conduct their own boycott campaigns against foreign countries or officials, when they are "inconsistent with official UK policy."
It would also prevent public institutions from using BDS to target the sale of goods and services from foreign countries, and UK firms which trade with such countries or territories.
Boris Johnson has included similar commitments to tackle the BDS movement over claims they "overwhelmingly target Israel" in the last two Queens Speeches.
The BDS movement is now a vibrant global movement made up of unions, academic associations, churches and grassroots movements across the world. Since its launch in 2005, BDS is having a major impact and is effectively challenging international support for Israeli apartheid and settler-colonialism.
Several countries and US states have banned the BDS movement. Many US states are using anti-boycott laws and executive orders to punish companies that refuse to do business with illegal Israeli settlements in the occupied West Bank.
Opponents of the BDS movement who support 'Israel' view it as anti-Semitic and designed to destroy Israel's economy.