Voice of oppressed people raised on International Day of Human Rights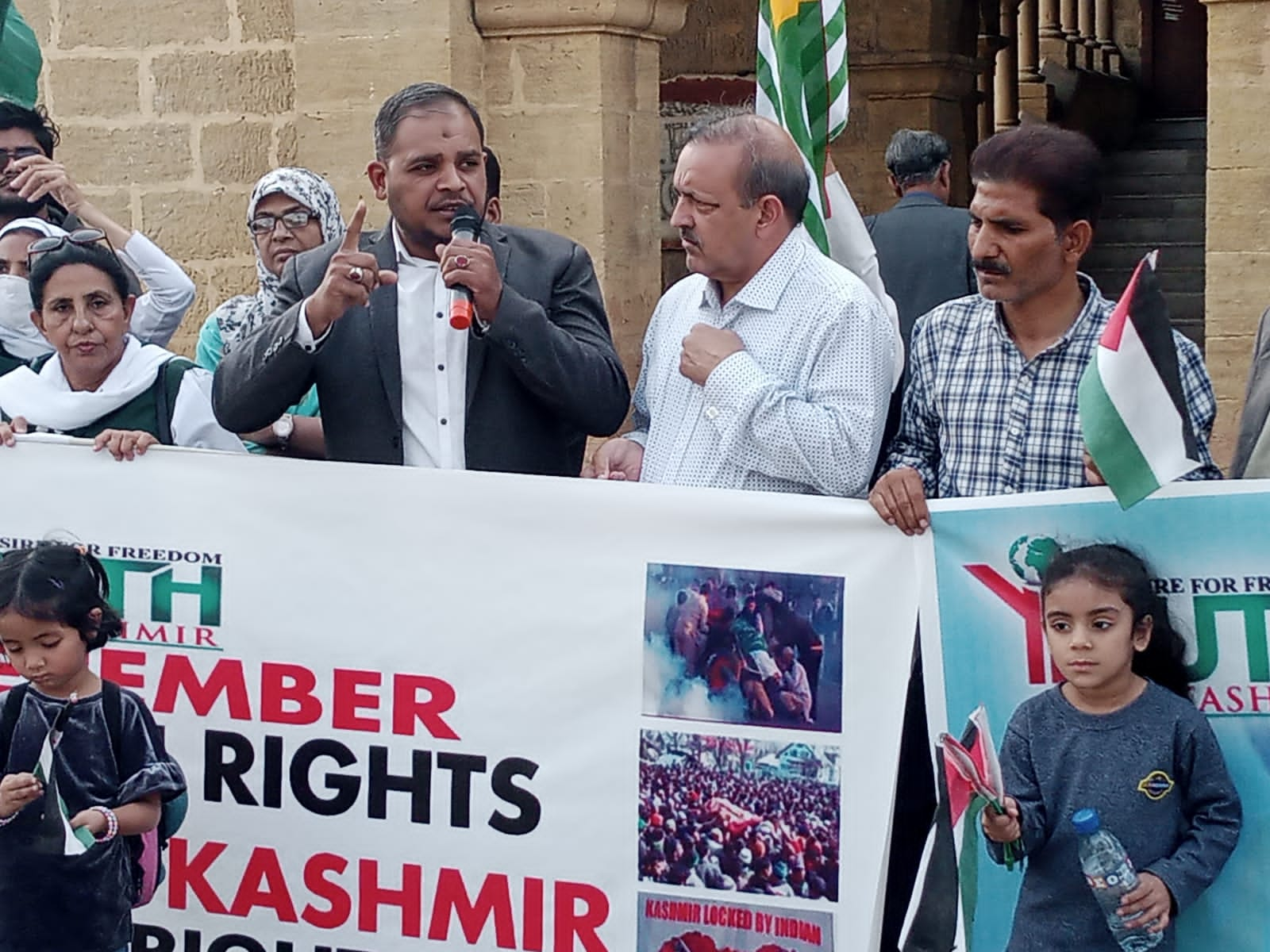 KARACHI (Palestine Information Center) Human Rights Council Pakistan and Palestine Foundation Pakistan (PLF) jointly organized a protest demonstration in support of the oppressed people of Palestine and Kashmir and against the violations of human rights around the world on the occasion of International Human Rights Day december 10th at the famous Freer Hall Park in Karachi.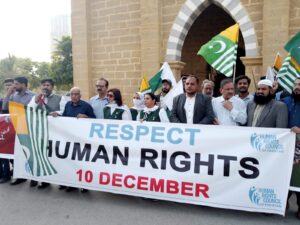 The demonstration was led by prominent Kashmiri leaders Bashir Khan Saduzai, Jamshed Hussain and Dr. Sabir Abu Maryam.
Chairman of HRC Jamshed Hussain, well-known Kashmiri leader Bashir Khan Sadouzai, Secretary General of PLF Dr. Sabir Abu Maryam, Pakistan Awami Tehreek Karachi President Saqib Nowshahi, Sikh leaders Mughan Singh, Younis Sayani, Fatima Memon, Nida Basharat of YFK , Sarwar Ali, Sana Butt and others were present and addressed.
Speakers said that the United Nations has announced to celebrate the International Human Rights Day, but it is unable to stop the violations of the rights of the oppressed people around the world. They said that the series of violations of human rights is continuing around the world under American patronage. Kashmir or Palestine and similarly in Yemen and other countries, the atrocities of global Zionism are continuing under American patronage everywhere.
The speakers further said that the I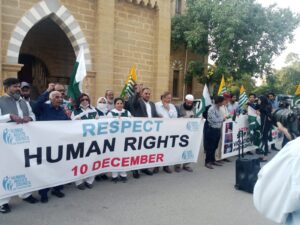 nternational Human Rights Day by the United Nations will be useful when actions are taken against oppressive forces in Kashmir and Palestine and around the world.
Speaking at the protest, Secretary General of Palestine Foundation Pakistan Dr. Sabir Abu Maryam said that the United States directly patronizes the illegitimate Zionist state of Israel and Israel is engaged in massacring the oppressed Palestinians since decades. Similarly, the continuation of India's state terrorism in Occupied Kashmir is also a sign of American blessing. He said that the Palestinian issue requires a just solution and this solution lies only with the Palestinian people. Return to Palestine and the Zionists of the usurping Zionist state which illegally occupied Palestine should return to their own land. He further said that the problem of Kashmir also requires justice. The Kashmiri people should have the right to decide their own destiny without any pressure.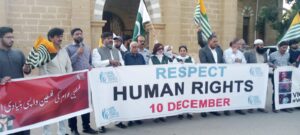 The children, youth and women and men participating in the demonstration carried banners and placards in their hands, on which were written the slogans of the freedom of Palestine and Qibla Awal Bait-ul-Maqdis, including the freedom of Kashmir. In the demonstration, the slogans of Palestinians to return to Palestine is their basic human right were also written on the banners.