Warm tribute to Al-Quds day martyrs in Quetta by political and religious parties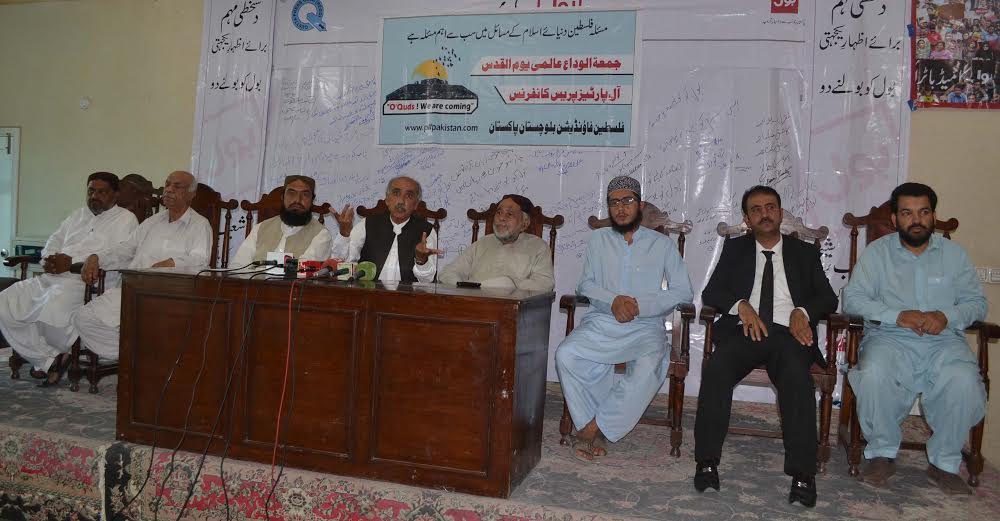 Baluchistan: PNIC): On the occasion of an International Quds Day (Last Friday of Ramadan), Palestine Foundation Pakistan Baluchistan chapter (PLF) has organized an All Parties Press Conference in connection to ongoing country wide campaign "O'Quds ! We are coming" at Quetta Press Club on Tuesday 28 June.
Commander Khudadad Khan of Awami National Parti (ANP), Senator Mir Mohim Khan of National Party Baluchistan (NPB), Mir Abdul Quddos Sasuli of Jamiat Ulema Pakistan (JUP), Sharif Joghi Zai of Pakistan Tahreek Insaf (PTI), Amanullah Shadzai of Jamat-e-Islami (JI), Agha Hassan Baloch of Balochistan National Party (BNP), Zakir Durrani of Majlis Wehdat Muslameen Pakistan (MWM) and Sohail Akber Sherazi of PLF Baluchistan attended the conference.
They urged to Nation must observe last fridat as the International Quds Day and also they pay warm tribute to Quds Day martyrs in Quetta and their families effected in 2010 due to suicide attack during Quds Day commemoration in Quetta.