Watchdog: Health condition of Naser abu Hmeid is seriously deteriorating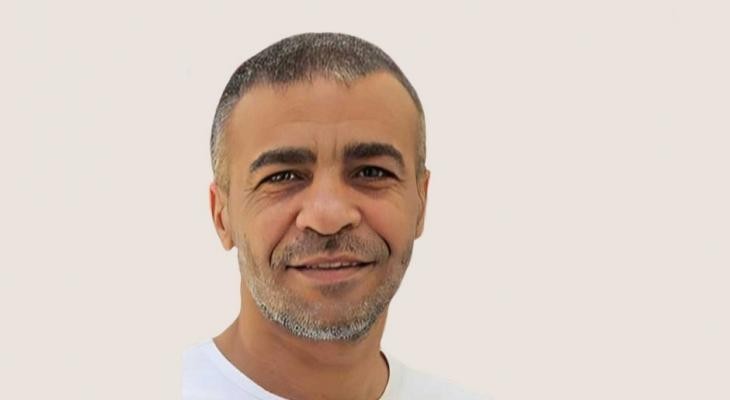 Occupied Palestine – Palestinian Commission of Detainees Affairs has warned of serious health condition of cancer-stricken Palestinian detainee in Israeli prison, Naser Abu Hmeid.
The Commission said in a statement today that the health condition of Abu Hmeid is still serious.
The family, according to the Commission, has called on international humanitarian and legal groups to secure its son's release.
This urgent call came in order to get proper treatment outside prison, it added.
Abu Hmeid's brother, Mohamed, has visited him at the Ramla prison clinic, lately.
X-ray images showed that the cancer is spreading in Abu Hmeid's left lung and affecting the arteries and heart, according to Mohamed.
Mohamed also added that Naser has to breathe through an oxygen mask at most times.
He also expressed concern that cancer may have spread to the head.
Naser Abu Hmeid: Battling for his freedom in Israeli prison
The Commission said that Abu Hmeid suffers from severe fatigue as well, and is in desperate need of medical follow-up.
Karim Ajwa, the Commission's lawyer who once managed to visit Abu Hmeid at the Ramla prison clinic, noted that he has difficulties in moving around.
He also said that Abu Hmeid suffers from memory loss and severe weight loss.
Ajwa added that 'Israel' was only giving him painkillers despite his serious health condition.
Naser can hardly move his hands and feet and even his voice has changed, the lawyer added.
The Commission said that the occupation authorities also rejected the transfer of Abu Hemid to a civil hospital despite his critical health condition.
In January, the Israeli occupation authorities moved Abu Hmeid from the Israeli Barzilai hospital to the Ramla prison clinic.
The Commission said such a move puts Abu Hmeid's life at high risk of death.
The infamous Ramla Prison Clinic lacks specialists and adequate medical supplies and Abu Hmeid urgently needs medical follow-up.
The Commission added that the move clearly aims to execute the critically-ill detainee, urging for the "immediate release of Naser."
Abu Hmeid entered a coma on January 4, and 'Israel' transferred him to the Israeli Barzilai hospital.
The Commission added that Abu Hmeid has been put on a ventilator and suffers from a serious inflammation on the lungs.
Several Palestinian prisoner advocacy groups previously said that Abu Hmeid's health condition was concerning.
In August 2021, a cancerous tumour was detected in his lungs.
Israeli prison services stalled his treatment, causing his health to decline, according to the groups.
That time, in support of Naser, Palestinian detainees orgainzed a series of protests in Ashkelon prison, where 'Israel' was holding him.
Following the detainees' support, 'Israel' moved Naser to the city's Barzilai hospital, where he underwent surgery to remove his tumour.
However, the prison administration transferred him back to jail before he recovered, the groups said.
He was the victim of a medical mistake during the implantation of a tube to empty the air from his lungs, causing the latest health complications, including a severe rise in his temperature.
Despite the proximity of Ashkelon prison to Barzilai hospital, 'Israel' delayed transferring him again until after his health deteriorated significantly.
'Israel' arrested 49-year-old Abu Hmeid, from the Al-Amari refugee camp in Ramallah, in 2002 and sentenced him to seven life sentences and 50 years in prison.
Four other brothers of Naser are in Israeli prisons: Nasr, 47, Sharif, 45, Mohammad, 38, and Islam, 35.
'Israel' has sentenced all of them to life.
Moreover, Israeli occupation forces shot dead a fifth brother, Abdul Meniem, in 1994.
'Israel' also demolished the house of the family several times.
It also denied visitation of their mother to any of her sons for several years.
Prisoner advocacy groups said 'Israel' adopts a deliberate medical negligence with Palestinian detainees as a part of its policy to weaken them.
Since 1967, 227 Palestinian detainees have died inside Israeli prisons, 72 of them due to deliberate medical negligence.