682 Israeli settlers broke into Al-Aqsa Mosque in Jerusalem last week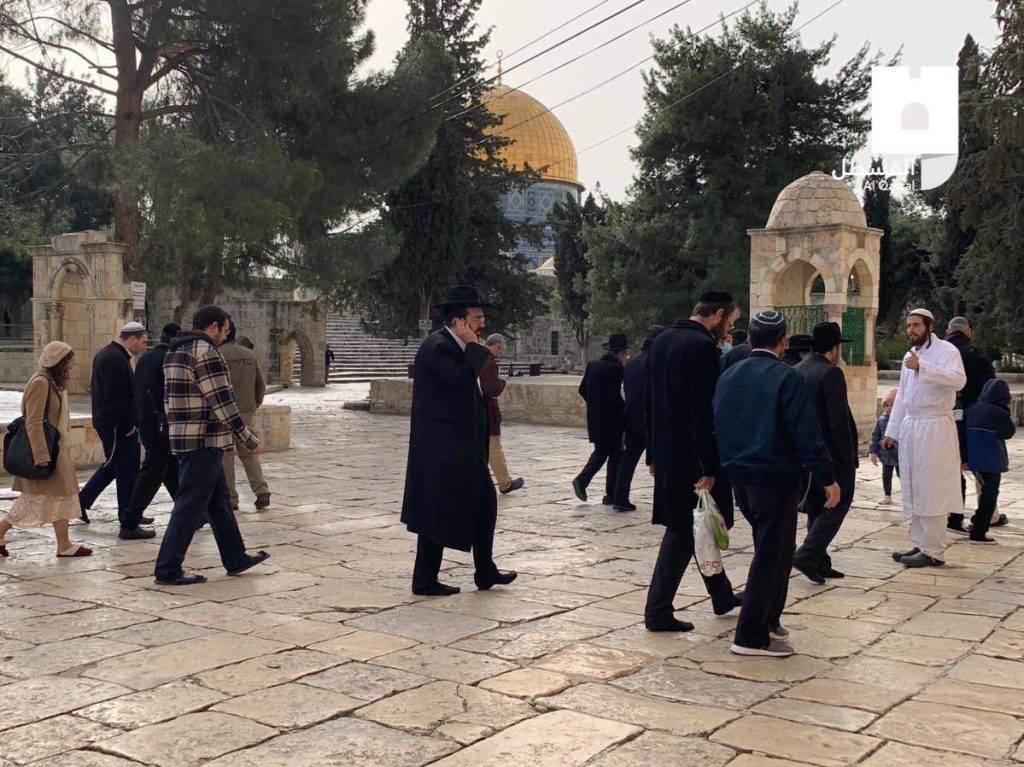 Occupied Jerusalem – 682 Israeli colonial settlers broke into Al-Aqsa Mosque in the occupied City of Jerusalem, last week.
Al-Qastal, a Palestinian network hub for Palestinians in Jerusalem, documented 682 Israeli settlers broke into the holy site, last week.
Among them were Jewish students and employees at the occupation authorities.
Their incursions were under the protection of well-armed Israeli forces.
The settlers were breaking into the holy site in two sessions, the morning and afternoon, except on Friday and Saturday.
They were entering the mosque through the Al-Mughrabi Gate, one of the Gates of the Old City of Jerusalem and is under full-Israeli control.
They were also provoking Palestinians by performing Talmudic prayers before leaving it through the Al-Silsila Gate.
On Wednesday and Thursday, the settlers celebrated the Jewish holiday of Purim.
They performed Talmudic rituals and listened to explanations on the alleged "Temple Mount", violating the sanctity of the holy site.
On Friday, the Israeli forces obstructed the movement of dozens of Palestinians heading to the Al-Aqsa mosque.
They searched them, harassed them, and inspected their ID cards.
Moreover, the forces stopped a bus loaded with Palestinians coming from the Kafr Qasim city.
They prevented them from entering and praying at the holy site, before searching all of their ID cards and allowing them to enter.
The forces also brutally assaulted a female worshiper because she tried to take pictures for the dozens of Palestinians who were not allowed to enter the holy site.
Israeli occupation authorities have allowed settler incursions to the mosque since 2003, under the forces' protection.
34,562 settlers broke into the holy site, setting a new record, in 2021.
In 2020, 19,000 settlers broke into the mosque and 29,700 in 2019.
The Palestinian religious authorities have repeatedly wanred and objected to the settlers' incursions which provoke Palestinian worshipers of the mosque.
Israeli forces, however, always facilitate and protect the settlers while preventing Palestinian worshipers from entering it, assaulting and detaining them.
The Al-Aqsa mosque is one of the holiest sites in Islam.
Jews refer to the area as the Temple Mount, claiming it was the site of two prominent Jewish temples in ancient times.
The complex also includes the Church of the Holy Sepulchre, one of the most sacred Christian sites in the world.