Bait ul Muqaddas' independence is only possible with unity of Muslim Ummah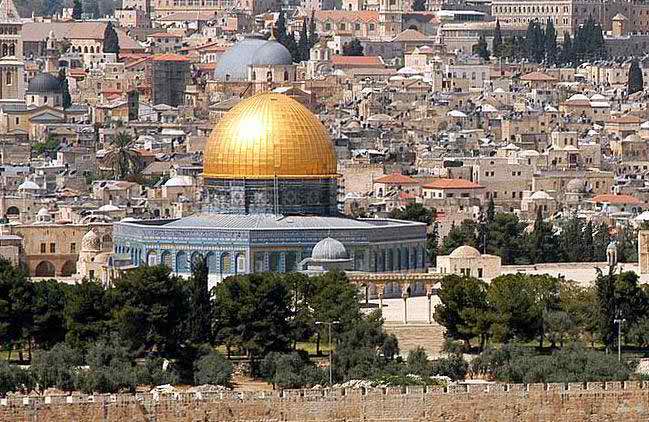 (PNIC) 
–  Muslim Ummah should beware of Israeli conspiracies, Israel is the worst enemy of Muslim Ummah.
Muzaffar Hashmi, Allama Qazi Noorani, Molana Baqar Zaidi, Mehfooz Yar Khan, Azhar Hamdani, Tariq Shadab and Sabir Abu Maryam expressed their views
Karachi: Members of central committee of Palestine Foundation Pakistan including former member of National Assembly and leader of Jamat e Islami Muzaffar Ahmed Hashmi, central leader of Jamiat e Ulema Pakistan Allama Qazi Ahmed Noorani Siddiqui, MWM Pakistan's central leader Molana Baqar Zaidi, Muslim League-N's leader Syed Azhar Hamdani, President of MQM Pakistan's legal ad-committee Mehfooz Yar Khan Advocate, renowned social worker Tariq Shadab and central General secretary of Palestine Foundation Pakistan Sabir Abu Maryam. Speakers stressed on current situation of western Asia and on the resolution f Palestien issue and said that Israel wants to divide Muslims and it is saddening that some Arab states have been used in the completion of Israeli agenda. Leaders of Palestine Foundation Pakistan said "Bait ul Muqaddas' independence is only possible with the unity of Muslim Ummah and the Muslim Ummah should beware of Israeli plans because Israel is the worst enemy of Muslim Ummah".
They also asked Muslim Ummah not to waste its energies by involving in petty issues rather focus and channel them for Palestine's independence and for stopping Israeli injustices with oppressed Palestinians. They reiterated the fact that Isreal is not only a threat for Palestine but for all Muslim states of the region and for the whole Muslim world and humanity at large. Leaders said "Institutions and people concerned about the survival of humanity should play their roles in revealing the evil objectives of the US and Israel". Leaders of Palestine Foundation Pakistan also stressed upon the need for unity among the Muslim Ummah and for Muslim brotherhood and said "Muslim nations should unitedly work for revealing all conspiracies against it otherwise our enemy will occupy the resources of Islamic world by creating differences among the Muslim Ummah, the way Zionist forces did to occupy Bait ul Muqqadas".
Speakers appealed to the leaders of Islamic world, especially to Pakistan's religious and political leadership, to play positive roles for building and maintaining unity among the Muslims of the whole Islamic world and suppress anti-Pakistan and anti-Islam forces that have been working with the US and Israel's support.
Plant Palestine Campaign in Pakistan: All Parties of Pakistan announces fully support to Palestinian's cause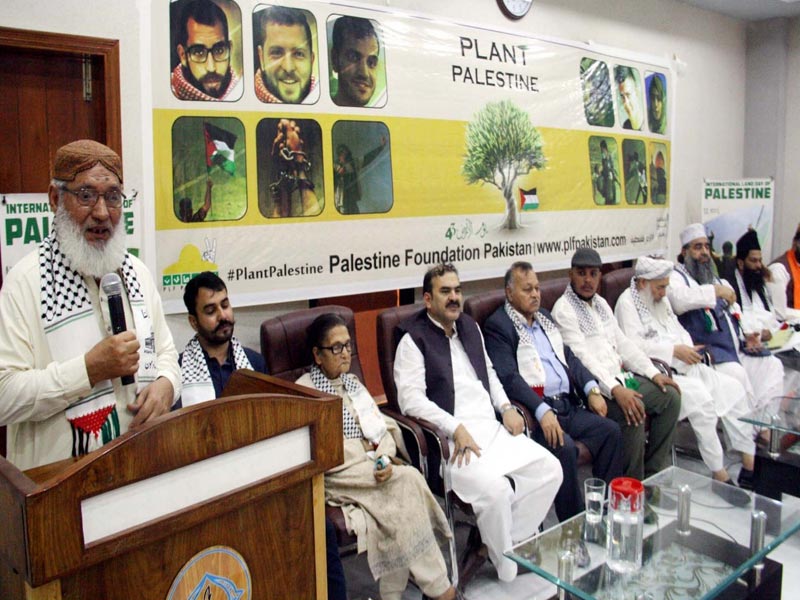 KARACHI (PNIC) 43rd International land day of Palestine marked in various cities of Pakistan during the ongoing campaign of Palestine Foundation Pakistan (PLF) " Plant Palestine".
An All Parties conference held at Karachi Press Club on 31st march Sunday to paying tribute to the martyrs of Great Return March in connection of 43rd International Land Day of Palestine. All Political and religious parties (Government and Opposition) has participated and announces fully support to the holy cause of Palestine.
They denounces Trump's decision about Jerusalem and Golan Heights and categorically said that US doesn't have mandate to allow any of the territory of Palestine ans Syria to Zionist's fake regime of Israel.
They asked to Arab League and OIC to take strong stand to protect holy land of Palestine and Jerusalem as well as Syria's Golan Heights.
They have appropriated Malaysian PM's support to Palestinian cause and statement during the recent visit to Pakistan, Speakers said that Pakistan never go for the normalization with Zionist's fake regime of Israel. Israel is our number one enemy and we cannot allow anyone to suggest normalization with Israel.
on 43 Land day of Palestine, speakers says that Palestinian land related to all Palestinians and its our prior duty to protect and save holy land of Palestine.
In account of Great Return March, They payed highly tribute to all of martyrs of 1976 and also from 2018 to till now. They said Palestinians have rights to return their homeland and no power in the world can stop them to return to homeland.
Speakers of All Parties Conference has strongly condemn recent attacks on Gaza and demanded to lift the siege from Gaza.
Former advisor of Government of Pakistan Dr.Alia Imam, Asadullah Bhutto, Muslim Parvez of Jamat-e-Islami, ex-Members of provincial assembly from MQM Pakistan Mahfooz Yar Khan, Major (r) Qamar Abbas, Kamran Farooq, Israr Abbasi of PTI, Azher Hamdani, Qazi Zahid Hussain of PMLN, Abdul Jalil Marwat of PMLQ, Allama Qari Usman, Molana Abdul Karim of JUIF, Allama Qazi Ahmed Noorani, Abdul Waheed younis of JUP, Allama Mubashir Hassan of MWM, Allama Abdul Khaliq Fareedi of Jamiat Ahley Hadis, Famous Scholar Faisal Azizi, Maaz Nizami, Rehan Abidi of ISO, Hafiz Imran Madni of ATI, Imtiaz Palari of JIY, Sabir Abu Maryam Secretary General of Palestine Foundation Pakistan (PLF) and others were addressed the conference.
"Plant Palestine" 30th March observed as International Land day of Palestine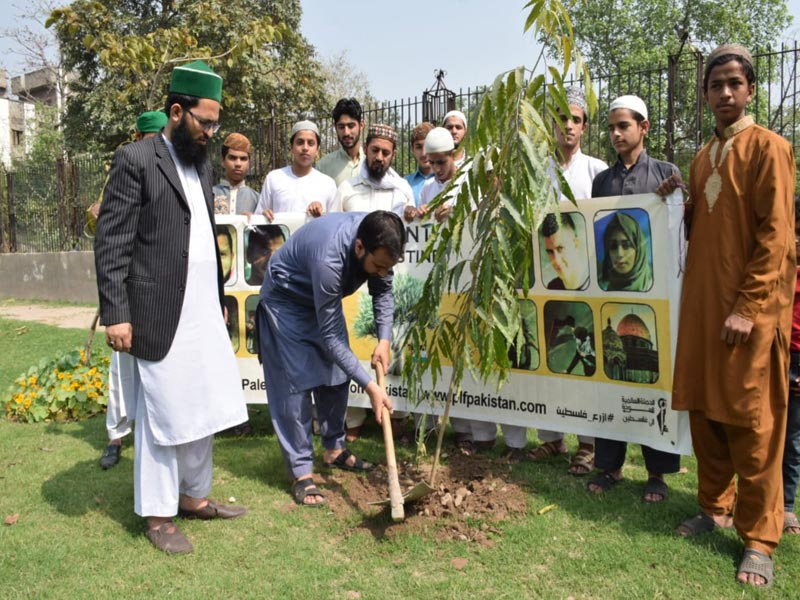 LAHORE (PNIC) Palestine Foundation Pakistan (PLF) announces "Plant Palestine" campaign on 43rd anniversary of International Land Day of Palestine on 30th March.
PLF Lahore chapter has organized a program at Akberi gate park Lahore to plant a tree in memory of all martyrs of 30th march 1976 (Land day of Palestine) and Great March of Return which was begun on 30th March 2018.
Many activists and members of civil society gathered at akberi gate park Lahore on 30th march and planted a tree in solidarity with International Land day of Palestine and martyrs.
Among the participats Usman Mohideen of JUP, Sahibzada Ayoub of JUP and many other were present in the program.
Normalization with Israel great betrayal with ideology of Pakistan: President KBA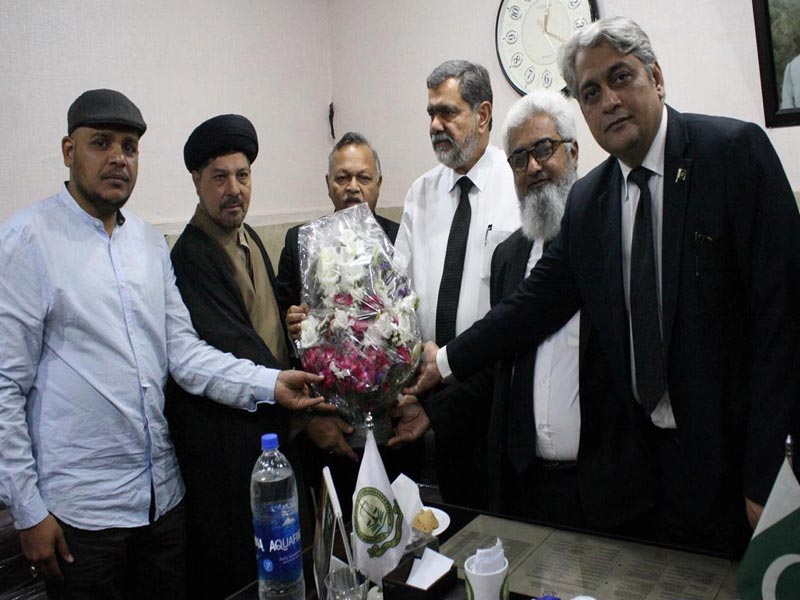 KARACHI (PNIC): President of Karachi Bar Association (KBA) Mr.Naeem Qureshi has strongly condemned normalization with Israel and friendly relation with top ranked enemy of Pakistan. During the meeting with delegation of Palestine Foundation Pakistan (PLF) at Karachi Bar Association office on Thursday; delegation of Palestine Foundation Pakistan led by former member of Sindh Assembly MahfoozUar Khan Advocate along with Majlis Wehdat Muslameen Pakistan's leader Moulana Baqir Zaidi, Israr Abbasi of PTI and Sabir Abu Maryam Secretary general of Palestine Foundation Pakistan met with newly elected president of KBA and other members.
President Naeem Qureshi expressed his deep grievances and reservations about discussion of normalization with Zionist's fake regime of Israel.
President of KBA categorically condemn all those elements are involved to start discussion about normalization between Pakistan and Israel. He said these kinds of theories and elements are great betrayal with ideology of Pakistan. Lawyers will never tolerate any kind of relation with Zionist's fake regime of Israel.
Talking to the delegation of the Palestine Foundation, Karachi Bar Association President Naeem Qureshi and Secretary Amir Saleem said that the lawyer's community has always supported Palestinian cause and has given right and right. To argue that the lawyers and the Karachi Bar Association are with the Palestine Foundation Pakistan and all types of practical measures will be taken for the settlement of Palestinian cause.
They have strongly condemned India's aggression against Pakistan in the past few days and said that "On one side, Israeli backed India's aggression against Pakistan, and then on the other side, the Indian Foreign Minister is invited to the OIC meeting, what are the Muslim rulers Done?
They condemn OIC role top sort out and solving the issue of Palestine and Kashmir.
The leaders of the Palestine Foundation, Pakistan thanked the officials of the Karachi Bar Association, and were also presented to bucket of flowers and Sweets for their success in latest elections of KBA. The large numbers of lawyers on this occasion was present in the Karachi Bar.