Beirut: Youngsters from all over the world gathered to express support for Intifada Al-Quds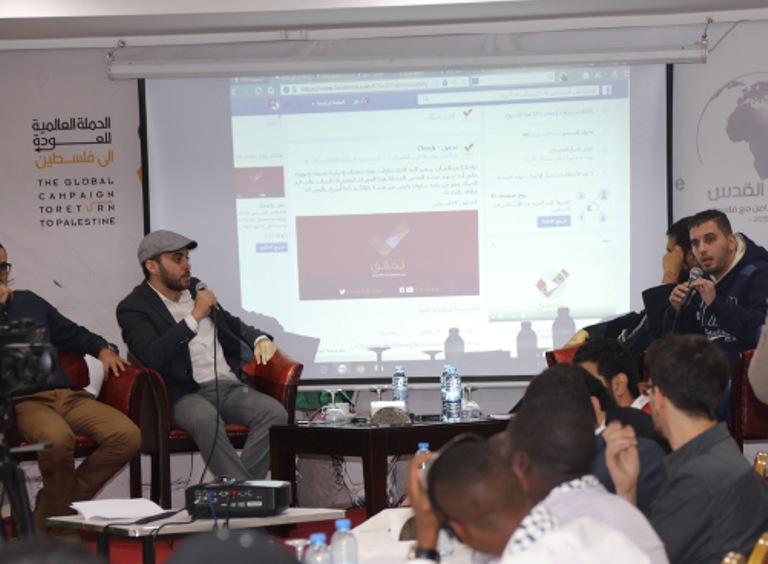 (PNIC) – A three days conference 'Intifada Al-Quds' was held on 8th, 9th and 10th December in Lebanon's capital city Beirut that was organized by 'Global Campaign to Return to Palestine' regarding Palestinians' independence struggle. A large number of youngsters, students and
Human Rights activists from 60 countries attended the conference. Youngsters who came from five continents included Isa Sarwar, Ahmed Melham, Alhareet Rayan, Amal Moorar, Amaan Abu Jama, Ammar Youzbashi, Ammon Sheikh, Asma Zeegar, Ataya Abu Samadhna, Ayat Abdullah, Bakar Abdul Haq, Ayad Al Rafai, Aylia Ghorbia, Fadi Kashmeef, Fawaz Abu Ayesha, Hala Al Zaheeri, Hasham Abu Shakir, Ibrahim Jasir, Ammad Abu Samadhna, Ayas Abu Rahema, Khalid Hindi, Kafara Kazmar, Layath Teemiza, Lili Eid, Mehmood Ussaf, Majid Jundab, Malaka, Muhammad Hamdan, Muhammad Alameh, Muhammad Zainu, Muhammad Qata, Murad Ayyash, Nabal Kandus, Ubaida Zeendan, Qutaiba Al Saadi, Rasha Harzala, Rizq Tameezi, Sahir Hajaaiji, Saif Al Dareesi, Saleem Labad, Samah Al Khala, Samee Abdullah, Sohail Awda, Tahir Abunama, Tasneem Al Qadi, Waad Abu Lail, Yasir Ashur, Yasmeen Jabir and Zoya Al Mazeen from Palestine.
Central President of ISO Pakistan Muneer Abbas and Central President of National Youth Parliament Tauseef Ahmed Abbasi participated in the three days conference from Pakistan. Similarly, Muhammad Chahabi, Satahir Kawi came from Algeria, Ahmed Hamza, Nazeer Musa from Argentina, Umar Bazeemana from Brunei, Gambri Muhammad from Cameroon, Carla from Chile, Philip from Colombia, Samha Naja from Egypt, Malaka Sheikh, Nabeel Ahmed from London, Abdul Qadir, Muhammad Ali Yousuf from Ethiopia, Aliu Naji from Gambia, Roohullah Rizvi, Shujat Ali Qadri from India, Ahmed Abdur Rahman, Anderski from Indonesia, Arash Abdi, Fatima Khateeb, Muhammad Shaheedi from Iran, Al Hamdan from Jordan, Roohullah Khamees from Kenya, Hamd Al Qatan from Kuwait, Waseem Saleh from Latin America, Ali Ayub, Marya Nasrullah from Lebanon, Hasan Mustafa from Malaysia, Hammad Ibrahim from Nigeria, Baru Muhammadah from Senegal, Lawai Halu from Spain, Muhammad Al Mubarak from Sudan, Ahmed Adeeb, Mujtaba Abbas from Syria, Ali Biya Manju from Tanzania, Bilqasim bin Shoaib Aiman Khamees from Tunis, Kame Bazlu, Hussain Yaldeez, Ismail Daman, Mehmood Tamli, Yasir Damlu Panar from Turkey and Christian Davis Beli from the US participated in the conference held for expressing solidarity with Palestine's intifada campaign.
Participants of the conference were also taken to Palestinians' camps in Lebanon Sabir Osha Teela and mausoleums of Palestinian and Lebanese martyrs who sacrificed their lives in fighting for Palestine and they were also taken to Maleeta and Qila Al Shakeef in Northern Lebanon to review remains of Islamic opposition Campaign and struggle.
Hammad Ibrahim who came from Nigeria to participate in the conference and reached back to his country on 11th December was brutally killed by pro-Israel Nigerian army whereas his father Sheikh Ibrahim Zakzaky was also injured and arrested by the army for raising his voice for Palestinians. A large number of Sheikh Ibrahim's followers were also massacred. According to an estimate, pro-Israel Nigerian army had killed 6000 innocent people in 30 hours and Shaheed Hammad Ibrahim was also amongst them and he was also Sheikh Ibrahim's son. 
Plant Palestine Campaign in Pakistan: All Parties of Pakistan announces fully support to Palestinian's cause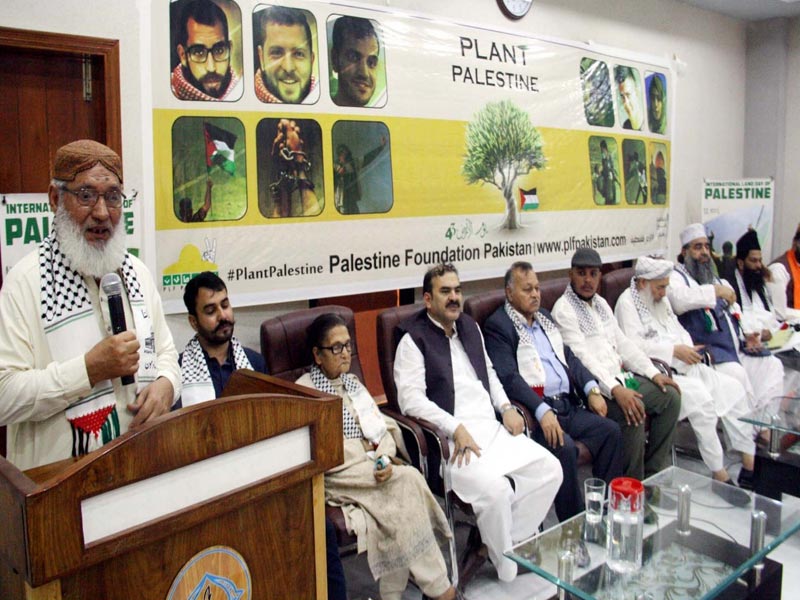 KARACHI (PNIC) 43rd International land day of Palestine marked in various cities of Pakistan during the ongoing campaign of Palestine Foundation Pakistan (PLF) " Plant Palestine".
An All Parties conference held at Karachi Press Club on 31st march Sunday to paying tribute to the martyrs of Great Return March in connection of 43rd International Land Day of Palestine. All Political and religious parties (Government and Opposition) has participated and announces fully support to the holy cause of Palestine.
They denounces Trump's decision about Jerusalem and Golan Heights and categorically said that US doesn't have mandate to allow any of the territory of Palestine ans Syria to Zionist's fake regime of Israel.
They asked to Arab League and OIC to take strong stand to protect holy land of Palestine and Jerusalem as well as Syria's Golan Heights.
They have appropriated Malaysian PM's support to Palestinian cause and statement during the recent visit to Pakistan, Speakers said that Pakistan never go for the normalization with Zionist's fake regime of Israel. Israel is our number one enemy and we cannot allow anyone to suggest normalization with Israel.
on 43 Land day of Palestine, speakers says that Palestinian land related to all Palestinians and its our prior duty to protect and save holy land of Palestine.
In account of Great Return March, They payed highly tribute to all of martyrs of 1976 and also from 2018 to till now. They said Palestinians have rights to return their homeland and no power in the world can stop them to return to homeland.
Speakers of All Parties Conference has strongly condemn recent attacks on Gaza and demanded to lift the siege from Gaza.
Former advisor of Government of Pakistan Dr.Alia Imam, Asadullah Bhutto, Muslim Parvez of Jamat-e-Islami, ex-Members of provincial assembly from MQM Pakistan Mahfooz Yar Khan, Major (r) Qamar Abbas, Kamran Farooq, Israr Abbasi of PTI, Azher Hamdani, Qazi Zahid Hussain of PMLN, Abdul Jalil Marwat of PMLQ, Allama Qari Usman, Molana Abdul Karim of JUIF, Allama Qazi Ahmed Noorani, Abdul Waheed younis of JUP, Allama Mubashir Hassan of MWM, Allama Abdul Khaliq Fareedi of Jamiat Ahley Hadis, Famous Scholar Faisal Azizi, Maaz Nizami, Rehan Abidi of ISO, Hafiz Imran Madni of ATI, Imtiaz Palari of JIY, Sabir Abu Maryam Secretary General of Palestine Foundation Pakistan (PLF) and others were addressed the conference.
"Plant Palestine" 30th March observed as International Land day of Palestine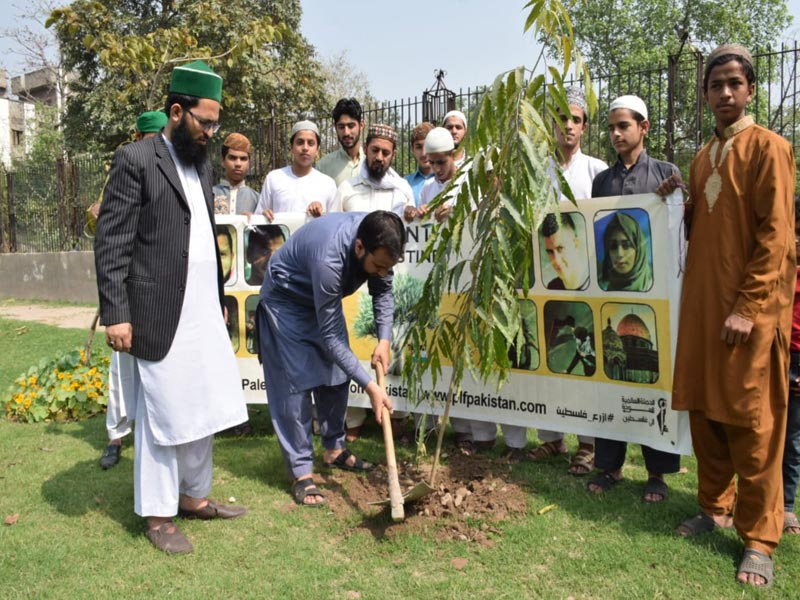 LAHORE (PNIC) Palestine Foundation Pakistan (PLF) announces "Plant Palestine" campaign on 43rd anniversary of International Land Day of Palestine on 30th March.
PLF Lahore chapter has organized a program at Akberi gate park Lahore to plant a tree in memory of all martyrs of 30th march 1976 (Land day of Palestine) and Great March of Return which was begun on 30th March 2018.
Many activists and members of civil society gathered at akberi gate park Lahore on 30th march and planted a tree in solidarity with International Land day of Palestine and martyrs.
Among the participats Usman Mohideen of JUP, Sahibzada Ayoub of JUP and many other were present in the program.
Normalization with Israel great betrayal with ideology of Pakistan: President KBA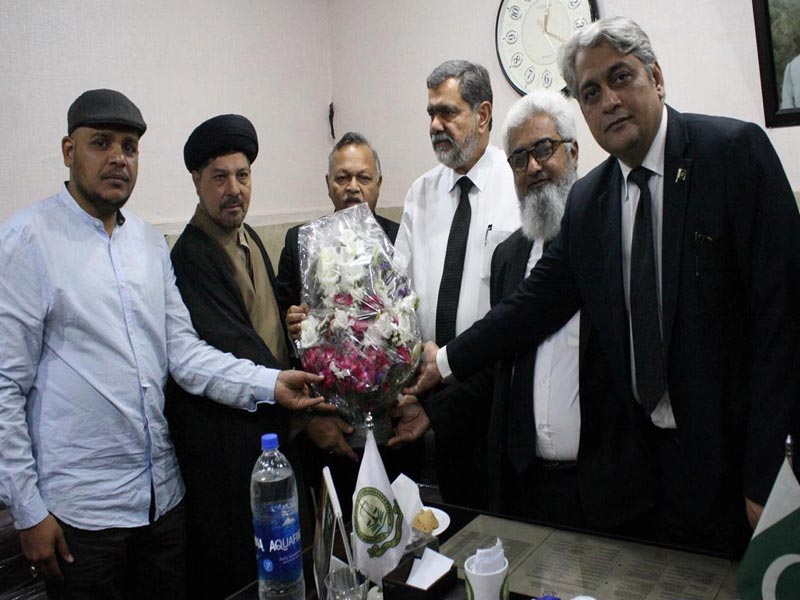 KARACHI (PNIC): President of Karachi Bar Association (KBA) Mr.Naeem Qureshi has strongly condemned normalization with Israel and friendly relation with top ranked enemy of Pakistan. During the meeting with delegation of Palestine Foundation Pakistan (PLF) at Karachi Bar Association office on Thursday; delegation of Palestine Foundation Pakistan led by former member of Sindh Assembly MahfoozUar Khan Advocate along with Majlis Wehdat Muslameen Pakistan's leader Moulana Baqir Zaidi, Israr Abbasi of PTI and Sabir Abu Maryam Secretary general of Palestine Foundation Pakistan met with newly elected president of KBA and other members.
President Naeem Qureshi expressed his deep grievances and reservations about discussion of normalization with Zionist's fake regime of Israel.
President of KBA categorically condemn all those elements are involved to start discussion about normalization between Pakistan and Israel. He said these kinds of theories and elements are great betrayal with ideology of Pakistan. Lawyers will never tolerate any kind of relation with Zionist's fake regime of Israel.
Talking to the delegation of the Palestine Foundation, Karachi Bar Association President Naeem Qureshi and Secretary Amir Saleem said that the lawyer's community has always supported Palestinian cause and has given right and right. To argue that the lawyers and the Karachi Bar Association are with the Palestine Foundation Pakistan and all types of practical measures will be taken for the settlement of Palestinian cause.
They have strongly condemned India's aggression against Pakistan in the past few days and said that "On one side, Israeli backed India's aggression against Pakistan, and then on the other side, the Indian Foreign Minister is invited to the OIC meeting, what are the Muslim rulers Done?
They condemn OIC role top sort out and solving the issue of Palestine and Kashmir.
The leaders of the Palestine Foundation, Pakistan thanked the officials of the Karachi Bar Association, and were also presented to bucket of flowers and Sweets for their success in latest elections of KBA. The large numbers of lawyers on this occasion was present in the Karachi Bar.