Down with Israel: PLF-P set to Kick-off Week-Long Country-Wide Campaign 'Nakba Day'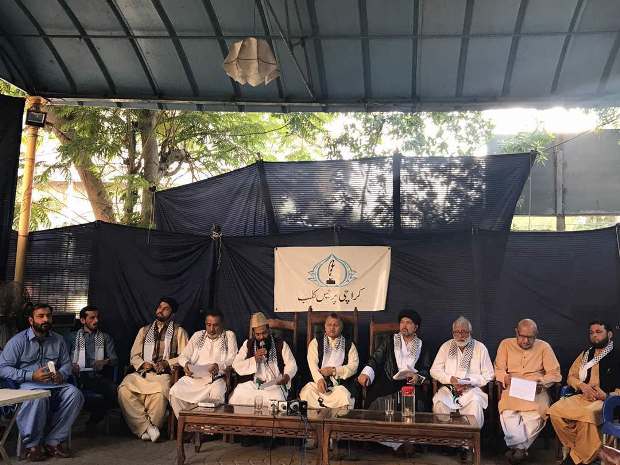 Karachi () Palestine Foundation Pakistan (PLF-P) is set to kick off its week-long country-wide campaign marking the 69th Nakba (Day of Catastrophe).
69 Years have gone by since the illicit occupation of the land of Palestine by Israel. PLF-P stands as Palestine's principal voice in Pakistan raising the issue for more than decades.
Officials of the organization including former member of parliament Muzaffar Hashmi of Jamat-e-Islami, Member of provincial Assembly Dr.Mahfooz Yar Khan of MQM-Pak, spokesman for federal minister of religious affairs Azher Ali Shah Hamdani of Pakistan Muslim League (N), Molana Baqir Zaidi of Majlis Wahdat Muslameen (MWM), President of General Union of Palestinian Students in Pakistan Ebrahim Amro,Allama Qazi Ahmed Noorani of Jamiat Ulema Pakistan (JUP), Matloob Awan Qadri of All Pakistan Sunni Tahreek (APST), Faisal Sheikh of Pakistan people party (PPP), Karamat Ali of PILER, Owais Rabbani of Youth Parliament, Rao Nasir Ali of Interfaith Youth forum, Israr Abbasi of Pakistan Tahreek-e-Insaf (PTI), Younis Boneri of Awami National Party Pakistan (ANP) and Secretary General of Palestine Foundation Pakistan Sabir Abo Maryam were speaking in a joint press conference at Karachi Press Club on Saturday May 06.
PLF-P office bearers have revealed that this year marking Nakba Day to highlight the right of return of Palestinians as global campaign to return to Palestine.
They told to media that they are prepared for a week-long campaign to show their solidarity with the oppressed nation of Palestine.
Religious and Political parties across Pakistan have shown their allegiance with PLF-P in commemorating Nakba Day and have agreed to partake in their campaign that encompasses protests, conferences, seminars and a Peace Walk.
On May 10, in cohesion with the subjugated Palestinian prisoners in Israeli Jails, PLF-P will erect a Hunger-Camp at Press Club Karachi protesting the regimes' maltreatment.
On May 11, Student Organizations and Youth NGOs across Pakistan will hold a unified conference on the issue.
May 12 will witness a mass protest against Israel outside the famous mausoleum of Daataganj Baksh at Lahore after Jumma Prayers.
"Return to Palestine"- a peace walk is planned for May 13 demanding the return of displaced Palestinians back to their homeland. Since the time Israel usurped their land, millions of Palestinians are forced to live a life of a refugee. The walk, to end at Press Club – Karachi, is said to witness various religio-political parties, NGOs and Civil Societies members joining hands with PLF-P for their cause.
On May 14 Protests against the illicit regime (Israel) will be held across Multan and Hyderabad.
Seminars are to be held in Islamic Universities across Islamabad on May 17.
When contacted PLF-P leaders they affirmed that the reason for all this exercise is not only to show accord with the righteous but as well to disown any and all conspiracies entrenched by the Zionist regime. They said that they stand with Palestine, supporting their cause and demand for an independent homeland with boundaries defined par 1948 with capital Al-Quds. Israel is not only a menace for Palestine but a threat to the muslim ummah world-over. Pakistan has to realize this peril and take heed, while demanding of the government, the leaders' said that Pakistan has to make Palestine and its nation their core priority and should actively commemorating their days on national level
Pakistan's Palestine Policy: We will never abandon Father, of Nation Jinnah's footsteps. Mamnoon Hussain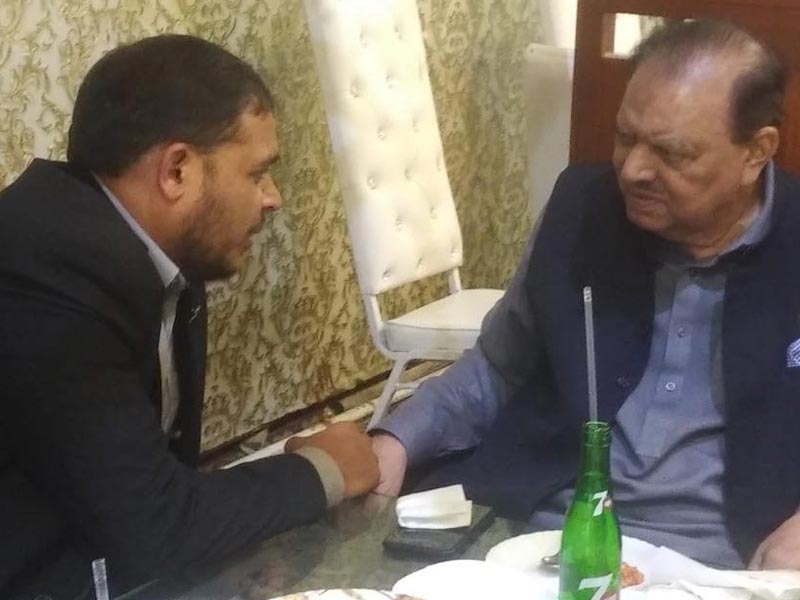 KARACHI (PNIC):-Former President of Islamic Republic of Pakistan Mr.Mamnoon Hussain says that we are bound to follow the path of great founding father of the nation Qauid e Azam Muhammad Ali Jinnah and his stance on Palestine.
Pakistan always Standing with oppressed nation of Palestine and will remain. Mamnoon Hussain says.
PLF General Secretary Mr.Sabir Abu Maryam Met with former President of Islamic Republic of Pakistan Mr.Mamnoon Hussain and discussed various things about the issue of Palestine and Pakistan's stance in it.
Former President Mr.Mamnoon Hussain expresses his fully support with oppressed people of Palestine and categorically said that that Israel is an illegitimate state and we always followed Founding Father Qauid Azam Muhammad Ali Jinnah's stance on Palestine and will never get back even an inch from that stance.
He appreciated Palestine Foundation's great struggle in Pakistan and assure his Cooperation with PLF too.
Israel is an ideological threat to Pakistan: accepting Israel equal to no question of Kashmir. Gen (r) Ghulam Mustafa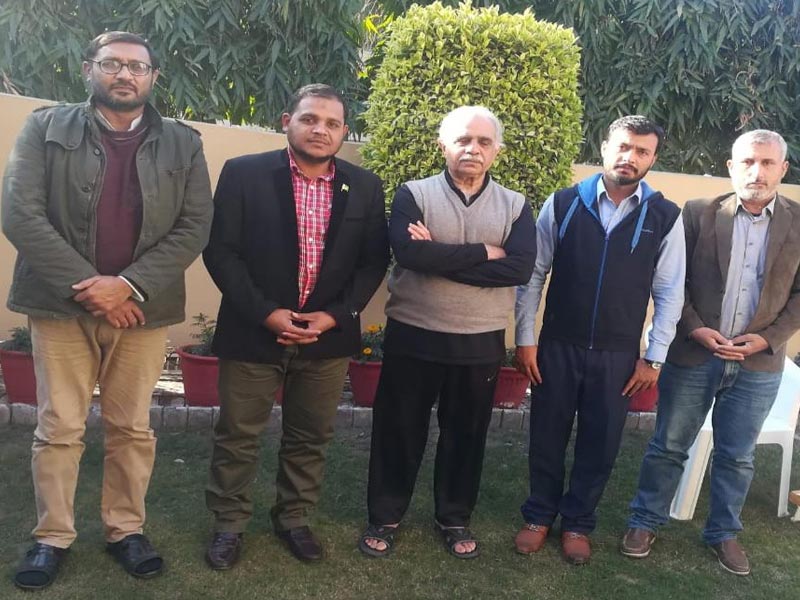 LAHORE (PNIC):-Former Army General Ghulam Mustafa expresses his fully support to Palestinian cause. According to Report during a meeting with Palestine Foundation Pakistan (PLF) delegation he said that Israel is not only threat for Palestinians but for whole region of Middle East and Golf.
Palestine Foundation Pakistan's delegation led by General Secretary Sabir Abu Maryam along with Ansar Abbas, Zahid Murtaza and Yasir Habib met with former army Gen Mr.Ghulam Mustafa at his residence on 16 December Sunday.
During the meeting PLF's Secretary General informed him various issues about Palestine and policy of Arab and Muslim regimes specially developments in Pakistan. He also discuss about some efforts of pro-Zionists factors in Pakistan to normalisation with Zionist regime and Pakistan.
A defence analyst and well known Army Gen Ghulam Mustafa categorically stated that those people are thinking that Israel is friend of Pakistan are in wrong side.
Israel is an ideological threat and enemy of Pakistan and will never benefit to Pakistan: he said.
Gen (r) Mustafa said that if Pakistan accept and protect in tel Aviv but in next step Israel never tolerate Pakistan so normalisation with Zionist regime mean no question of Kashmir.
Even if my head is cut off, I will not accept Israel: Gen (r) Ghulam Mustafa stated. He also affirmed his full support for Palestine Foundation Pakistan.
Pak-Palestine solidarity: cultural show "DABKAH" held at Centaurs Mall Islamabad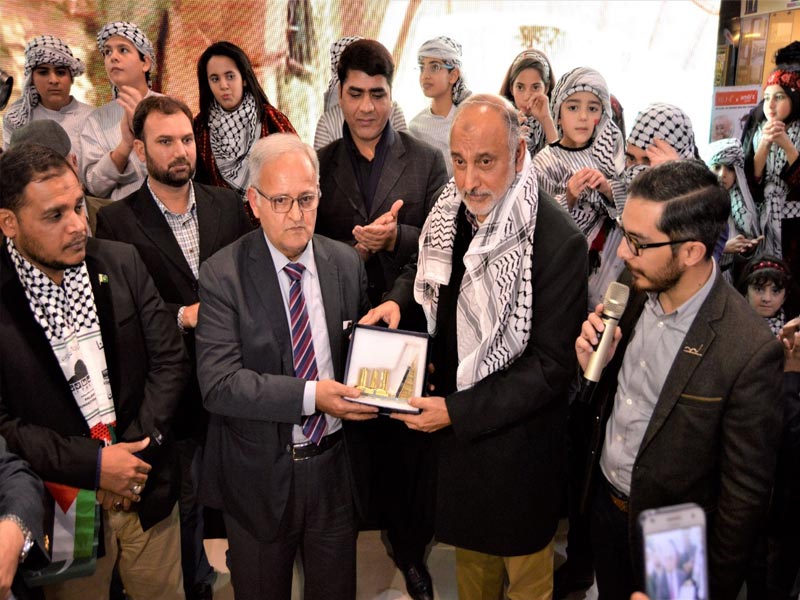 IALAMABAD (PNIC):-Palestinian citizens living in Islamabad capital of Pakistan observed International solidarity day of Palestine at Centaurs Mall Islamabad.
Palestinian cultural show Organized by Palestinian embassy with the collaboration of Centaurs Mall administration on December 15 Saturday.
Hundreds of Palestinians in Pakistan gathered along with thousands of Pakistani citizens to marked an international solidarity day of Palestine.
Palestinian children wearing Kofiya (Palestinian symbolic cloth) performed DABKAH (cultural activity) and also they sand Pakistani National songs too.
A delegation of Palestine Foundation Pakistan (PLF) led by General Secretary Sabir Abu Maryam participated as per special invitation of acting ambassador of Palestine H.E.Mr.Hussni.