Google, Amazon employees protest tech giants' $1.2 billion deal with 'Israel'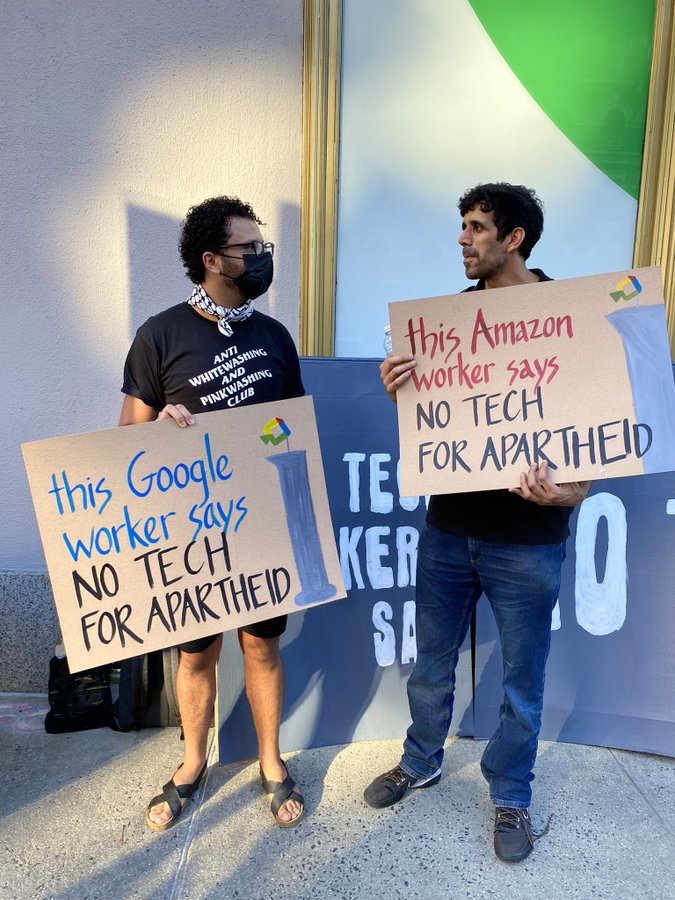 Washington – Hundreds of Google and Amazon workers staged on Thursday protests outside the companies' headquarters in opposition to the $1.2 billion Project Nimbus deal with the Israeli occupation government, fearing the military could use the technology to surveil Palestinians.
The protests stretched across four U.S. cities — San Francisco, New York, Seattle and Durham, North Carolina.
The two companies' workers protested Project Nimbus, which is a $1.2 billion contract that both Google and Amazon have signed in 2021 to provide 'Israel' with artificial intelligence services and other computing tools. The technology could be used for facial detection and "sentiment analysis," a form of machine learning that can discern someone's feelings by studying their face and speech, according to reports.
The #NoTechForApartheid movement, which was founded in 2021 in the wake of that agreement, said the vigils were held in an effort to prevent 'Israel' from using technology in its crimes against the Palestinian people.
"By doing business with Israeli apartheid, Amazon and Google will make it easier for the Israeli government to surveil Palestinians and force them off their land," the #NoTechForApartheid movement said in its website, adding "technology should be used to bring people together, not enable apartheid, ethnic cleansing, and settler-colonialism."
The movement is also seeking signatories for a petition calling on the management of both companies to "stop doing business with the Israeli apartheid government and military."
The petition affirmed its solidarity with hundreds of Amazon and Google employees who are calling for withdrawal from Project Nimbus.
The petition reads,"As the Israeli military bombed homes, clinics, and schools in Gaza and threatened to push Palestinian families from their homes in Jerusalem May 2021, Amazon Web Services and Google Cloud executives signed a $1.22 billion contract to provide cloud technology to the Israeli government and military."
"Amazon and Google's collaboration with Israeli apartheid is part of a larger pattern of Big Tech fuelling state violence across the globe. Tech companies like Amazon and Google are the new war profiteers and have dismal human rights records. Amazon helps power ICE's deportation-detention machine, and partners with over 2,000 U.S. police departments to surveil and criminalise Black and brown communities through its doorbell camera Ring," the movement said in its petition, which has been signed by some 40,000 people.
"Technology can bring people together—but when these tools are used to harm communities, they make the world less safe for us all. That's why workers at Google and Amazon are urging their employers to walk their talk on human rights."
"No justice, no peace, tech workers are in the streets!" Those words echoed through the air outside Google's New York City office as workers left for the day on Thursday evening.
In San Francisco, protesters gathered at one of Google's offices overlooking the bay, and marched five blocks to Amazon's office. Protesters chanted, "Amazon get off it, put people over profit!" They also held signs that said, "Another Google Worker Against Apartheid," "Palestine Will Be Free" and "No Tech For Apartheid."
"We call on every single Google worker that is listening to choose action over apathy," Ariel Koren, a former Google employee, said during the rally.
Koren, a marketing manager, announced on August 30 that she is "leaving the company this week due to retaliation and hostility against workers who speak out."
The controversy began when Koren protested Google's $1.2bn collaboration with Amazon and the Israeli occupation on Project Nimbus; she also spent more than a year organising her protest to persuade Google to pull out of the deal, including circulating petitions, lobbying executives and speaking out to news organisations.
However, Koren said that instead of listening to her concerns, Google blindsided her in November 2021 with an ultimatum: either agree to move from San Francisco in the US state of California to Sao Paulo, Brazil, or lose her job.
Koren said there was no business justification for the mandated move and filed a complaint with the National Labor Relations Board (NLRB).
However, both Google and the NLRB investigated her complaint and found no wrongdoing, according to multiple media reports.
At least 15 other Palestinian employees and allies have shared their experiences describing the "institutionalised bias" within the company.
Koren, who is Jewish, has worked for the company for more than seven years and said Google's actions to stifle outspoken workers – not just herself – have been par for the course.
"I have consistently witnessed that instead of supporting diverse employees looking to make Google a more ethical company, Google systematically silences Palestinian, Jewish, Arab, and Muslim voices concerned about Google's complicity in violations of Palestinian human rights – to the point of formally retaliating against workers and creating an environment of fear," she emphasised in an online post written Tuesday on the publishing platform Medium.