Israel to replace contested Al-Aqsa metal detectors with 'smart' surveillance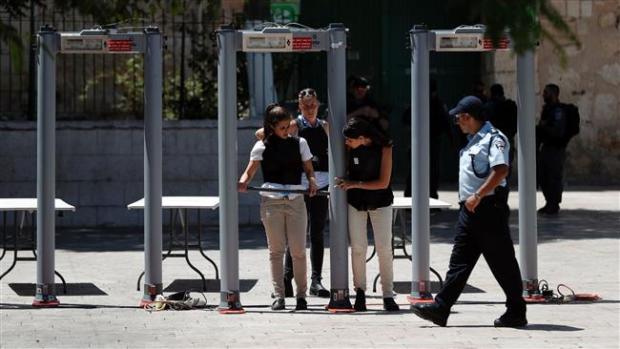 OCCUPIED JERUSALEM (PNIC):-Israel decided at dawn Tuesday to remove metal detectors it had placed at the entrances to al-Aqsa Mosque and replace them with smart cameras. The measure was strongly refused by Palestinians.
According to Israeli media sources, Israel's security Cabinet decided early Tuesday to replace the metal detectors with "advanced technologies," reportedly cameras that can "detect hidden objects." 
Before dawn, municipal workers were seen dismantling the electronic devices at al-Aqsa's gates and installing metal beams above some of the narrow stone paved streets for closed-circuit TV cameras.
Israeli media said there were plans to invest in advanced camera systems, while Israeli police will resort to manual inspections at the gates.
The PNIC reporter affirmed old trees and historical stones were removed during the operation.
Palestinians declared their total rejection of the Israeli measure and continued their protests at the entrances to al-Aqsa.
At least 16 Jerusalemites were injured during the clashes that broke out early today at al-Asbat gate.