It remains our solemn duty to contribute to Palestine and Al-Quds Freedom Movement – Ahmed Shah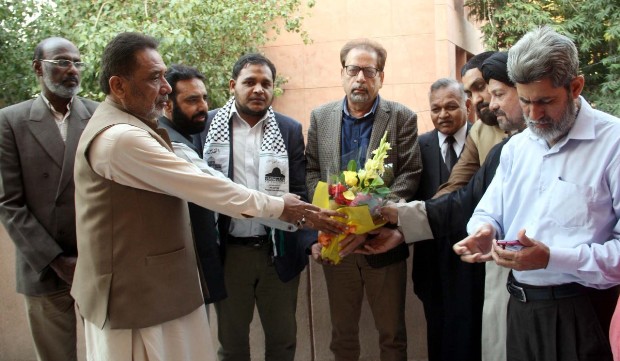 Karachi, (PNIC) – Palestine foundation Pakistan (PLF-P) delegation under the leadership of their central executive committee members and Muttahida Qaumi Movment Pakistan Member Sindh Assembly
 Mahfooz Yar Khan Advocate called upon President Arts Council of Pakistan Muhammad Ahmed Shah on Wednesday.
The delegation took the opportunity to congratulate Muhammad Ahmed Shah on being election for the 10th time as President
Arts Council of Pakistan, while appreciating him for his contribution enhancing traditional and cultural events.
On PLF-P's request of designating a defined area for Palestine "Palestine Corner", the president agreed to put up their request in from of the Governing body.
Muhammad Ahmed Shah commended the pain that PLF-P has been taking for the cause and appealed that it's not just an issue for the Muslim Ummah but the whole of humanity. He added that it remains everyone's solemn duty to contribute to Palestine and Al-Quds Freedom Movement.
The delegation included Majlis Wahdat Muslimeen central leader Allama Baqir Zaidi,Pakistan Muslim League N Leader Pirzada Azher Ali Shah Hamdani, All Pakistan Sunni Tehreek Leader Matloob Awan Qadri, Pakistan Awami Tahreek leaders Qaiser Iqbal Qadri, Rao Kamran, Pakistan Muslim League (Q) leader Tariq Hassan, Secretary Generak of Palestine Foundation Pakistan Sabir Abo Maryam, Mudasir A Khan, Ali Ahmer and others.