Kashmir is the Jugular Vein of Pakistan with Al-Quds as its Heart and Palestine's Capital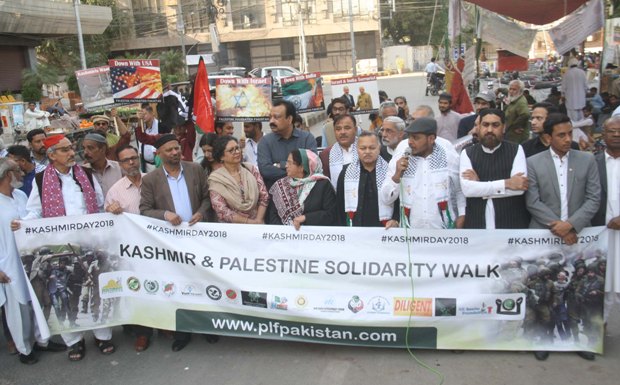 KARACHI (PNIC):-Palestine Foundation Pakistan (PLF-P) and Youth Organizations held a walk on Kashmir Day from Press Club till Scouts Headquarter Karachi on Feb 5.
Kashmir and Palestine Solidarity walk led by Sabir Abu Maryam Secretary General of Palestinbe Foundation Pakistan with political and religious leaders.
Showing solidarity with the oppressed nations of Kashmir and Palestine a walk was announced earlier by PLF-P in liaision with other civil, politico-religious and Youth organizations.
The walk witnessed people from all walks of life to include all organizations from different quarters. They held placards and banners in harmony with the global scenario and atrocities against the muslim ummah in these two countries in particular.
They demanded of the government to play its role in bringing peace to these nations and curb the terrorist activities of India at the working boundaries of Pakistan.
The members exclaimed that both these regimes remain illicit spreading terrorism targetting innocent muslims not only in the subcontinent but across the world.
The speakers mentioned that Kashmir is the Jugular Vein of Pakistan with Al-Quds as its Heart and Palestine's undisputed Capital.
Among the participants Former Member of National Assembly Muzaffar Ahmed Hashmi of Jamat-e-Islami, Senator Allama Abbas Kumail, MPAs of MQM Pakistan Mahfooz Yar Khan, Major (r ) Qamar Abbas, Advisor of federal Minister Pirzada Azher Ali Shah Hamdani of PMLN, Former Deputy Mayor of Karachi Syed Tariq Hassan of PMLQ, Muzammil Hashmi of MML, Mir Taqi, Nasir Hussaini of MWM, President of Palestinian Students in Pakistan Muhammad Zeidan, Younis Boneri of ANP, Waheed Younis of JUP, Justice (r ) Wajihudin Siddiqui of ALI, Karamat Ali of PILER, Zareen Rafi of PTI, Saleem Ahmed of SCSM, Imran Shehzad of Amity Internationa, Tariq Shadab of AUP, Anwer Baloch of JDP, Muhammad Abbas of ISO, Zeeshan Haider of APMSO, Babar Ali of ATI, Mazhar Ahmed Khan of Youth Parliament, Sharjeel Baig of JKP, Khawja Bilal Mansoor of MQM-Youth, Kazim Abbas of WYP, Simon Gill a Human Rights Activist, Social Worker Ali Qasim, Anum Memon of Student Foundation, Saira Sumar of DF, Umar Altaf of Anti Corruption, Rubecca Yousef, Masuma Zehra Social Activists, Qazi Zahid Hussain of PMLN, Babra Ismael of Women Development, Adnan Kodya of MBG, Azher Jamil, Iqbal Yousof, Naveed Gill, Raees Ahmed, Syed Naseem Shah, Hafiz Hurrera, Muhammad Nabil, Batool Zehra, Malik Nabil and many others were present and spoke to the Kashmir and Palestine Solidarity Walk.
Pakistan's Palestine Policy: We will never abandon Father, of Nation Jinnah's footsteps. Mamnoon Hussain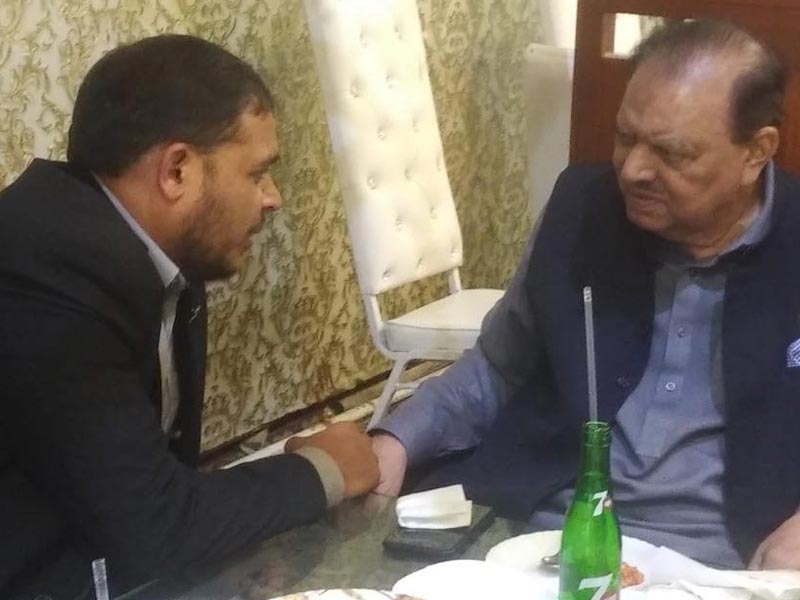 KARACHI (PNIC):-Former President of Islamic Republic of Pakistan Mr.Mamnoon Hussain says that we are bound to follow the path of great founding father of the nation Qauid e Azam Muhammad Ali Jinnah and his stance on Palestine.
Pakistan always Standing with oppressed nation of Palestine and will remain. Mamnoon Hussain says.
PLF General Secretary Mr.Sabir Abu Maryam Met with former President of Islamic Republic of Pakistan Mr.Mamnoon Hussain and discussed various things about the issue of Palestine and Pakistan's stance in it.
Former President Mr.Mamnoon Hussain expresses his fully support with oppressed people of Palestine and categorically said that that Israel is an illegitimate state and we always followed Founding Father Qauid Azam Muhammad Ali Jinnah's stance on Palestine and will never get back even an inch from that stance.
He appreciated Palestine Foundation's great struggle in Pakistan and assure his Cooperation with PLF too.
Israel is an ideological threat to Pakistan: accepting Israel equal to no question of Kashmir. Gen (r) Ghulam Mustafa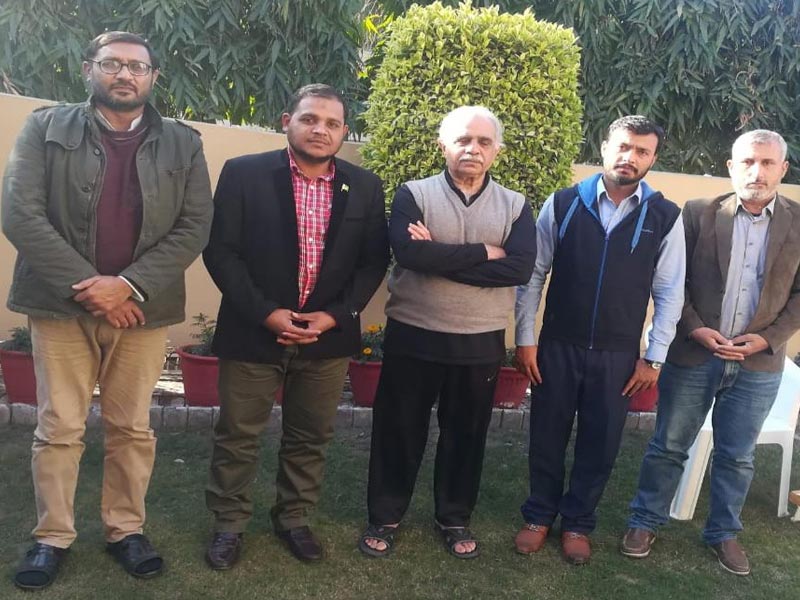 LAHORE (PNIC):-Former Army General Ghulam Mustafa expresses his fully support to Palestinian cause. According to Report during a meeting with Palestine Foundation Pakistan (PLF) delegation he said that Israel is not only threat for Palestinians but for whole region of Middle East and Golf.
Palestine Foundation Pakistan's delegation led by General Secretary Sabir Abu Maryam along with Ansar Abbas, Zahid Murtaza and Yasir Habib met with former army Gen Mr.Ghulam Mustafa at his residence on 16 December Sunday.
During the meeting PLF's Secretary General informed him various issues about Palestine and policy of Arab and Muslim regimes specially developments in Pakistan. He also discuss about some efforts of pro-Zionists factors in Pakistan to normalisation with Zionist regime and Pakistan.
A defence analyst and well known Army Gen Ghulam Mustafa categorically stated that those people are thinking that Israel is friend of Pakistan are in wrong side.
Israel is an ideological threat and enemy of Pakistan and will never benefit to Pakistan: he said.
Gen (r) Mustafa said that if Pakistan accept and protect in tel Aviv but in next step Israel never tolerate Pakistan so normalisation with Zionist regime mean no question of Kashmir.
Even if my head is cut off, I will not accept Israel: Gen (r) Ghulam Mustafa stated. He also affirmed his full support for Palestine Foundation Pakistan.
Pak-Palestine solidarity: cultural show "DABKAH" held at Centaurs Mall Islamabad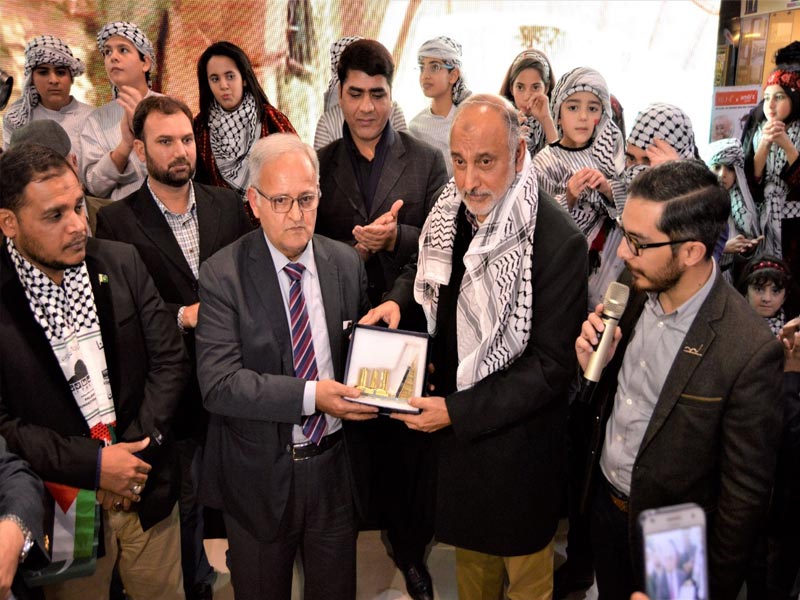 IALAMABAD (PNIC):-Palestinian citizens living in Islamabad capital of Pakistan observed International solidarity day of Palestine at Centaurs Mall Islamabad.
Palestinian cultural show Organized by Palestinian embassy with the collaboration of Centaurs Mall administration on December 15 Saturday.
Hundreds of Palestinians in Pakistan gathered along with thousands of Pakistani citizens to marked an international solidarity day of Palestine.
Palestinian children wearing Kofiya (Palestinian symbolic cloth) performed DABKAH (cultural activity) and also they sand Pakistani National songs too.
A delegation of Palestine Foundation Pakistan (PLF) led by General Secretary Sabir Abu Maryam participated as per special invitation of acting ambassador of Palestine H.E.Mr.Hussni.