Kashmir is the Jugular Vein of Pakistan with Al-Quds as its Heart and Palestine's Capital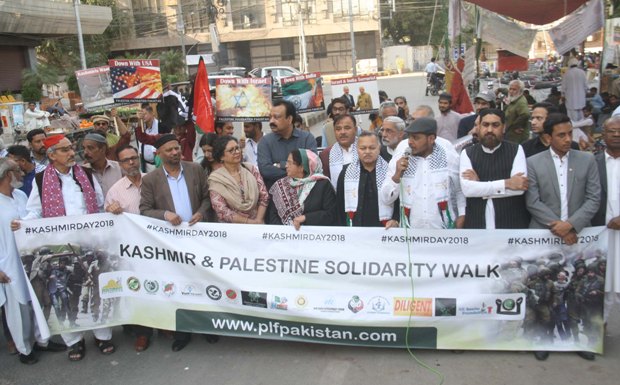 KARACHI (PNIC):-Palestine Foundation Pakistan (PLF-P) and Youth Organizations held a walk on Kashmir Day from Press Club till Scouts Headquarter Karachi on Feb 5.
Kashmir and Palestine Solidarity walk led by Sabir Abu Maryam Secretary General of Palestinbe Foundation Pakistan with political and religious leaders.
Showing solidarity with the oppressed nations of Kashmir and Palestine a walk was announced earlier by PLF-P in liaision with other civil, politico-religious and Youth organizations.
The walk witnessed people from all walks of life to include all organizations from different quarters. They held placards and banners in harmony with the global scenario and atrocities against the muslim ummah in these two countries in particular.
They demanded of the government to play its role in bringing peace to these nations and curb the terrorist activities of India at the working boundaries of Pakistan.
The members exclaimed that both these regimes remain illicit spreading terrorism targetting innocent muslims not only in the subcontinent but across the world.
The speakers mentioned that Kashmir is the Jugular Vein of Pakistan with Al-Quds as its Heart and Palestine's undisputed Capital.
Among the participants Former Member of National Assembly Muzaffar Ahmed Hashmi of Jamat-e-Islami, Senator Allama Abbas Kumail, MPAs of MQM Pakistan Mahfooz Yar Khan, Major (r ) Qamar Abbas, Advisor of federal Minister Pirzada Azher Ali Shah Hamdani of PMLN, Former Deputy Mayor of Karachi Syed Tariq Hassan of PMLQ, Muzammil Hashmi of MML, Mir Taqi, Nasir Hussaini of MWM, President of Palestinian Students in Pakistan Muhammad Zeidan, Younis Boneri of ANP, Waheed Younis of JUP, Justice (r ) Wajihudin Siddiqui of ALI, Karamat Ali of PILER, Zareen Rafi of PTI, Saleem Ahmed of SCSM, Imran Shehzad of Amity Internationa, Tariq Shadab of AUP, Anwer Baloch of JDP, Muhammad Abbas of ISO, Zeeshan Haider of APMSO, Babar Ali of ATI, Mazhar Ahmed Khan of Youth Parliament, Sharjeel Baig of JKP, Khawja Bilal Mansoor of MQM-Youth, Kazim Abbas of WYP, Simon Gill a Human Rights Activist, Social Worker Ali Qasim, Anum Memon of Student Foundation, Saira Sumar of DF, Umar Altaf of Anti Corruption, Rubecca Yousef, Masuma Zehra Social Activists, Qazi Zahid Hussain of PMLN, Babra Ismael of Women Development, Adnan Kodya of MBG, Azher Jamil, Iqbal Yousof, Naveed Gill, Raees Ahmed, Syed Naseem Shah, Hafiz Hurrera, Muhammad Nabil, Batool Zehra, Malik Nabil and many others were present and spoke to the Kashmir and Palestine Solidarity Walk.