Kashmir – Palestine Solidarity Rally on Sunday Feb 4 at Press Club Karachi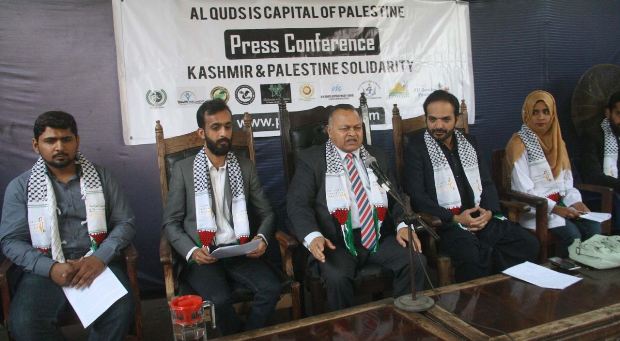 KARACHI (PNIC)
:-Karachi Press Club witnessed leadership today from Palestine Foundation Pakistan (PLF-P) Civil Society, Religio-Political and Youth Organizations today to celebrate.
Kashmir – Palestine Solidarity Rally on Sunday Feb 4 at Press Club Karachi Kashmir-Palestine Solidarity Rally on Feb 4.
The Rally is organized by PLF-P and Youth Organizations across Karachi this Sunday to show their solidarity with the subjugated nation of Kashmir and Palestine.
During the occasion, in audience to Organizations from various walks of life, Leader PLF-P and Member National Assembly Mehfooz Yar Khan announced the rally on the day.
Masses pledged to the cause and affirmed their allegiance to the innocent Kashmiris and Palestinians.
Dignitaries addressed them to say that its high time that the forums took notice of the dire situation in those countries where corpses rise in numbers on a daily basis at the hands of illicit regimes. The nations look towards us for support. Pakistan have always voiced against any oppressor and it stands by them for their sustenance. irrespective, the Youth stand besides them lest it be Israel or India. The two nations are declared enemies of our state and Pakistan has vouched to bring about the freedom that these innocent inhabitants of Kashmir and Palestine.
The members present appealed to the heart of Karachi to pour in on the day of the rally show their patronage and solidarity wih the cause.
During the occasion dignitaries worth mentioning were; Agha Sherazi Chairman National Assembly of Pakistan for Youth, Khawja Bilal Mansoor Incharge Youth affairs in MQM Pakistan, Muhammad Abbas General Secretary ISO Karachi, Bilal Hussain and Zeeshan Haider of APMSO, Anum Memon Founder of Students Foundation, Kazim Abbas Secretary General Wehdat Youth Pakistan Karachi, Imran Shehzad Chairman Amity International, Owais Qadri Chairman Shaheen Pakistan, Adnan Kudya a social worker, Ashok Kumar and Sabir Abu Maryam Secretary General of Palestine Foundation Pakistan (PLFP).
Pakistan's Palestine Policy: We will never abandon Father, of Nation Jinnah's footsteps. Mamnoon Hussain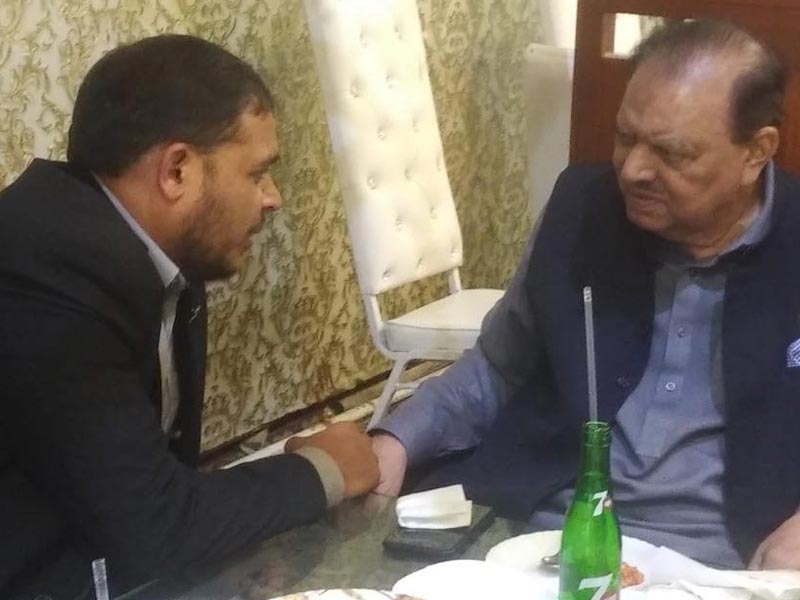 KARACHI (PNIC):-Former President of Islamic Republic of Pakistan Mr.Mamnoon Hussain says that we are bound to follow the path of great founding father of the nation Qauid e Azam Muhammad Ali Jinnah and his stance on Palestine.
Pakistan always Standing with oppressed nation of Palestine and will remain. Mamnoon Hussain says.
PLF General Secretary Mr.Sabir Abu Maryam Met with former President of Islamic Republic of Pakistan Mr.Mamnoon Hussain and discussed various things about the issue of Palestine and Pakistan's stance in it.
Former President Mr.Mamnoon Hussain expresses his fully support with oppressed people of Palestine and categorically said that that Israel is an illegitimate state and we always followed Founding Father Qauid Azam Muhammad Ali Jinnah's stance on Palestine and will never get back even an inch from that stance.
He appreciated Palestine Foundation's great struggle in Pakistan and assure his Cooperation with PLF too.
Israel is an ideological threat to Pakistan: accepting Israel equal to no question of Kashmir. Gen (r) Ghulam Mustafa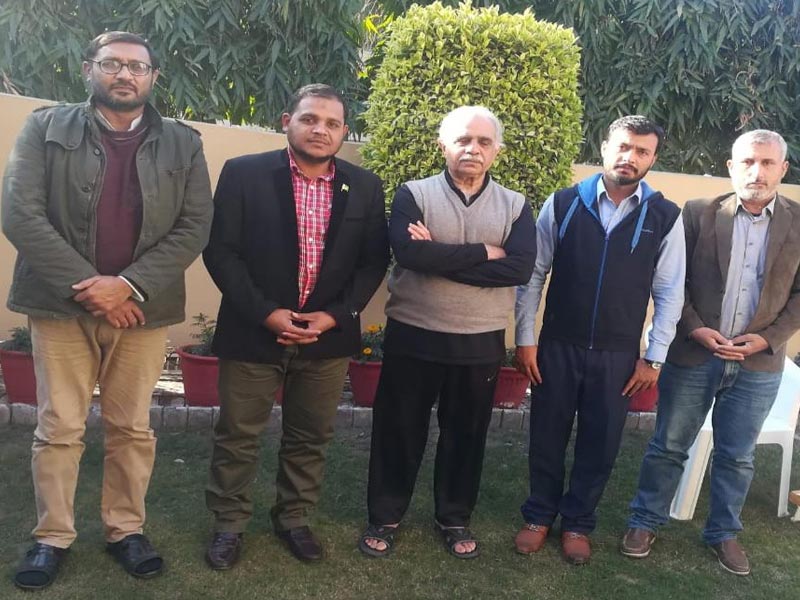 LAHORE (PNIC):-Former Army General Ghulam Mustafa expresses his fully support to Palestinian cause. According to Report during a meeting with Palestine Foundation Pakistan (PLF) delegation he said that Israel is not only threat for Palestinians but for whole region of Middle East and Golf.
Palestine Foundation Pakistan's delegation led by General Secretary Sabir Abu Maryam along with Ansar Abbas, Zahid Murtaza and Yasir Habib met with former army Gen Mr.Ghulam Mustafa at his residence on 16 December Sunday.
During the meeting PLF's Secretary General informed him various issues about Palestine and policy of Arab and Muslim regimes specially developments in Pakistan. He also discuss about some efforts of pro-Zionists factors in Pakistan to normalisation with Zionist regime and Pakistan.
A defence analyst and well known Army Gen Ghulam Mustafa categorically stated that those people are thinking that Israel is friend of Pakistan are in wrong side.
Israel is an ideological threat and enemy of Pakistan and will never benefit to Pakistan: he said.
Gen (r) Mustafa said that if Pakistan accept and protect in tel Aviv but in next step Israel never tolerate Pakistan so normalisation with Zionist regime mean no question of Kashmir.
Even if my head is cut off, I will not accept Israel: Gen (r) Ghulam Mustafa stated. He also affirmed his full support for Palestine Foundation Pakistan.
Pak-Palestine solidarity: cultural show "DABKAH" held at Centaurs Mall Islamabad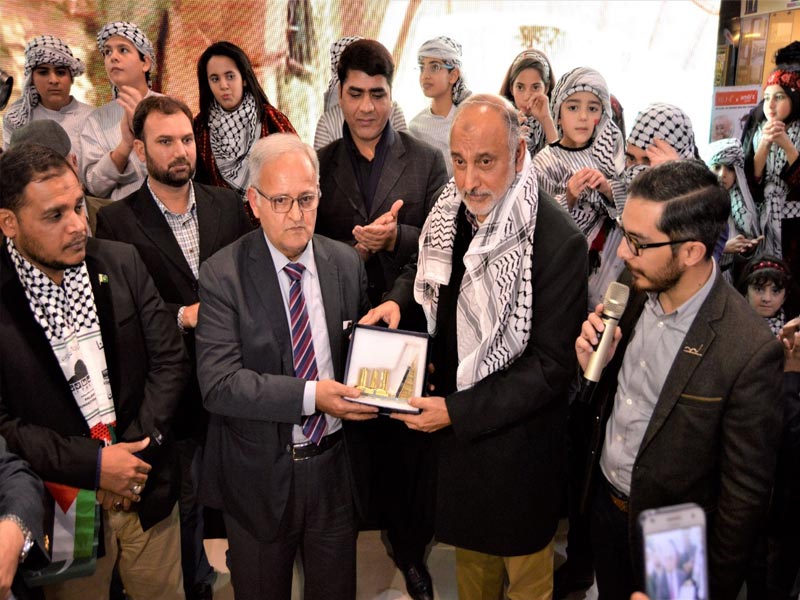 IALAMABAD (PNIC):-Palestinian citizens living in Islamabad capital of Pakistan observed International solidarity day of Palestine at Centaurs Mall Islamabad.
Palestinian cultural show Organized by Palestinian embassy with the collaboration of Centaurs Mall administration on December 15 Saturday.
Hundreds of Palestinians in Pakistan gathered along with thousands of Pakistani citizens to marked an international solidarity day of Palestine.
Palestinian children wearing Kofiya (Palestinian symbolic cloth) performed DABKAH (cultural activity) and also they sand Pakistani National songs too.
A delegation of Palestine Foundation Pakistan (PLF) led by General Secretary Sabir Abu Maryam participated as per special invitation of acting ambassador of Palestine H.E.Mr.Hussni.