Lawyers will stand with Palestinian people and their resistance. President Karachi Bar Association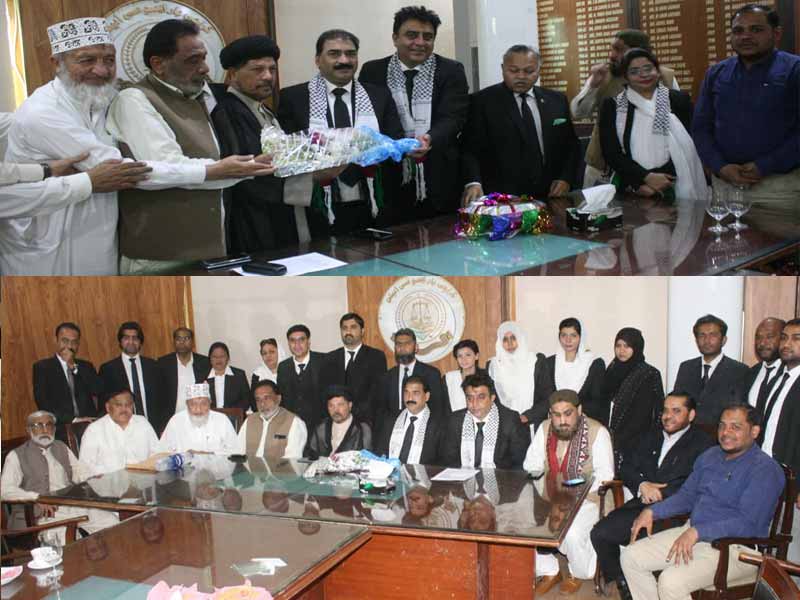 Karachi(PNIC) A delegation of Palestine Foundation Pakistan (PLF) net with newly elected president of Karachi Bar Association Mr. Munir Ahmed Malik and other elected members including secretary G.M Korai.
Among the delegation, guardin council of Palestine Foundation Pakistan's members including Former Member of Parliament Muhammad Hussain Mehnati, Mahfooz Yar Khan, Major (r) Qamar Abbas, Molana Baqir Zaidi of Majlis Wehdat Muslameen, Pir Azher Ali Hamdani, Qazi Zahid of Pakistan Muslim League Nawaz, Matloob AWAN Qadri from All Pakistan Sunni Tahreek, Syed Shabbar Raza of Jafrya Alliance Pakistan and Secretary General of PLF Sabir Abu Maryam we're present.
President KBA categorically supporter cause of Palestine and condemning illegal Zionist's regime atrocities. He said that lawyers remain stand with oppressed people of Palestine and their legitimate resistance for freedom. Pakistani lawyers fully supporting Palestine is the homeland of Palestinians and Israel is an illegitimate Zionist's fake regime.
US so call peace plan has been fail and no more capable for applying in Middle East.
He further said that no any government including US have any rights to decide future of Palestine, it's ultimate right of Palestinians to choose their way with the free referendum.
During the meeting Sabir Abu Maryam briefed all lawyers and KBA about the aims and objectives of Palestine Foundation Pakistan, at the end President of KBA Munir Malik announces his fully cooperation with PLF and announced to be a part of Palestine Foundation Pakistan.