Muslim Leaders Disappoint us in their struggle to stop Trump, Khalid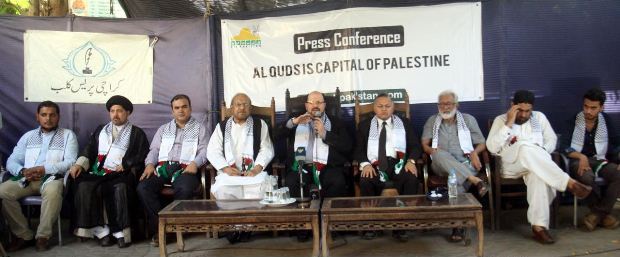 KARACHI (PNIC):-The dissent is not strong enough to stop US from moving its embassy to Jerusalem, said Khalid Qudusi in his press conference at Karachi Press today.
Khalid, an esteemed leader of the freedom movement in Palestine, uttered his grievance during a joint press conference with Palestine Foundation Pakistan (PLF-P) at Karachi.
Khalid was upset with efforts put in by muslim leaders as it doesn't move the international community against the US malevolence with Trump in the limelight.
He wished well for Pakistan on their resolution day celebrations (March 23) declaring it joyous for innocent Palestinian curbed at the hands of Israel, for they commemorate the same for their country on March 30.
The world celebrates Earth Day on March 30 whereas since 1976 March 30 was recognized as the day of remembrance of civilians killed by Israeli police. Thus, this day is called a day of mourning and expectations of the world.
Khalid urged the muslim leaders to do more for times stand dire, not for his country but the whole of muslim ummah.
He commended the efforts of PLF-P and advocated support in the days to come to fight against the grave evil.
The conference was attended by former member of parliament Muzaffar Ahmed Hashmi, Member of Legislative assembly Mahfooz Yar Khan, Moulana Baqir Zaidi of MWM, Pirzada Azher Ali Shah Hamdani of PMLN, Israr Abbasi of PTI, Karamat Ali of PILER, Imran Shehzad of Amity International, Muhammad Zeidan a palestinian student in Pakistan and Sabir Abu Maryam Secretary General of Palestine Foundation Pakistan (PLFP).
The US embassy is said to be relocated from Tel Aviv in May to coincide with Israel's 70th anniversary, instead of sometime in 2019 as previously announced.
The move remains crucial against Trumps statement pledging to declare Jerusalem as the capital of the Zionist regime.