Netanyahu Orders Police Chief to Present Alternatives for Jerusalem March Route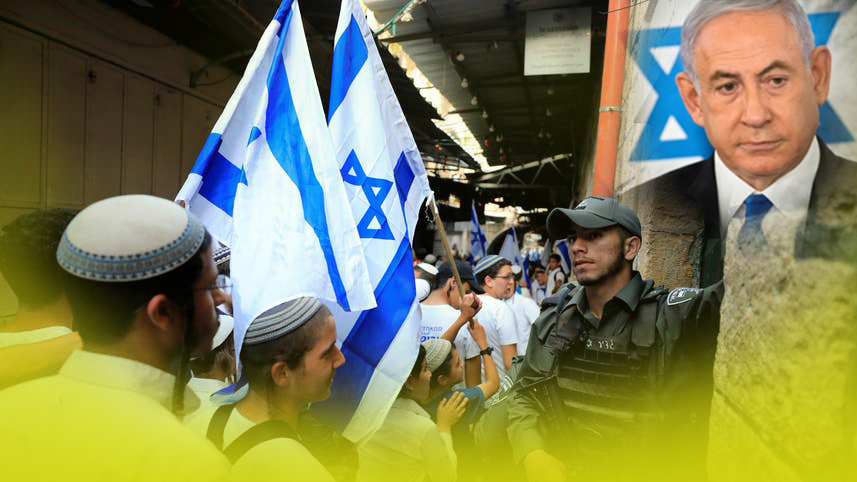 Prime Minister Benjamin Netanyahu ordered the police commissioner on Tuesday to present several alternative routes for the Flag March in Jerusalem, a day after the event was canceled.
The controversial parade was nixed after police said they wouldn't allow it to pass through the Old City's Muslim Quarter, citing security concerns.
Should Netanyahu ask to approve an alternative route, the matter would be subject to a vote in the security cabinet due to its security and political ramifications. The cabinet is expected to discuss the parade later on Tuesday.
Meanwhile, police prevented Yamina MK Amichai Chikli from entering the Temple Mount on Tuesday, after he failed to provide the required 24 hours notice in advance of the visit. In response, far-right lawmaker Itamar Ben-Gvir said he will enter the complex on Tuesday afternoon.
The march, in which right-wing Jewish groups parade through the Old City carrying Israeli flags to celebrate the reunification of Jerusalem during the 1967 Six-Day War, was scheduled for Jerusalem Day last month. It was initially diverted due to security concerns as clashes between police and Palestinians in the city intensified, and dispersed after Hamas fired rockets at Jerusalem from Gaza as tensions peaked. This resulted in an 11-day flare-up between Israel and Gaza.
On Monday, the organizers of the march said they had decided to cancel the event, that was supposed to take place on Thursday after police voiced their opposition.
Sources said that Police Commissioner Kobi Shabtai and police Jerusalem District chief, Doron Turgeman, will probably propose that the march does not pass through the city's Muslim Quarter and Damascus Gate – a flashpoint of tension in the lead-up to the most recent escalation.
According to security assessments, allowing the march to pass through the Muslim Quarter and Damascus Gate could lead to clashes on the Temple Mount and even rocket fire from Gaza.
Police officials are examining the option that the parade passes through Jaffa Gate and ends at the Western Wall.
Police officials have voiced concerns that they would not have enough manpower to guarantee the safety of participants if the march went ahead through its original route.  This would have forced the police to deploy thousands of police officers across Jerusalem, risking a shortage in case of renewed violence in mixed Jewish-Arab cities.