Pakistan Peoples' Party seconds Palestinian cause in all respects – Senator Kareem Khawaja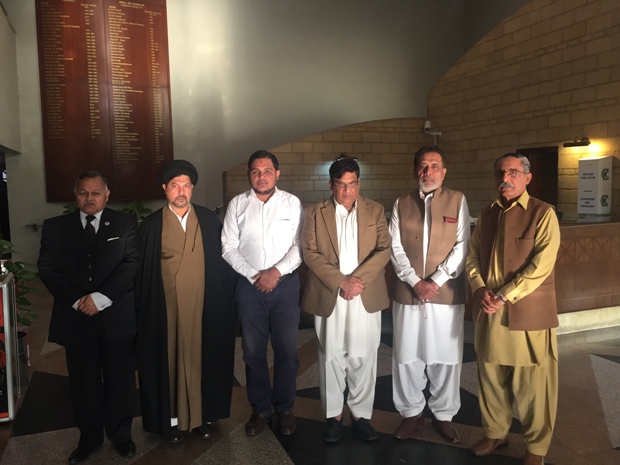 Karachi, (PNIC) –
A delegation of Palestine Foundation Pakistan (PLF-P) met Central President Pakistan Peoples' Party (PPP) Medical Wing Senator Kareem Ahmed Khawaja at Karachi Club. The delegation was led by Mutahida Qaumi Movement Pakistan Member Sindh Assembly Mahfooz Yar Khan Advocate
PPP Senator Kareem said that this new presidential order of moving the US embassy from Tel Aviv to Jerusalem is to further the rift in bringing a resolve to the Palestinian issue. He said that he will bring this issue by voicing it in the Senate.
He exclaimed that PPP has played its part in the past to support the Palestinian cause will do so in the future. He alleged that this new move is a deliberate attempt to sabotage the Palestinian cause; crisis created in Afghanistan, Iraq and Syria again are conspiracies to guise the indisputable issue of the oppressed land and atrocities in Palestine.
He reminisced the days of the freedom struggle commenting that George Habash and Laila Khalid's sacrifice for Palestine have gone down in history and will never go in vain.
On the occasion PLF-P Secretary General Sabir Abo Maryam briefed the senator on their organizations moto and efforts for the cause of Palestine. He emphasized on Trumps role in the Middle East and consequences that his recent orders will bear on the region, sp. US embassy's' move to Jerusalem. He requested him to voice their protest of the repercussions anticipated in the Senate.
Taking the opportunity Sabir Abo Maryam offered the Senator membership to the executive body in their organization to which the Senator nodded.
Other dignitaries present during the meeting were Majlis wahdat muslimeen central leader Maulana Baaqir Zaidi, Pakistan Muslim League (N) leader Qazi Zahid, All Pakistan Sunni Tehreek leader Matloob Awan qadri and others.