Pakistani nation express solidarity with Palestinian hunger strikers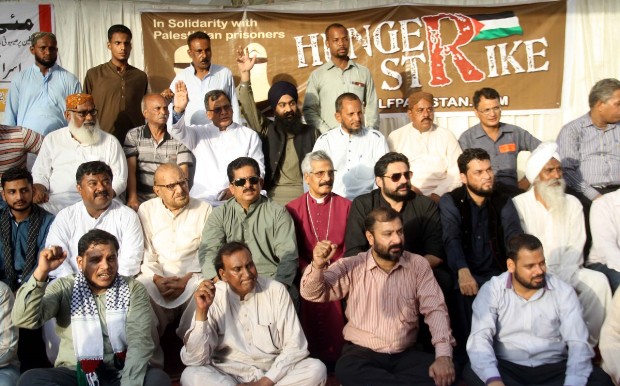 KARACHI (PNIC):- The Palestine Foundation Pakistan on Wednesday venerated the Palestinian prisoners in Israeli Jails by organizing a token hunger strike camp outside the Karachi Press Club.
There remain some 1600 oppressed prisoners in hunger strike for the past one month protesting against the unfair and inhumane treatment meted out to them by the illicit Israeli regime.
Numbers were witnessed in the camp to include student bodies, youth NGOs and political parties from all over Pakistan. Scores of Palestinian Students residing and studying in Pakistan were also present during the occasion.
Addressing the protest camp, the leaders of the Palestinian Foundation said the governments of Islamic countries should take notice of the Israeli aggression and raise their voice against the 'American-Israeli nexus'.
They urged people to register their protest against the aggressors and appealed to them to attend the protest camp.
Allama Qazi Ahmed Noorani, Azhar Hamdani, Mehfooz Yar Khan, Sabir Karbalai and other leaders addressed the protesters.
Leaders of different parties, including the Jamaat-i-Islami, the Jamiat Ulema-i-Pakistan, the Muttahida Qaumi Movement, the Pakistan Peoples Party and Sindh Transport Minister Syed Nasir Hussain Shah visited the camp and supported the cause of the Palestine Foundation.