Pakistan's stance on Palestine issue in the UNSC is treachery with Pakistan and Palestine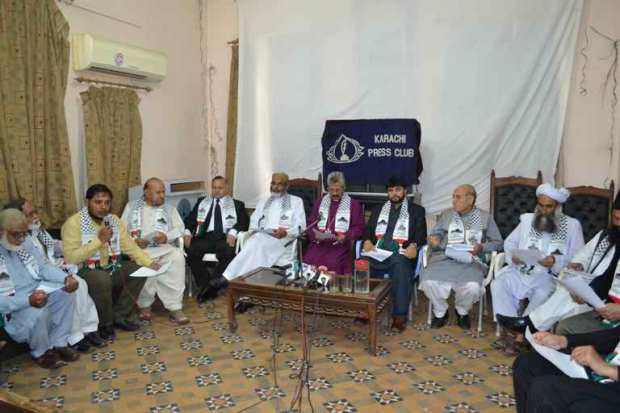 (PNIC) Karachi: Members of Palestine Foundation Pakistan's central committee, including former member of National assembly and leader of Jamat e Islami Muzaffar Ahmed Hashmi, head of Jafria Alliance Pakistan Senator Allama Abbas Kumeli, central leader of Jamiat e Ulema e Pakistan Allama Qazi Ahmed Noorani Siddiqui, MWM Pakistan's central leader Molana Baqar Zaidi, member of MQM Rabita Committee Mefooz Yar Khan Advocate, spokesperson of Minister for religious affairs Peerzada Azhar Ali Hamdani, President of PML-N women wing Zahida Bhand, Chairman of Piler Karamat Ali, leader of Tanzeem ul Akhwaan Sindh Laeeq Ahmed, Tariq Shadab from Amnesty International, and central Secretary General of Palestine Foundation Pakistan Sabir Abu Maryam strongly appealed to the Muslim world to play its role for the end of Israeli siege on Gaza.
They said "Israel has besieged Gaza since ten years due to which lives of more than 18 lac innocent Palestinians are threatened but it is saddening that neither international community nor Muslim world have played their roles and have remained silent over the issue". Leaders demanded Muslim rulers of the world to unite for ending the siege and rather than establishing diplomatic relations with Israel through back door channels they should take measures for the independence of Bait ul Muqaddas and innocent Palestinians.
Leader of Palestine Foundation Pakistan said "Presenting two state solution for the resolution of Palestine issue in the UN was against Pakistan's foundation and Qaid e Azam Muhammad Ali Jinnah's ideology".
"Pakistan is an ideological state and following ideological boundaries created by Qaid e Azam Muhammad Ali Jinnah has always been the foremost priority of both the government and citizens of Pakistan. However, demanding a two-state solution of Palestine issue by Pakistan in UNSC is not only a treachery with Pakistan's ideology but also with Palestine's struggle for independence", they added.
Leaders announced to hold a protest if Maliha Lodhi's statement would not be explained by the government.