Palestine Foundation announces countrywide al-Quds Conferences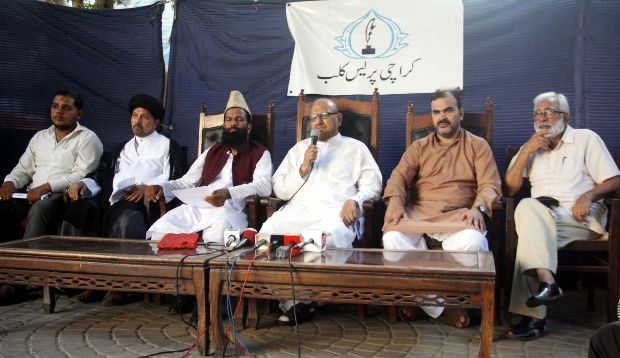 KARACHI (PNIC):-The leaders of Palestine Foundation (PLF) Pakistan have announced on Wednesday that al-Quds Conferences will be held in major cities across the country to express solidarity with the oppressed people of Palestine.ÂÂ 
Apart from it, a pictorial exhibition will also be held along MA Jinnah Road Karachi on Youm-ul-Quds.
These announcements were made at a press conference at Karachi Press Club that was jointly addressed by PLF office bearers Muzaffar Hashmi (Jamaat-e-Islami), Allama Baqar Zaidi (MWM), Israr Abbasi (PTI), Allama Qazi Ahmed Noorani (JUP-Noorani), Karamat Ali (Piler), Azhar Ali Hamdani (PMLN), Faisal Shaikh (PPP) and Sabir Abu Maryam, secretary general of the PLF.
They said that al-Quds Conference would be held in Karachi on Monday Ramazan 16 and in Quetta on Ramazan 20. They said that al-Quds Conference will be held in Islamabad, Lahore and Multan on Ramazan 22. They said that people would be given awareness about the Zionist crimes against humanity in Palestine.
They said that people of Pakistan assure Palestinians that their occupied land would be liberated and al-Quds (occupied Jerusalem) would be their capital city. They condemned the United States and its allied countries for labeling the legitimate national resistance organizations of Palestine as terrorists.
They said that illegitimate Zionist regime of Israel and its patron United States were terrorists and they were the usurpers of the sacred land of Palestine including al-Quds.
The PLF office bearers vowed that they would largely participate in the World Quds Day rallies and they appealed to all Pakistanis to observe Quds Day in a befitting manner.